Report: Human Rights Abuses in Libya Force Thousands to Flee to Europe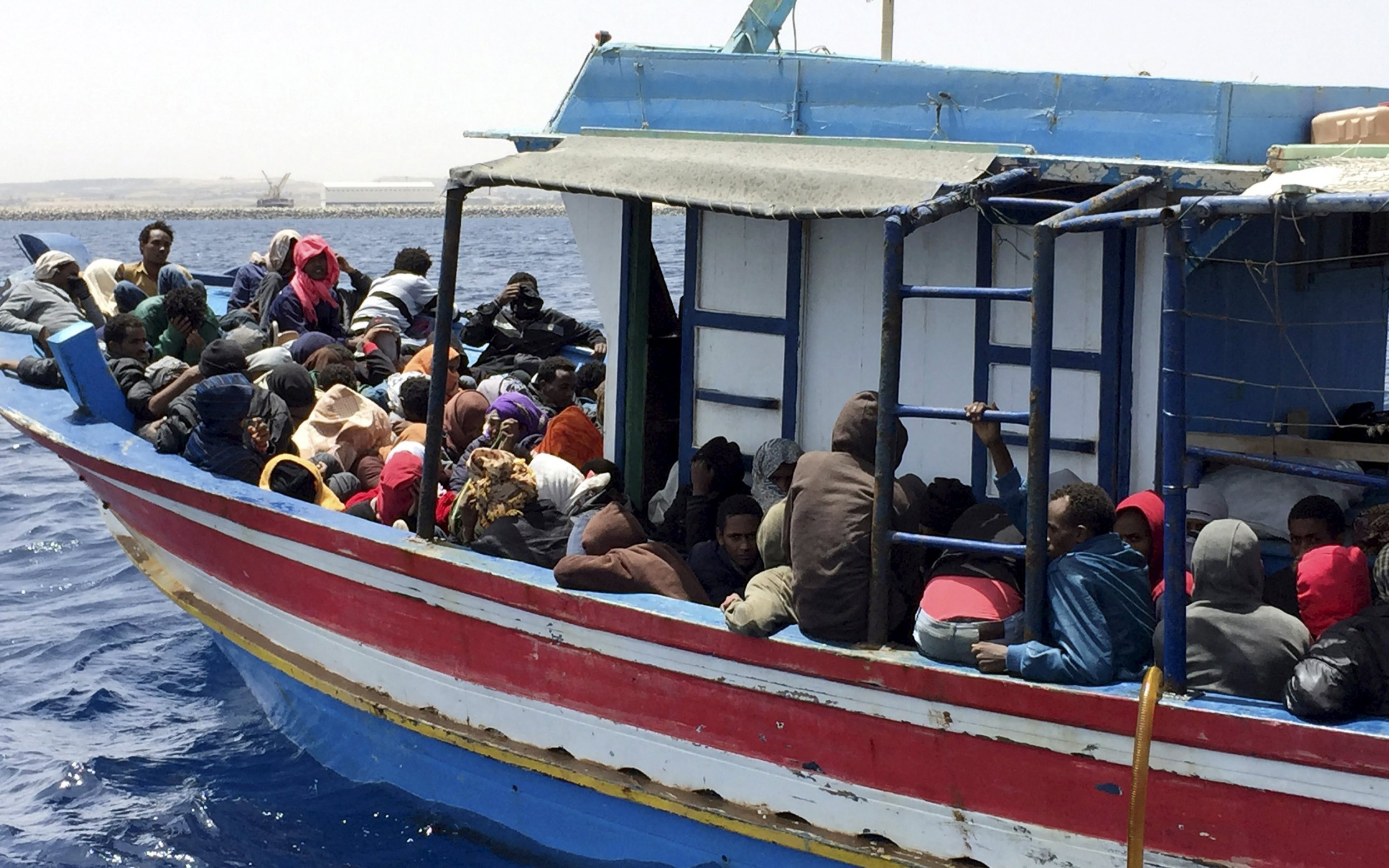 Refugees and migrants face rape, torture and abduction for ransom by human traffickers in Libya, forcing many to make the dangerous journey by boat to Europe, according to a new study.
The report from the rights group Amnesty International, titled "Libya Is Full of Cruelty," details the disturbing conditions for many who arrive in Libya to work or as a stop on their way to a better, safer life in Europe. Abuses also take place inside immigration detention centers, where migrants live in deplorable conditions and often suffer from health problems like scabies and dehydration.
"The ghastly conditions for migrants, coupled with spiralling lawlessness and armed conflicts raging within the country, make clear just how dangerous life in Libya is today," said Philip Luther, Amnesty International's Middle East and North Africa director.
Amnesty also documented religious-based abuse, particularly for Christians, and exploitation by employers of the migrants, mainly from sub-Saharan Africa. Racism and xenophobia in Libya have sparked strong fears that migrants carry diseases, a phenomenon that was made much worse by the outbreak of the Ebola virus disease in West Africa last year.
"They packed us in prisons saying that we are all contagious and have Ebola," a Nigerian woman who worked in Libya told Amnesty International.
The number of people who have crossed the border into Libya is unknown because they enter the country irregularly and without going through border checks. But the number is in the thousands every year, said Magdalena Mughrabi-Talhami, Libya researcher at Amnesty International and the report's main author.
Since the 2011 toppling of its longtime dictator, Colonel Muammar Al-Qaddafi, Libya has been mired in a chaotic situation. Rival factions have been vying for influence and two governments, each with its own web of affiliated militias, are currently competing for power.
The lack of stability has also created an opportunity for extremists to make their mark. In February, the Islamic State terrorist group published a video showing the beheading of 21 Coptic Christians, most of them Egyptian, on a Libyan beach. In April, the group released another video showing the shooting and beheading of at least 28 Ethiopian Christians in Libya.
Between August 2014 and March 2015, Amnesty spoke to 70 people in Sicily and Tunisia who faced abusive conditions in Libya, including refugees fleeing conflict zones in the Middle East and Africa and economic migrants looking for work. Prior to Qaddafi's fall in 2011, Libya was both a transit point to Europe and a destination for workers. At the beginning of 2012, there was a hopeful atmosphere, said Mughrabi-Talhami; Libyans were returning safety from abroad and the country's labor market had starting attracting workers again.
"Since then, the people that are now leaving by boat are the established communities that have been working in Libya for many years. Then you have a new wave of people who are being smuggled in, or in some cases trafficked into Libya, from countries in East and West Africa," said Mughrabi-Talhami.
"They are using Libya as a point of transit," she said.
Most of the 35,781 migrants that have made the journey across the Mediterranean and arrived in Italy since the beginning of 2015 left from Libya. While Libyans haven't been leaving their country by boat, more than 400,000 have been displaced internally by the conflict, according to the United Nations Refugee Agency (UNHCR). Thousands fled across the border into Tunisia last year.
Meanwhile, many migrants who were working in Libya have had their passports stolen or confiscated by employers, meaning they don't have a valid travel document to allow them to travel regularly across the border. With the U.N. and many embassies relocating from Libya due to safety concerns, many migrants Amnesty spoke with saw no entity left to protect them.
"Effectively, the sea is really the only alternative, the only option, that they have," said Mughrabi-Talhami.
Migrants risk abuses at every step of their journey. When they arrive in Libya in the custody of smugglers, migrants are first held captive by in the desert without the means to leave or escape; they have little water, food or phone reception.
"They are really at the mercy of the smugglers. It's the first type of abuse they'd face," says Mughrabi-Talhami.
For female migrants, especially those traveling alone, the journey is particularly treacherous. Some women are coerced into sex along the smuggling route in order to continue their journey, or if they are unable to pay a fee to their smugglers. The highest ransom Amnesty documented was $8,000.
"If you're a woman and they see you have strong men around you and surround you and protect you, no one comes close to you. But if you're alone or the men with you are weak then you get into trouble," a Somali woman who traveled to Libya in June 2014 told Amnesty.
Others who cannot pay are held, sometimes for many months, to work without pay. Migrants told Amnesty they were seen "as slaves" by smuggles and treated "like animals."
"It is effectively a business that they are running. They detain you so that you have to pay," a Malian man who arrived in Libya in September 2014 told Amnesty. "If you don't answer their questions, they beat you…with rubber pipes."
A 19-year-old Syrian refugee recalls being forced to board a boat quickly and to squat because there was not enough room. People who want to change their minds upon seeing how unsafe the boats look are subject to beatings by armed men, he said.
European leaders held an emergency meeting last month on how to tackle the migrant crisis after a boat carrying hundreds of migrants capsized in the Mediterranean, killing more than 800 people. Part of the E.U.'s plan of action includes clamping down on smuggling rings and bolstering the E.U.'s border patrol operations.
On Monday, Italy's foreign minister, Federica Mogherini, will meet with the U.N. Security Council with the hope of getting the group's backing for an international intervention to stop the boats leaving from Libya. Amnesty hopes the meeting doesn't result in "taking away the only means of escaping for many of these migrants and refugees," said Mughrabi-Talhami.
Seizing and destroying vessels before they're used by smugglers, something the E.U. has proposed, is not the appropriate answer to the crisis, Amnesty says. The E.U. is seeking Security Council approval to seize the boats.
"It may effectively contribute to people being trapped inside Libya and face serious human rights abuses," said Mughrabi-Talhami.