Human Rights Group: Don't Spend $100 on Mayweather-Pacquiao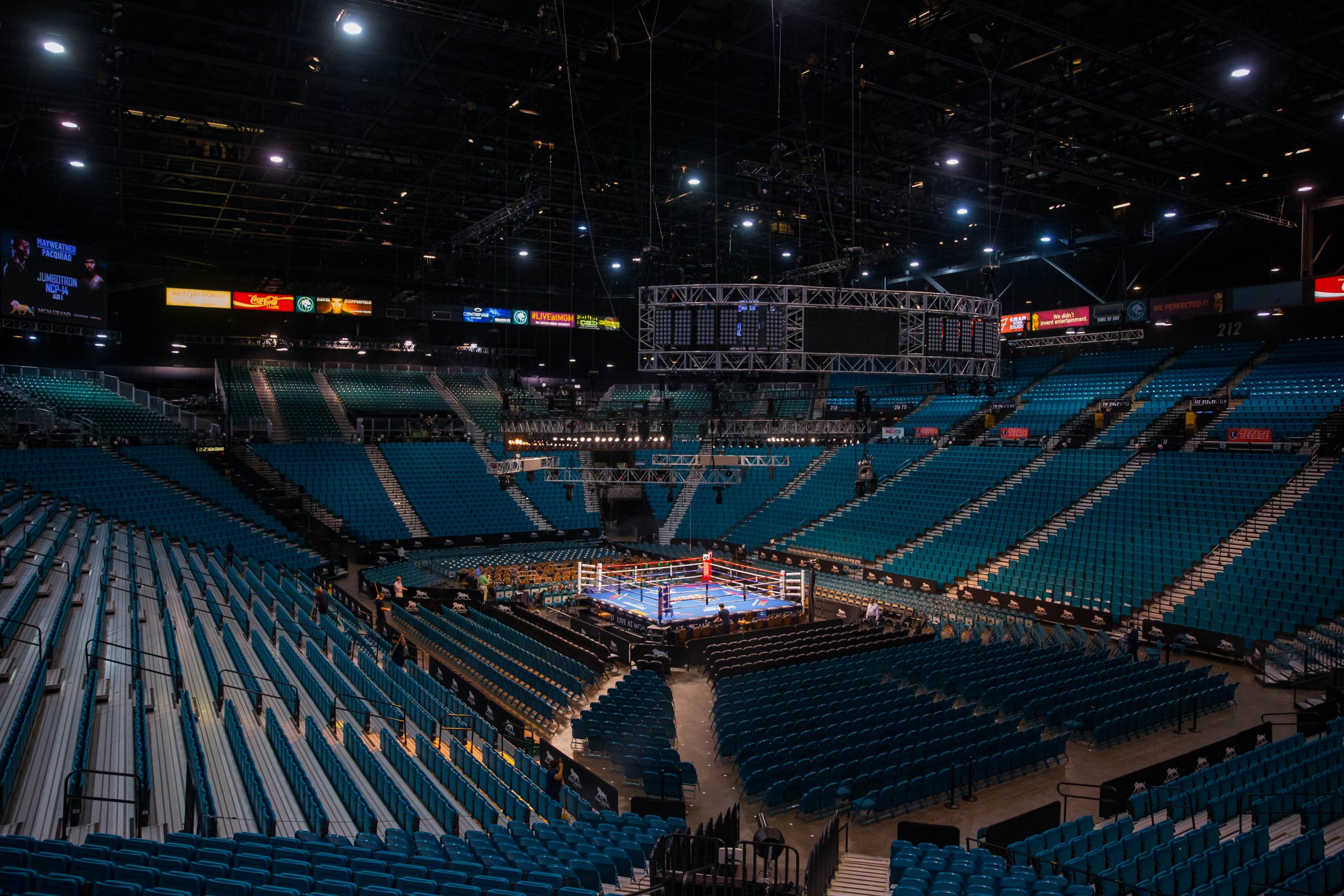 Updated | On Saturday night, boxing's two brightest stars, Floyd Mayweather and Manny Pacquiao, will take to the ring in Las Vegas. The match will reportedly net Mayweather $120 million and Pacquiao $80 million. Just watching the fight via pay-per-view TV costs a pretty penny: $99.99. To see it live at the MGM Grand hotel requires several thousand dollars (or calling in some serious favors).
Mayweather, though many know him only as a prize fighter, has been implicated in numerous domestic violence incidents, and that has one human rights organization advocating for people to spend their $99.99 on something else: a donation to a domestic violence organization.
Using the hashtag #noMayPac, the Breakthrough organization is calling for people to refrain from watching the fight. It says the $100 could be used instead to cover a fifth of the average medical costs sustained in one domestic violence incident.
In a sign that the Mayweather camp may have been feeling the pressure on this issue, on Saturday afternoon--hours before the fight--two female journalists who have reported on Mayweather's history of domestic violence, Rachel Nichols of CNN and Michelle Beadle of HBO, said via Twitter that they had been banned from covering the event. But the Mayweather camp denied this, and it later appeared that Beadle, at least, was credentialed to cover the fight, according to Bleacher Report.
Regardless of Mayweather's dark past, many will still buy the fight, of course. Nonetheless, Breakthrough is hoping its advocacy will educate more people about Mayweather's numerous instances of violence against women.
The incidents date back to at least 2001. One of the most notable occurred in 2010 against Josie Harris. After Harris and Mayweather argued verbally in the morning, the boxer came back into her home in the middle of the night, after being let inside by one of their children, according to Grantland. Their son, Zion, wrote this statement for police about what he saw that night:
"My dad was hiting her...My dad kick my mom and he told me to go in my room but I went to go get my mom's friend that live in our back house...I heard yelling and I came out and my dad was hiting my mom."
Zion was 9 at the time. Harris sustained a concussion and multiple bruises from the altercation with the man who fights for a living.
As a result of the violent encounter, Mayweather received what could be considered a slap on the wrist: two months in prison and a guilty plea to charges of domestic assault and harassment. A judge delayed his prison sentence so he could take part in a match against Miguel Cotto. ESPN reported the judge delayed the sentence "as a defense lawyer cited the economic boost that Las Vegas could get from the bout."
In September 2014, Mayweather made social media posts shaming an ex, Shantel Jackson, for having an abortion. She had just sued him for domestic abuse, which he denies vehemently.
The boxer's most popular defense? Claiming there are no pictures showing the marks on the women he has beaten. In an investigation of his court records, Deadspin determined there were pictures, numerous pictures, showing the results of Mayweather's violence. But it found Las Vegas courts had destroyed many of them after charges were settled or dropped.
Not all would consider Manny Pacquiao to be completely clean, either. The boxer turned politician opposed a bill for family planning in the Philippines and opposes same-sex marriage. If he does beat Mayweather, though, he will have the opportunity to slight the other fighter twice, by speaking out about domestic violence.