Human Rights Group Condemns Iran Security Forces Response to Protests Over Ukrainian Plane Crash: 'This Needs to Stop'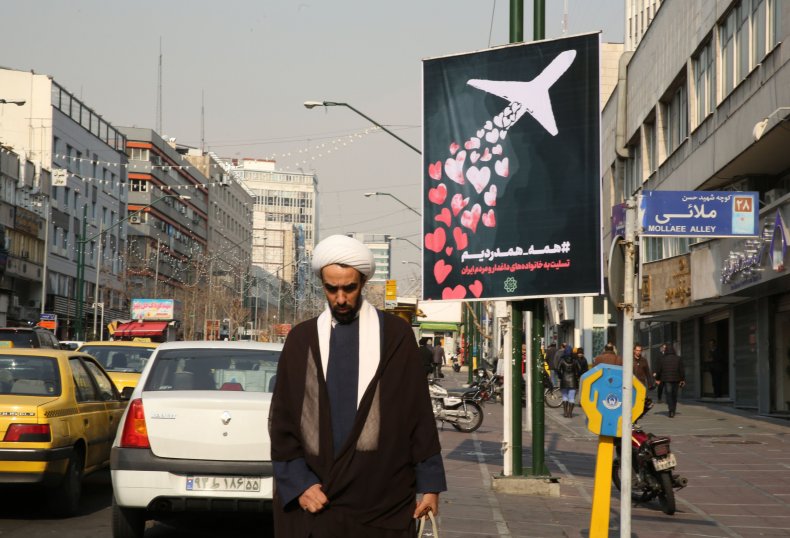 Global human rights group Amnesty International took to social media on Tuesday to publicly condemn security forces in Iran for allegedly being cruel to people protesting the government for firing a missile that shot down a civilian airplane last week.
"Iranians have taken to the streets to pay their respects to the victims of the Ukraine flight #PS752 plane crash," the tweet read. "But security forces in #Iran have cruelly dispersed vigils by trampling on candles, beating grieving protesters & carrying out arrests. This needs to stop now."
Attached to the text was a GIF with an image of protesters. Superimposed over the image were the words, "Iran, stop police brutality against peaceful protesters."
Founded in the United Kingdom in 1961, Amnesty International is devoted to "campaigning for a world where human rights are enjoyed by all," according to its website. It fights abuses of human rights across the globe, including war crimes, discrimination, reproductive rights, and capital punishment.
As Amnesty's tweet alluded to, protesters in Iran have been paying their respects to the 176 people who were killed when a Ukrainian flight crashed just outside of Tehran on January 8. Of those who died, 82 were Iranian, 63 were Canadian, 11 were Ukrainian, 10 were Swedish, seven were Afghan and three were German nationals.
As Newsweek previously reported, the plane was shot down by an Iranian missile. Iran was on high alert after U.S. President Donald Trump ordered a drone strike on January 3 that killed Major General Qassem Soleimani, an Iranian military leader said to be second only to Supreme Leader Ali Khamenei. It was a move some considered an act of war, and the Iranian government vowed retaliation against the U.S. and was on high alert for another attack. On January 10, Iran admitted that its military had shot down the plane, believing it to be a "hostile target" and not a civilian passenger flight.
Canadian Prime Minister Justin Trudeau has also acknowledged that the crash was caused by an Iranian missile, and said that his country would be "working with its allies to ensure that a thorough and credible investigation is conducted to determine the causes of this fatal crash."
Since the government's admission, protesters have taken to the streets to express their disapproval of the Iranian military's action. Many of the protesters are students and have called for Khameini's ousting and the dismantling of clerical rule in Iran, according to Reuters. The protests have led to the detainment of 30 people, and social media posts appear to show "pools of blood on the streets," protesters being beaten with police batons and other signs of violence, Reuters reported.
A spokesperson for Amnesty International told Newsweek in an email that the organization expects to release further statement on the protests in Iran soon.