Three Dozen Skulls Buried in Mexico Region Related to Drug Violence, Authorities Say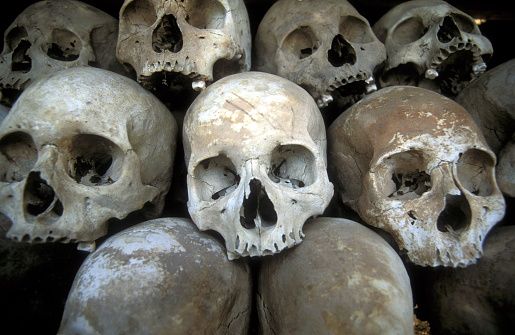 Mexican authorities made a horrifying discovery of at least 33 human skulls buried in the state of Nayarit in Mexico on Tuesday. The region in the country is known for recent violence between drug cartels, Reuters reported.
A government official in the southern Nayarit area told Reuters that the three dozen skulls were found in proximity to one another and spread across different shallow graves. The victims have yet to be identified. The investigations have been ongoing at the site since Saturday, and it is possible there will be more discoveries of human remains.
The rise in murders in Nayarit can be traced to a war between the Sinaloa Cartel and the Jalisco New Generation Cartel, according to Reuters. The Sinaloa Cartel is best known as Joaquin "El Chapo" Guzmán's cartel, a notoriously powerful Mexican drug trafficker who is currently awaiting trial in the U.S.
Nayarit has been one of the states affected by an increase in gang-related killings, which skyrocketed murders to a record high in 2017. The ongoing fight between the Mexican government and the country's competing drug cartels dates to 2006. Mexican drug sales in the U.S generate billions of dollars but have come at the cost of many lives in the affected regions. A travel advisory was issued in January by the U.S. State Department for five of Mexico's 31 states.
The region was linked to an ongoing drug war in March 2017 when Edgar Veytia, the state attorney general, was arrested crossing the border of San Diego, California, for allegedly smuggling cocaine, meth and other illegal substances. Veytia once said he was against the drug trade and that there was "no room" for organized crime in Nayarit.
Earlier this month, Andrés Manuel López Obrador, Mexico's leading candidate for president, promised he would end the 12-year battle against the drug cartel.
"I will achieve peace, that's my commitment, I will achieve peace and end the war—we are not going to continue with the same strategy that hasn't brought us positive results. By the middle of my six-year term, there will be no war, and the situation will be completely different," López Obrador told reporters after a campaign rally in Izamal, Yucatan.
Former President Felipe Calderón declared war against the cartels in an effort to curb drug-related violence back in 2006, but by the end of his tenure in 2013, at least 60,000 people had been killed as a result of the drug war, according to government figures. Currently, the estimates of the death toll are more than 200,000 people.