Humane Society Petition Goes Viral After Video Shows Beagles 'Force-Fed' Fungicides at Michigan Lab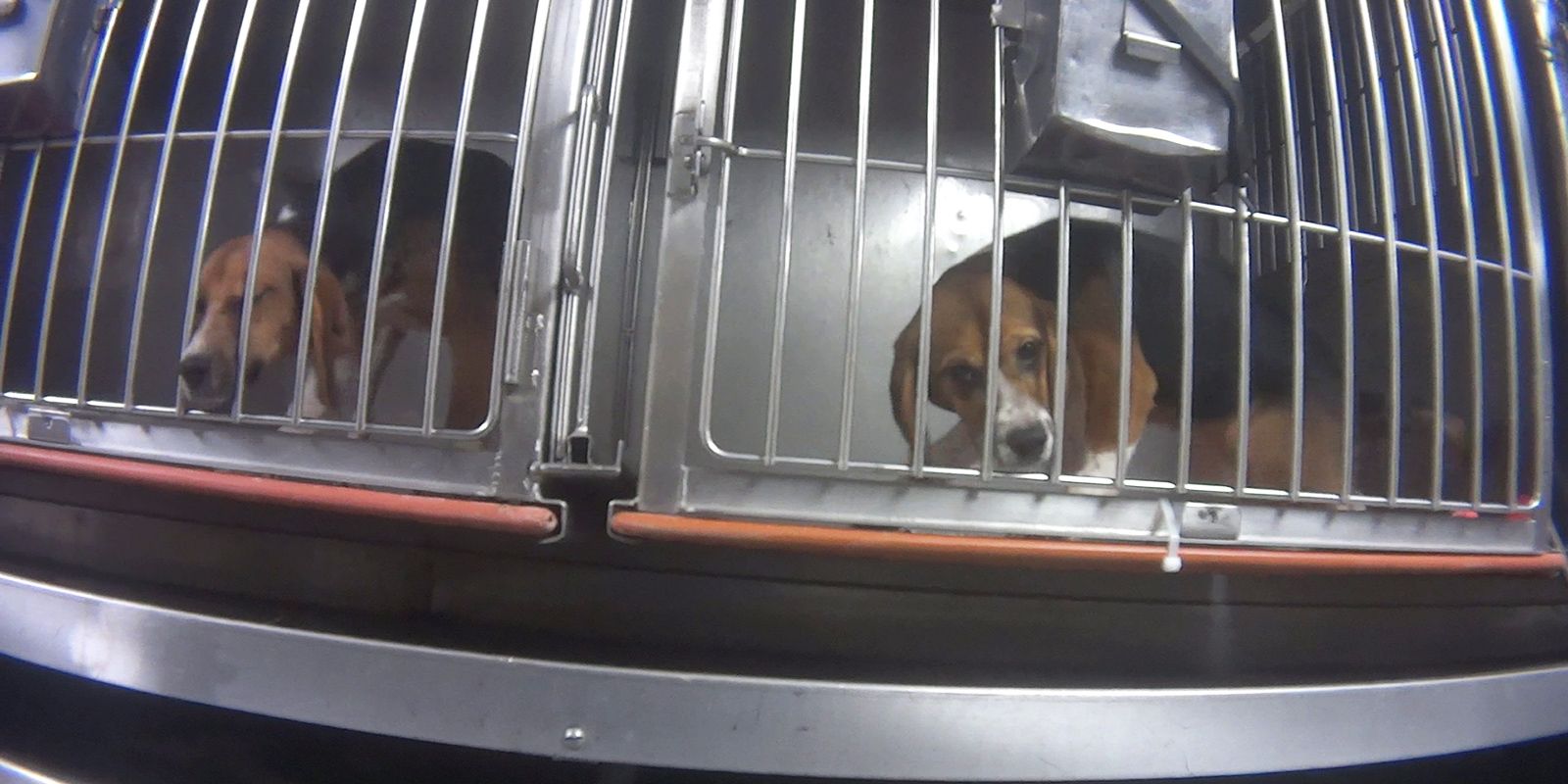 The Humane Society of the United States is pushing for the release of 36 beagles it says are being force-fed fungicides as part of a chemical testing experiment at a Michigan lab facility. The dogs who survive the testing are slated to be euthanized at the end of July, the animal rights group claimed.
By Wednesday evening, an online petition circulated by the organization had collected more than 100,000 signatures calling for the dogs to be released.
The animals are currently held as test subjects for Corteva Agriscience—the agriculture division of DowDuPont—at Charles River Laboratories in Mattawan, Michigan, according to a news release. The animal rights group said it carried out an investigation into the treatment of animals at the Michigan lab and discovered about 20 other beagles were "cowering, frightened, in their cages" and routinely "infused with drugs, pesticides and other products, using crude methods" for companies that test products at the facility. The Humane Society said it had been working with Corteva to secure the release of the dogs but had reached an "impasse" in negotiations.
"For months, we have been urging Dow to end the unnecessary test and release the dogs to us," Kitty Block, president of Humane Society International, said in a statement. "We have gone to considerable lengths to assist the company in doing so, but we simply cannot wait any longer; every single day these caged dogs are being poisoned and are one day closer to being killed. We must turn to the public to join us in urging Dow to stop the test immediately and to work with us to get these dogs into suitable homes."
Also on Tuesday, the animal rights group released a graphic video detailing past experiments at the Michigan lab facility and claimed the beagles would undergo the same treatment in the coming year. The video shows some beagles bearing surgical scars locked in cages, while others are force-fed an unknown liquid through what appears to be a syringe.
In a statement, Corteva said it only tested products on animals when required by regulatory authorities. In this case, Corteva argued that Brazil's Agência Nacional de Vigilância Sanitária (ANVISA) mandated the testing.
"We agree that there are better ways to attain the data needed for this study and have been working closely with the Humane Society of the U.S. for many months to encourage Brazil's Agência Nacional de Vigilância Sanitária to amend its animal test requirements for pesticides," the company said in a statement. "While we have received an encouraging letter from ANVISA, that letter is not definitive. Once the industry receives confirmation that this test is no longer required, we will cease testing immediately and make every effort to rehome the animals."
DowDuPont formed in 2017 after the historic merger between Dow Chemical and Du Pont. Dow's agricultural business was then funneled into Corteva. In a statement, Dow Chemical said it maintains a "strong commitment to ensuring the safety of our products, and the care and well-being of animals."
"Animal testing is not something Dow undertakes lightly, but neither is it something the company can discontinue when it is required by regulatory authorities," the chemical giant said. "Dow keeps its use of animal testing to an absolute minimum." The full statement can be accessed here.
The vast majority of animal testing is conducted on rodents, although some 60,000 dogs are still tested on each year, according to The Humane Society. The top nine countries for animal testing are, in order, the USA, Japan, China, Australia, France, Canada, the UK, Germany and Brazil, Cruelty Free International stated in a fact sheet.
In a position statement, Americans For Medical Progress—an advocacy organization that supports "ethical, judicious and responsible" testing on animals—stated that some testing is critical to scientific advancement.
"Animal studies continue to play a crucial part in medical, veterinary and scientific research that benefits both animals and humans," the organization stated. "Americans for Medical Progress supports research involving animals when it is necessary to advance our understanding of biological processes."