A humanitarian vessel carrying 629 people who were rescued from sinking ships over the weekend will find safe harbor in Spain after both Italy and Malta denied it access to their ports.
Spanish Prime Minister Pedro Sánchez, the leader of the Socialist Party, said on Monday the Aquarius search-and-rescue vessel will be able to dock in Valencia. The ship, positioned 35 nautical miles from Italy and 27 nautical miles from Malta, will take about three days to reach the Spanish city.
"I have given instructions for Spain to welcome the #Aquarius ship in the Port of Valencia. It is our obligation to provide these 600 people a safe harbor. We comply with international commitments regarding humanitarian emergencies," Sánchez said in a statement posted on Twitter on Monday afternoon.
The standoff between the European countries is the first tangible example of Italy's new hard line on arrivals of migrants by rescue vessels at sea. Italy claims other countries are not sufficiently contributing to the efforts, while Malta accused it of violating international obligations. According to the International Organization for Migration (IOM), there has been a decrease in arrivals by sea this year, with Italy and Greece receiving, respectively, 9,467 and 8,067 people as of May 1. Spain counted 4,400 arrivals. The IOM estimated 606 people have died while crossing the Mediterranean Sea in the first five months of the year.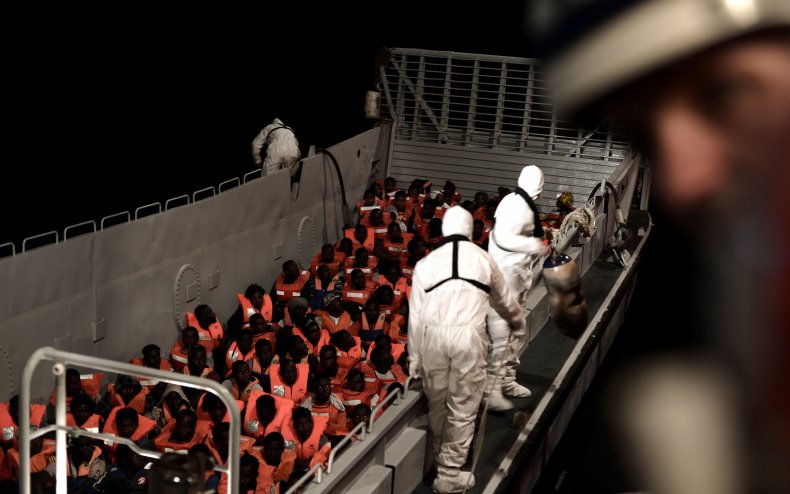 International law requires that rescue vessels not be subject to "undue delay" in their mission and are provided assistance from coastal states "as soon as practicable." The Gibraltar-flagged Aquarius vessel is jointly operated by the humanitarian groups Doctors Without Borders and SOS Mediterranee. Doctors Without Borders said the Aquarius rescued 229 people over the weekend before taking on an additional 400 people who were rescued by Italian coast guards, Italian navy and merchant vessels in overall six separate operations.
A total 123 unaccompanied children are on board the vessel, as well as several other people who need medical assistance. "Particularly seven pregnant woman, 15 with serious chemical burns and several critical drowning hypothermia patients," the humanitarian group wrote on Twitter.
Italy's Interior Minister and Deputy Prime Minister Matteo Salvini, the leader of the far-right Northern League Party that is ruling in a coalition with the populist Five Star Movement Party, announced the decision to refuse docking to ships rescuing migrants at sea on social media, launching a hashtag that translates to "let's close the ports" on Sunday.
Salvini expressed delight at Spain's decision, writing "Victory!" on his social media accounts on Monday, saying that another search-and-rescue vessel, the Dutch-flagged Sea Watch, would also be denied docking if it rescued migrants off the Libyan coasts.
A number of Italian cities on the southern coast, including Naples, Palermo and Messina, opposed Salvini's decision and offered to welcome the Aquarius vessel in their ports. "If a heartless minister leaves pregnant women, children, elderly people, human beings, to die at sea, Naples' harbor is ready to welcome them. We are humans, with a big heart," Naples Mayor Luigi de Magistris wrote in a statement.
Malta's Prime Minister Joseph Muscat thanked Spain's prime minister and promised to send supplies to the ship but, he said, the matter is not closed. "We will have to sit down and discuss how to prevent this from happening again," he wrote in a statement published on Twitter. "This is a European issue."