Hummer Explodes After Driver Stockpiles Gasoline in Back
On Wednesday morning, a car identified as a 2004 Hummer H2 went up in flames mere feet from a service station in Homosassa, Florida, according to local newspaper The Citrus County Chronicle.
When firefighters arrived at the scene of the explosion, they discovered that the driver of the car had stockpiled fuel in tanks in the back of the car. The tanks, which were able to hold a combined 20 gallons, had been "melted and blackened" in the inferno, according to The Drive.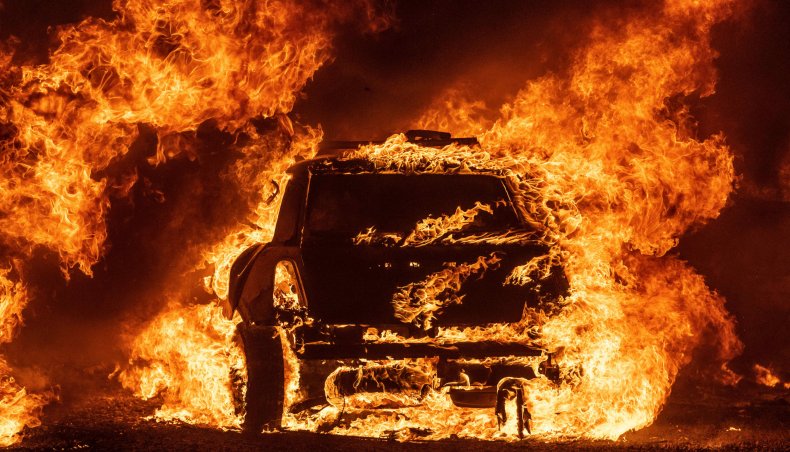 Since the Colonial Pipeline, which serves much of the eastern United States, fell prey to a cyberattack allegedly perpetrated by Eastern European hackers late last week, panicked citizens have been buying fuel in bulk.
The popularity of the trend, however, increases the risk for an accident of the kind that befell the Hummer and its occupant(s) yesterday.
A spokeswoman for Citrus County Fire Rescue told the Chronicle that the agency dispatched several crews shortly before 11:00 a.m. in response to a call about a Hummer that was burning at the corner of South Alabama Avenue and West Grover Cleveland Boulevard.
Within ten minutes of their arrival, firefighters had managed to extinguish the blaze. During the ensuing investigation, they found the fuel tanks. The tanks had been filled moments before the fire began at a nearby Texaco Food Mart, Marsh said.
One person was injured in the fire, but they refused transport to the hospital against medical advice. Their name has not been made public.
In addition to the firefighters, the Florida Department of Environmental Protection and the Florida State Fire Marshal were present to coordinate the cleanup effort and conduct an investigation, according to WFLA. However, the marshal could not provide comment because the investigation has not yet concluded, according to The Drive.
The precise cause of the explosion has not identified in any coverage so far. Several articles reference a Reddit post by @meister2a. In the post, which currently has more than 75,000 upvotes and 5,000 comments, @meister2a claims that the driver of the car lit a cigarette after filling the tanks, inadvertently causing the fuel to ignite.
However, Newsweek, along with The Native News Post, was unable to independently confirm that allegation.
Colonial Pipeline temporarily suspended service on Friday as a precautionary measure. In the meantime, several Southeastern states have suffered severe fuel shortages. The company resumed operations on Wednesday evening, though it may take some time before order is completely restored.