Supermarket Hummus 'Contains More Salt Than in Four Bags of Crisps': Report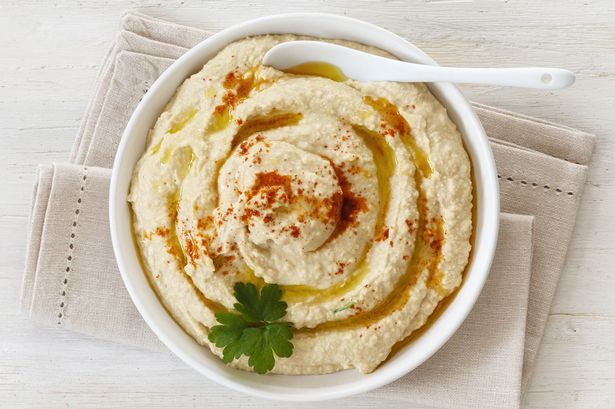 "Healthy" tubs of hummus, taramasalata, tzatziki and guacamole may contain more salt than four bags of potato chips, according to a U.K.-based public health watchdog.
Consensus Action on Salt and Health (CASH) conducted a national survey of 210 chilled dips sold at the U.K.'s biggest supermarkets. Hummus is the most popular dip, with Britons consuming £60 million worth annually. However, the Middle Eastern delicacy made from chickpeas is often laden with salt and fat.
One of the worst offenders was Marks & Spencer's Caramelised Onion Houmous containing more salt per 100g (1.53g) than four packets of ready salted potato chips—over a quarter of the daily maximum recommended salt intake (6g).
Across all supermarkets, taramasalata dips, made from fish roe, contained the most salt on average. A serving of ASDA's taramasalata (0.62g per quarter pot) contains the same amount of salt as 13 Ritz crackers.
Over 20 percent of the dips surveyed exceed the daily recommended intake of fat. A serving of Waitrose's Cheese and Chive dip contains 31.3g of fat per 57.7g portion—more fat than a Big Mac from McDonald's. As part of a healthy, balanced diet, an adult should consume no more than 20g daily, according to NHS guidelines.
"Once again, we demonstrate the unnecessary amounts of salt and fat being added by the food industry to what could be a healthy product. A diet high in salt leads to strokes and heart disease, the commonest cause of death in the U.K.," said Graham MacGregor, professor of cardiovascular medicine at London's Queen Mary University and chairman of CASH, in a statement issued to Newsweek.
"Reducing salt is the most cost-effective measure to reduce the number of people suffering, which is why it is imperative the government announces a new robust plan for reducing salt in our diet."
CASH advises consumers to be wary of portion size—spoon out an amount onto a plate rather than eating straight out of the container. The public health watchdog also suggests making your own dips rather than buying them from a supermarket. "Some plain low-fat yogurt, cucumber and a sprig of mint can make for a tasty homemade tzatziki," the report recommends.