About 400 people were evacuated by helicopter from Switzerland's Schilthorn mountain on Thursday morning, after the cable car linking the town and the summit shut down.
Helicopters were sent to pick up passengers, who were stranded with the cable car stopped at the Birg station, a midway station 8,783 feet above sea level.
The cable car on the 9,744-foot mountain in Bernese Oberland shut down in the morning. Within 10 minutes of receiving notice, an Air Glaciers team arrived to evacuate the passengers, according to digital news publisher The Local. By mid-afternoon, all passengers and staff had been brought down from the mountain safely.
The Schilthorn AG company, which operates the cable car, said in a statement that a technical defect lower down on the mountain stopped the gondola, Reuters reported. Passengers were moved by a different cable car to another area on the mountain, where helicopters picked them up. They disembarked at the Mürren ski station.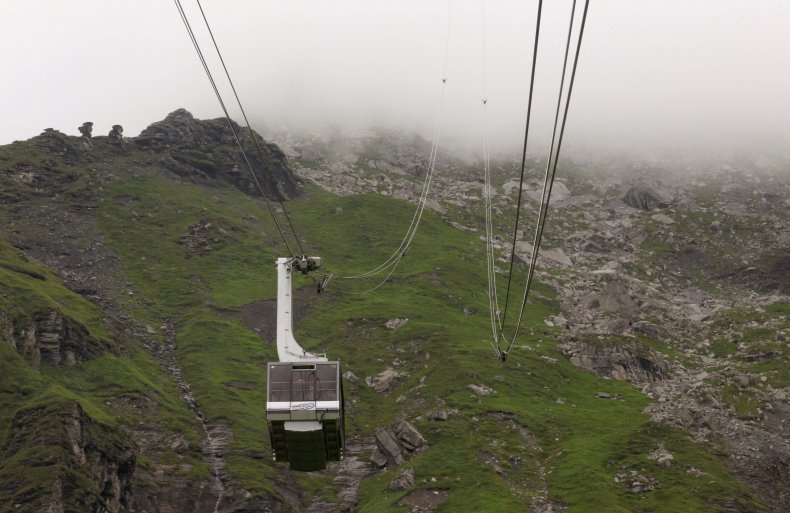 Schilthorn mountain was featured in the 1969 James Bond movie On Her Majesty's Secret Service, in a scene depicting the protagonist being chased down its snowy slopes by a group of villains on skis. A number of Bond-themed attractions—including a 007 Walk of Fame, an interactive exhibition and the revolving 360-degree Piz Gloria restaurant featured in the Bond film—are showcased at the top of Schilthorn to draw tourists. Piz Gloria also features a Bond-themed bathroom, which won this year's International Toilet Tourism Award.
Brewing storms factored into the decision to remove all passengers from the cable car, Christoph Egger, director of the Schilthorn Cableway, told Swiss newspaper Blick.
Egger said that many people were scared, as it was their first trip in a helicopter, but nobody opted for the alternative of walking down the mountain. It takes 32 minutes by cable car to travel from the base to the peak of Schilthorn, and it could have taken two hours to walk down the mountain.
"We have never had to fly out so many people at once. Indians, Chinese, Japanese, old and young, we got them all safely to Mürren," Michael Jaun, who works for Air Glaciers, told local press.
The Schilthorn AG company website said that cable car service had been resumed on Friday and that the technical error was under investigation.