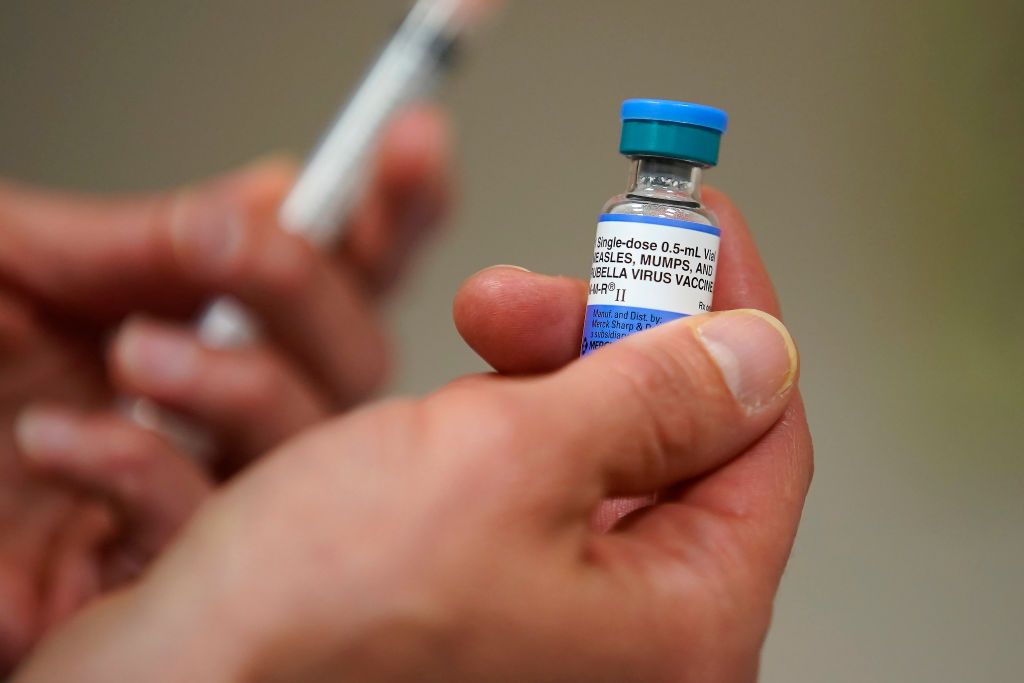 With a record number of measles cases reported across in the United States, the outbreak doesn't show signs of letting up just yet.
Earlier this week, UCLA and California State University at Los Angeles announced that hundreds of students, faculty and staff have been placed under a mandatory quarantine after two students, one at each university, contracted the virus and attended classes on their respective campuses.
At UCLA, the student reportedly entered two buildings, Franz Hall and Boelter Hall, over a three-day period to attend classes. The university learned of the measles case on Monday and began precautionary measures, CNN reported.
"Upon learning of this incident, UCLA immediately identified and notified more than 500 students, faculty and staff with whom the student may have come into contact or who may have otherwise been exposed," UCLA Chancellor Gene Block Block said in a statement. "They were also provided with detailed information about treatment and prevention."
As of Friday, the school told CNN that approximately 50 people were still under quarantine and would remain there until they could provide proof of vaccination or until the 21 day isolation period has expired. Only one student involved in the quarantine lives on campus and arrangements had been made to remove the individual from the dormitory, though UCLA did not give specifics of those arrangements to CNN.
"Quarantine for measles can be up to 21 days from the date of last exposure, at which time the exposed person is no longer a risk for developing the disease and spreading measles to others," a statement from the Los Angeles Health Department said.
According to a report from The Los Angeles Times, hundreds remain part of the effort to contain the disease at Cal State Los Angeles. School officials stated that the student infected with measles had entered Library North on April 11, a library that sees up to 2,000 students per day.
While the quarantine effort at Cal State L.A. was initially much larger, the number of those who are still under the order has dropped each day as more vaccination records arrive, the school told the Times.
The two students are among five cases of measles that have been reported in Los Angeles County this year, and though the efforts from the two universities drew criticism, the contagious nature of measles have left school administration little choice.
"What else can you do? It's disruptive, it's resource-intensive and it doesn't make people feel very pleased — this is basically the measure you're left with," Columbia University public health professor Dr. Stephen Morse told the Times.
Measles is spread through the air when an infected person coughs or sneezes, or a non-infected person comes into contact with the virus through direct contact or by touching the same surfaces as an infected individual. The virus is among the most contagious diseases in the world.
With 695 cases in 22 states, health care workers and other medical professionals are urging individuals who have not been vaccinated to visit their local physician or health department to get one.
Even President Trump — who has previously expressed anti-vaccination sentiments — urged Americans to be vaccinated, telling reporters Friday, "The vaccinations are so important. This is really going around now. They have to get their shots."
Most of the cases are focused in New York, Washington, New York, New Jersey and Michigan, but the outbreak has continued to spread in recent weeks. New York City Mayor Bill de Blasio declared a public health emergency in the Williamsburg neighborhood of Brooklyn and ordered individuals who have not been vaccinated for measles or to face a $1,000 fine.
Though the order was challenged in court, it was upheld by a judge.
In his statement, de Blasio blamed the outbreak on anti-vaxxers, something that other health officials have also pointed to for a disease that the Centers For Disease Control said was eradicated in the United States in 2000.