Hundreds of people attended a block party in Jackson, Mississippi, on Labor Day, with little adherence to mask wearing and social distancing policies set forth by state and local officials.
Video footage captured by WAPT News shows a crowd of people gathered at the event on Dixon Road near McCain Avenue, located northwest of the city's center. The party was for college students, according to the local station. There are a number of different colleges and universities that have campuses in Jackson.
The majority of those in attendance appeared to break social distancing guidelines, standing close to one another as they mingled. Many did not wear masks, or wore them improperly, the video footage shows.
The block party violated executive orders put forth by Mississippi Governor Tate Reeves. On August 4, Reeves announced that "every person in Mississippi shall wear a face covering, covering the nose and mouth" while inside public spaces and while in an outdoor public space "whenever it is not possible to maintain a minimum of six feet of social distancing."
Reeves initially announced the order would remain in effect until August 17, but the governor has since extended it to be in force until at least September 14.
Jackson Mayor Chokwe Antar Lumumba announced an executive order which went into effect August 27, limiting outside social gatherings to no more than 50 people with appropriate social distancing. The order continues to remain in effect, and those found in violation could be subject to misdemeanor prosecution.
It is unclear whether law enforcement officials in Jackson interacted with any of the block party's attendees. Newsweek contacted the Jackson Police Department for comment, but did not hear back in time for publication.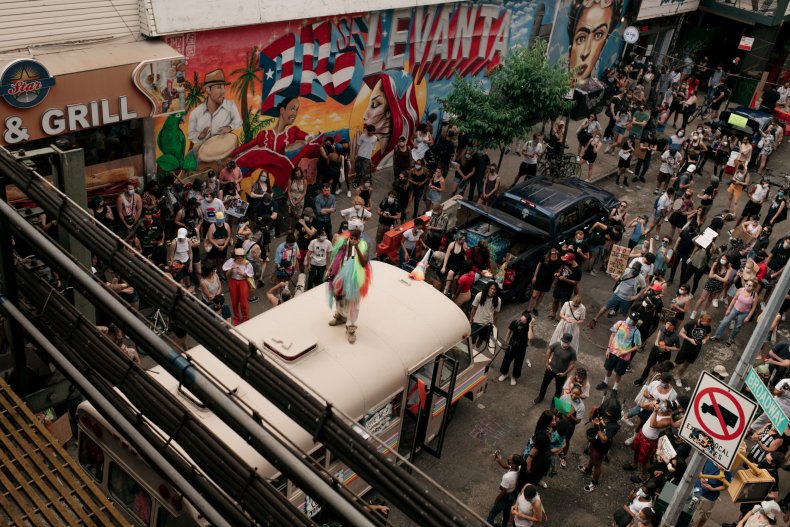 The Labor Day party is not the only recent event held on Dixon Road. Video surfaced online after a weekend block party in late July brought large numbers of attendees, many of whom were not wearing masks or practicing social distancing.
Lumumba placed blame upon city officials for allowing the party to grow as large as it did. Officials provided a permit for the block party before announcing stricter coronavirus policies, a mistake Lumumba said wouldn't happen again, WJTV News reported.
"And you know, I just think we have to do a better job of displaying personal responsibility. I thought it was reckless of people not to have masks," he said. "I thought that also when we look at where the event was taking place, that it's one of the communities that has been most disproportionately affected by this virus here in our community."
Those who hosted Monday's event on Dixon Road did not receive a permit from the city, Lumumba wrote in a statement, which was forwarded to Newsweek.
"The event on Dixon Road was an unlawful one," he wrote, adding that it violated the city and state's 20/50 rule, which limits the amount of people who can gather indoors and outdoors.
"Our focus is peaceful intervention and disbursement of high-risk gatherings, as well as continued public education to encourage residents to abide by the restrictions," Lumumba continued in the statement. He called Monday's event "distressing," and encouraged Jackson residents to report to the police gatherings that are in violation of state and local rules.
As of September 8, the Mississippi Department of Health (MSDH) has reported 87,379 total COVID-19 cases and 2,585 fatalities for the entire state. Hinds County, which is home to the city of Jackson, accounts for 6,694 of those cases and 143 deaths—the highest numbers seen in any of the state's counties.
People aged 18 to 29 make up a majority of the state's cases—19,247—according to data provided by the MSDH.
Ahead of Labor Day weekend, State Health Officer Dr. Thomas Dobbs urged Mississippians to celebrate with outdoor activities among small groups.
"We had a massive increase in cases and deaths because we got carried away," Dobbs said during a September 1 press conference, referring to previous spikes in the state seen after July 4 or Memorial Day. "Please, please, follow these warnings."
Update (09/09/20, 4:49 p.m.): This article has been updated to include comments from Jackson Mayor Chokwe Antar Lumumba.