Hundreds of Business Owners Protest COVID Restrictions, Demand More Government Support
Hundreds of small business owners across South Korea took to the streets of Seoul Wednesday to protest recently re-enacted strict COVID-19 restrictions that they claim hurt their establishments.
No clashes with police or other forms of violence were reported at the event. However, the protesters were critical of the distancing measures, which include a 9 p.m. business curfew and bans on gatherings of more than four people. Due to the measures, business owners fear that their already-low profits will drop even further.
Worsening tensions is the fact that the South Korean government allegedly has not followed through with their compensation plans. Some financial support was announced last week that promised around 1 million won, or $838 USD, each to the approximately 3.2 million small businesses affected by the COVID-19 pandemic. However, businesspeople say that isn't nearly enough to help them.
"We've followed the rules over the past two years because the government promised compensation," said restauranteur Yoon Sun-a to Reuters, "but they didn't keep the promise."
Around 7,456 cases of COVID-19 were reported in South Korea on Tuesday, with 583,065 being recorded since the start of the pandemic, Reuters reported. Of those, 4,906 resulted in deaths. Approximately 92 percent of the South Korean population is vaccinated against COVID-19.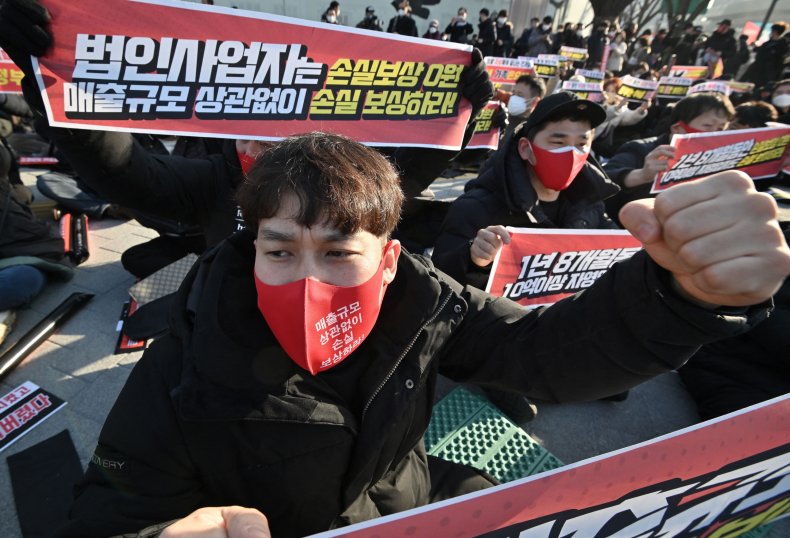 The protesters pumped their fists in the air and chanted, "Guarantee the right to live!" and "Scrap restrictions on business operations!"
Some jeered when a lawmaker took the podium to explain aid packages proposed by the governing party presidential candidate.
Under current social distancing guidelines, up to 299 people are allowed to join rallies but all must be fully vaccinated.
On Saturday, South Korea reimposed its toughest social distancing rules to try to control a record-breaking surge of the coronavirus. Most new cases in South Korea are still the delta variant, but health officials say the new omicron variant could become the dominant strain in a few months.
"The financial assistance must be drastically increased ... there should be as much compensation as our losses," Oh Se-hee, leader of an association of small business owners, said in a speech at the Seoul rally.
The current restrictions are to last until January 2. Oh said small business owners will hold street rallies nationwide if the government extends the curbs.
South Korea has confirmed 234 cases of the new omicron variant.
The Associated Press contributed to this report.