Hundreds of California Health Workers Strike Amid Staffing Shortages
Hundreds of California health care workers began a strike Monday that the union representing them said was partly a response to staffing shortages that began before the coronavirus pandemic.
More than 350 health care workers at Sutter Delta Medical Center in Antioch, a city in California's eastern Bay Area region, were expected to participate in the strike, according to Service Employees International Union-United Healthcare Workers West (SEIU-UHW). The union represents more than 100,000 workers, patients and consumers within the state's health care industry.
The strike began Monday morning and is expected to last through Friday, according to SEIU-UHW.
"Employees at Sutter Delta Medical Center say conditions are dire for caregivers and patients inside their facility as management ignores concerns about understaffing and working conditions," the union said in a news release. "Workers are worried about patient and staff safety and say they've been pushed to the limit by their employer."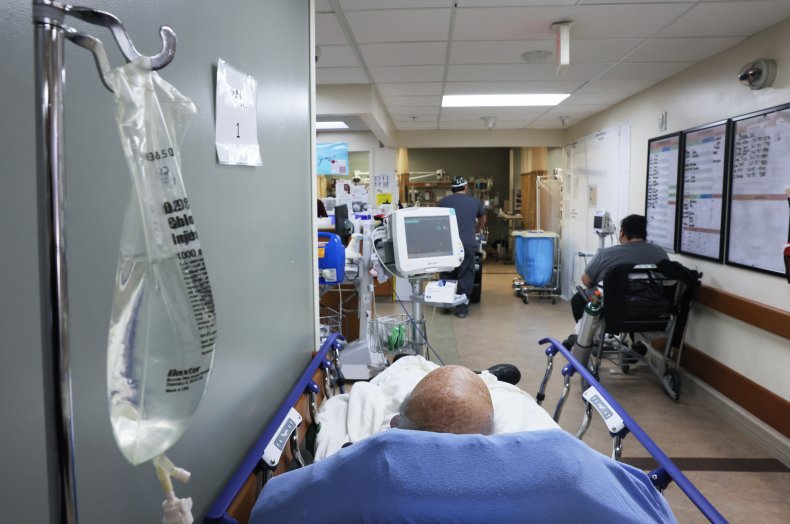 The release announcing the planned strike included comments from one of the medical center's emergency room technicians, who said staff members were "drowning" and "wearing too many hats."
"We can't give adequate care. We feel like management is ignoring our concerns and is leaving us to fend for ourselves," the technician said.
The union said workers have alleged there were staffing shortages at Sutter Delta Medical Center before the pandemic, which has made those initial shortages more problematic.
"Frontline caregivers say COVID exacerbated this already strained infrastructure, and their employer's response to the pandemic has only worsened the preexisting crisis," the union said.
Video of several strike participants holding signs in front of the medical center before sunrise was shared Monday morning by Bay Area–based TV news outlets KRON-TV and KNTV. Lamar Thorpe, the mayor of Antioch, was also in attendance, according to a photo SEIU-UHW shared on social media.
Thorpe told San Francisco–based TV news station KPIX-TV he found the strike "concerning."
"All I care about is the fact that this hospital serves the residents of Antioch," Thorpe said, "and in particular the most vulnerable in our community. So any type of impasse that creates a strike, that creates disagreements between management and workers, is concerning to me because this is an important lifeline on our community."
In a statement shared with Newsweek Monday afternoon, Sutter Health said it was "disappointed" in the decision to move forward with the strike. A spokesperson said that by striking, the SEIU-UHW leaders chose "to distract from patient care."
Sutter Health intends to "stand by" its contract offer, which the spokesperson said had been negotiated by SEIU-UHW, the spokesperson said.
"Our priority is providing safe and accessible patient care, despite the disruptive actions of the union," the spokesperson said. "By bringing in qualified staff and adjusting some schedules, we're able to help ensure the majority of Sutter Delta Medical Center's operations will continue as normal, including emergency services."