Hundreds of California Residents Will See Guaranteed Income Payments As City Launches Test Program
A California city is launching a "no strings" guaranteed income program this spring that will provide 600 low-income families with $500 monthly payments for 18 months.
Oakland Mayor Libby Schaaf said in a Tuesday announcement the program is set to be one of the largest of its kind in the United States.
"Our vision is an Oakland that has closed the racial wealth gap and where all families thrive," Schaaf said. "We believe that guaranteed income is the most transformative policy that can achieve this vision, and whose time has come."
In announcing the pilot program, Schaaf emphasized that the goal of the program is to narrow the city's racial wealth gap.
"We believe that poverty is not personal failure—it is policy failure," she said.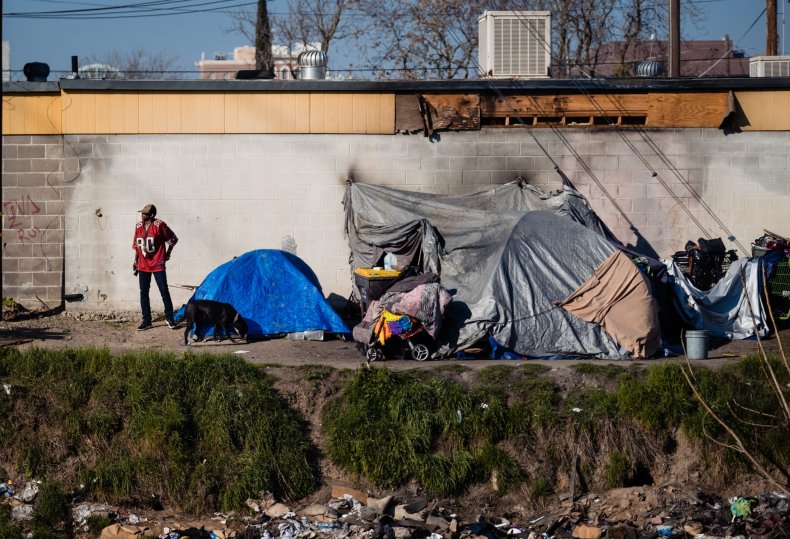 Residents who are Black, indigenous or people of color (BIPOC), whose annual incomes are equivalent to about $59,000 for a family of three—an amount Schaaf's office said would place them at or below 50 percent of the city's median income—will be able to qualify for the program. Individuals who apply to participate must also have a child under the age of 18, but participants' legal status will not be called into question, the mayor said.
Schaaf said the city is working to publicize the pilot program to encourage residents to apply for a spot this spring and summer, according to a Tuesday news release.
"The goal is to begin payments to families this spring after incorporating more community feedback and to have the entire program up and running this summer," the release said.
Schaaf said the payments will continue for at least 18 months and will have "no strings," though the program website said participants will be invited to respond to surveys so that city officials can gauge the payments' impacts on the recipients and the neighborhoods in which they live.
Schaaf is part of Mayors for a Guaranteed Income, a coalition that former Mayor Michael Tubbs of Stockton, California, launched last year which now has support from more than three dozen local leaders in cities across the United States. In a video message Schaaf shared on Twitter announcing Oakland's pilot program, Tubbs applauded the program launch and highlighted its racial justice element.
"I am hella proud of Oakland today," Tubbs said.
In a statement shared with Newsweek, Tubbs said he plans to continue working with Schaaf as Oakland's pilot program moves forward.
"One of my hopes in testing out a guaranteed income is that other cities would follow suit, and I'm thrilled that Oakland is among the first. I applaud Mayor Schaaf's leadership and am looking forward to working with her to move from pilot to policy," Tubbs said. "By focusing on BIPOC residents, the Oakland Resilient Families program will provide critical financial support to those hardest hit by systemic inequities, including the pandemic's disproportionate toll on communities of color."
Before launching Mayors for a Guaranteed Income, Tubbs in early 2019 launched a guaranteed income pilot program of his own, called the Stockton Economic Empowerment Demonstration (SEED), for some of his city's qualifying residents. According to an analysis SEED published earlier this month, the program helped some recipients find full-time jobs and reduced frequent fluctuations in income, as well as improved the emotional well-being of those enrolled in the program.
Schaaf referenced the Stockton program while discussing Oakland's program rollout on Twitter.
"Boosted by Stockton's results, our goal is to add to the body of evidence that unrestricted cash to our lowest-income residents—and particularly those who've suffered from historical racial inequity—can improve outcomes + change systems," Schaaf tweeted.
Updated 3/23 at 7:24 p.m. ET: This article has been updated to include comments from Mayors for a Guaranteed Income Founder Michael Tubbs.