Hundreds Don White Coats, Stage 'Die-In' for Syrian Doctors, Medical Workers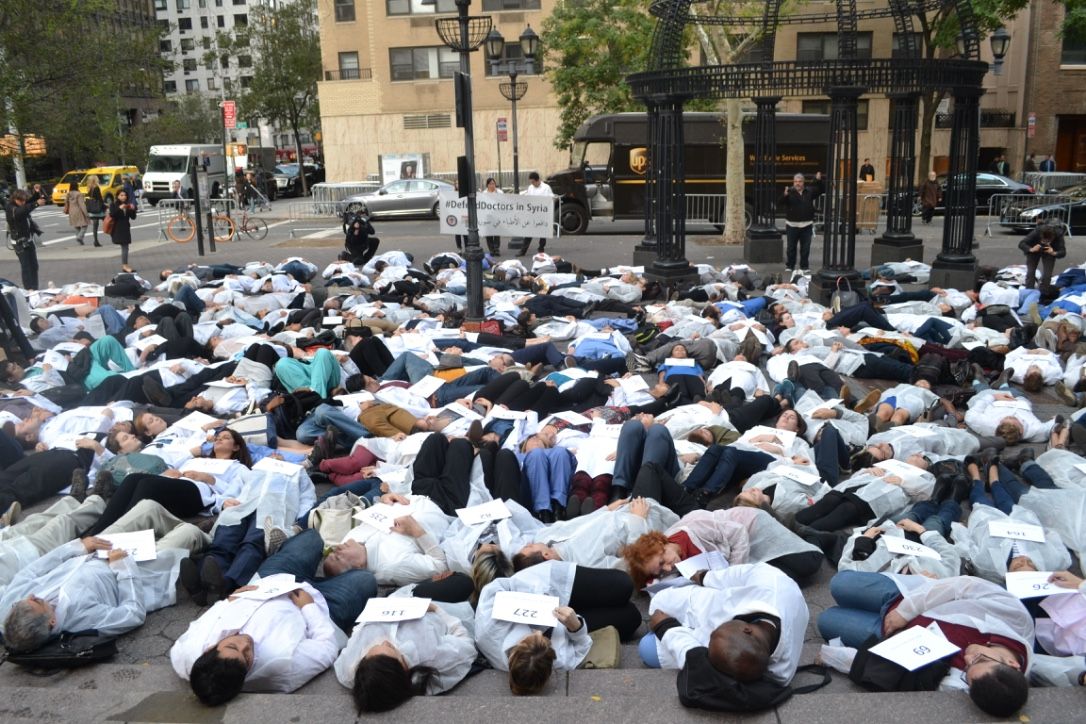 A sea of white coats and signs covered the grounds of Dag Hammarskjold Plaza in New York City on Thursday afternoon, as hundreds of volunteers performed a "die-in" to highlight the deaths of nearly 700 health care workers since civil war broke out in Syria in 2011.
Organized by Physicians for Human Rights (PHR) and the Syrian American Medical Society (SAMS), the event aimed to raise awareness that health care facilities have been targeted 313 times during the war, and 90 percent of the attacks have been committed by government forces, according to PHR. Earlier this month, PHR said Russian airstrikes hit three medical facilities over a two-day period, injuring staff and damaging buildings.
"The crisis in Syria has involved the most intense and directed and brutal attacks on health care and health workers that we have ever seen," says Susannah Sirkin, director of international policy and partnerships at PHR. The goal of the die-in, she says, is to show the public "what killing hundreds of doctors physically looks like."
Recent headlines have focused on the targeting of medical facilities in war zones, after the U.S. said civilians were "accidentally struck" during an airstrike on a Doctors Without Borders/Médecins Sans Frontières (MSF) hospital in Kunduz, Afghanistan. Also, an MSF hospital in Yemen was hit by an airstrike earlier this week.
But Sirkin says such attacks happen in Syria on a weekly basis and "have largely gone ignored for four years. We have become frustrated with the paralysis and numbness of the world around these atrocities."
Dag Hammarskjold Plaza overlooks the United Nations headquarters, and the die-in was held there to send a message to member states that they haven't done enough to protect Syrian civilians, says Sirkin. That's even though the Security Council last year passed resolution 2139, "calling on all parties to immediately cease attacks against civilians and lift the siege of populated areas." Volunteers donned white coats and each held up a sign that included the age, profession and date of death of a medical worker killed in Syria.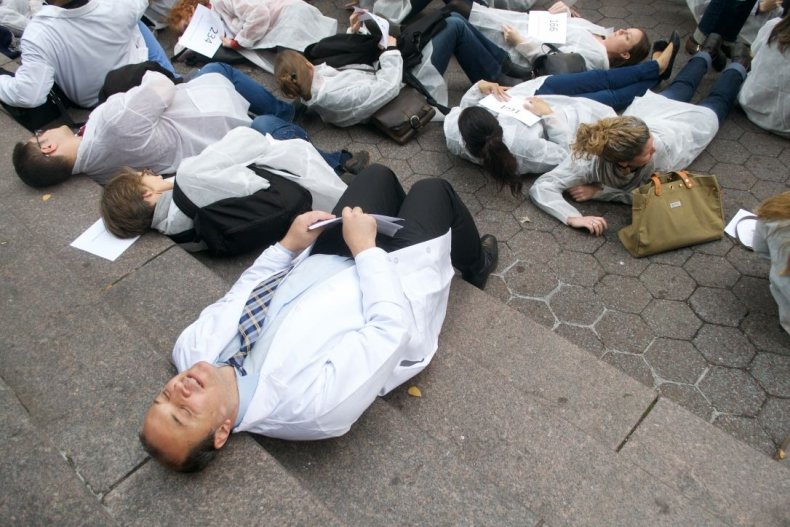 In Focus
Nearly 700 health care workers have been killed in Syria's war and 313 medical facilities have been targeted, according to NGOs.
Launch Slideshow

10 PHOTOS
Among the more than 200 volunteers and medical staff at the die-in was someone who for his own protection wanted to be identified only as Dr. Majed. He has first-hand experience of living as a medical worker in Syria, but says he fled to Gaziantep in southern Turkey from East Ghouta, Syria, with his wife and three children last May because he "could not live in that siege under all that bombarding with all kinds of weapons: shelling, airstrikes, everything."
"When you're in a hospital, you have to expect that you will maybe be targeted more than other places," Majed tells Newsweek . Several hours before the die-in on Thursday, he says, the hospital where he used to work was hit by an airstrike, killing nine people.
MSF said Thursday that since late September, airstrikes in Syria have killed 35 Syrian patients and staff and wounded 72 people in 12 hospitals. MSF said six hospitals, including three supported by the organization, have been forced to close. One has reopened, but access to emergency and maternity medicine is "severely disrupted."
Hisham Naji, an anesthesiologist in Virginia who is president of the Washington chapter of SAMS, says he visited northern Syria to help treat patients two years ago and experienced being a target of bombings and airstrikes.
"I saw with my own eyes the helicopters dropping those barrel bombs. Eventually the place that I helped, which was underground, missiles hit the place directly and destroyed the hospital," says Naji, who is originally from Syria. "It's very sad."
Among the volunteers standing in solidarity with besieged health care workers in conflict zones were three second-year medical students at Icahn School of Medicine at Mount Sinai in New York City. Student Nick Titelbaum says the awareness of attacks against medical staff in Syria "is [not] at the level it should be among medical students in particular."
He adds: "If the medical community here is so unaware of what's going on [in Syria] then what's the general public's knowledge? Probably zero."
Medical student Caroline Byer says attacks against medical workers wouldn't make her think twice about going to work in a conflict zone, but Leela Chockalingam says she would reconsider, as the protection usually afforded to medical staff and health care workers in war zones doesn't seem to apply in Syria.
"I'm interested in working in global health eventually and it's scary that terrible things can happen to people who are just trying to save lives," says Chockalingam.