Hundreds of Dumped Packages Lead to Arrests of 3rd-Party Amazon Drivers in Major Theft Ring
Three people, including two who are believed to be third-party Amazon drivers, were arrested after officers found thousands of dollars of stolen products.
Oklahoma County Sheriff's Office deputies were called to an area of Oklahoma City for a complaint about illegal dumping. Deputies found 600 empty Amazon packages, worth more than $15,000, and a receipt from a local store led them to a home with thousands of undelivered Amazon packages.
The packages, according to the sheriff's office, were being stored in almost every room and "filled the storm shelter." Oklahoma County Sheriff Tommie Johnson III categorized the operation as a "major Amazon theft ring" and said in a news conference that officers believe Cesar Yasnier Cerqueira Rojas was loading extra products onto the truck to take home to sell.
Rojas, Dinneris Matos Delgado and Maikel Perez Laurencio were arrested on the scene and charged with 15 felony counts of possession of stolen property and embezzlement. Rojas was working as a third-party driver for Amazon and using Delgado's truck, according to police. Laurencio reportedly was working as a third-party driver as well.
Both Rojas and Laurencio are undocumented immigrants, according to the sheriff's office. However, officers are still working to verify their identities and are not certain their identifications are authentic.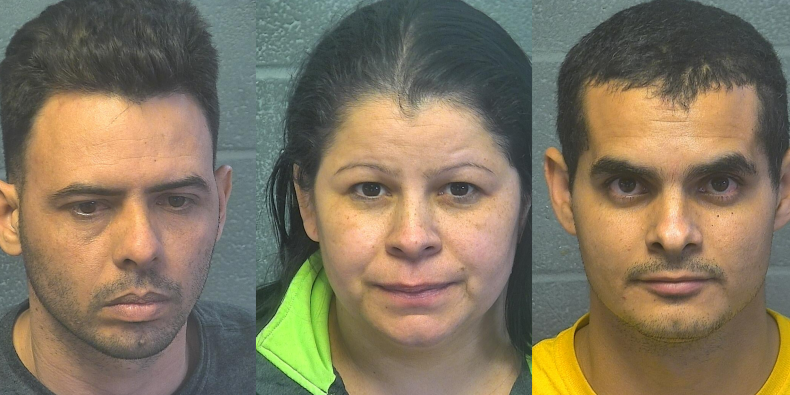 Captain Robert Tye said the packages are worth at least $15,000, while Amazon called that amount just the "tip of the iceberg." Most of the packages were destined for Kansas, Texas and southern Oklahoma, according to Tye.
Newsweek reached out to Amazon for comment but did not receive a response in time for publication.
Package theft has been a consistent problem nationwide for a few years and tends to get worse around the holidays. There have been reports of people following Amazon trucks and other vehicles as they make deliveries, and law enforcement offices nationwide have advised people to take precautions to prevent package theft.
During Wednesday's news conference, Johnson stressed that officers working on the case deserved praise for what they uncovered. He noted that responding to an illegal dumping call can be part of an officer's routine that just gets "completely discounted." However, thanks to the officers' extra effort, they were able to uncover the theft ring, he said.
"[Our deputies] gave citizens what they deserve, and that is extra effort," Johnson said. "There has to be something said when good old-fashioned police work resolves issues."
Possession of stolen property can bring up to five years' imprisonment in Oklahoma, and the sheriff's office expects more charges will be filed.