Emergency Workers Come Out in Force in Mass Protest Against New York Vaccine Mandate
Thpusands of emergency workers blocked roads in New York City's Brooklyn borough as they protested against the city's vaccine mandate for municipal workers.
Demonstrators included city workers with the Fire Department of New York (FDNY), Emergency Medical Services (EMS), the Sanitation Department of New York (SDNY) and the New York Police Department (NYPD).
Photos and videos show a large crowd gathering at the FDNY's headquarters in downtown Brooklyn. Protesters are expected to rally and march across the Brooklyn Bridge over to City Hall.
Most of the city's workers have less than a week to get their COVID-19 vaccines or go on unpaid leave.
Last week, Mayor Bill de Blasio announced that regular COVID-19 testing would no longer be an option in lieu of vaccinations and that city employees, including first responders, would have until October 29 to get at least one dose of the vaccine.
"It's a mandate now for all city agencies, all city workers. It's time for everyone to get vaccinated. Our public employees are going to lead us out of the COVID era," de Blasio said.
"So we say vaccinate. If you choose not to, You have the right to go on unpaid leave. We're going to work with your union to figure out what happens next. But the bottom line is we're not going to pay people unless they're vaccinated," the mayor added.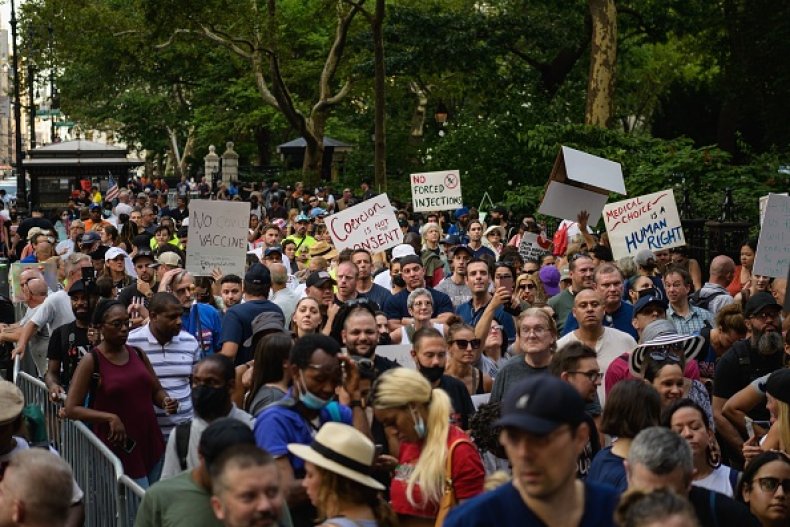 The mandate is expected to apply to roughly 160,000 employees who have not yet been required to get a shot and employers are preparing to face major staffing shortages.
As of last Tuesday, the overall NYPD vaccination rate was 71 percent.
Rates among other city workers are even lower, with only 60 percent of the SDNY and FDNY's uniformed workforce having received their shots.
De Blasio has also offered to give city workers an extra $500 if they get their shots at a city-run vaccination site by the Friday deadline—an incentive that could cost the city $23 million.
Monday's protest is the latest city dispute over vaccine mandates.
A day earlier chaos erupted outside the Barclays Center after anti-vaccine mandate protesters rushed at barricades ahead of the Brooklyn Nets' home opener.
Demonstrators were protesting the city's vaccine mandates and supporting Nets guard Kyrie Irving for his refusal to get vaccinated, which is preventing Irving from practicing or playing with the team until he gets a shot.
A New York mandate requires professional athletes to be vaccinated in order to play at any of the city's public venues.
Update 10/25/21 - 2:45 PM ET - The headline of this story and the text has been updated to reflect the size of the protest.