Hundreds of Flights Canceled Across U.S. Today
Thousands of air passengers are set for misery and logistical headaches with almost 670 flights in the U.S. canceled today.
According to the airline tracker website Flight Aware, there are a total of 669 "cancelations within, into, or out of the United States today" so far.
The problems for travelers do not end there, as thousands more Americans have been hit by snags in their journeys, with the website adding there are 432 "total delays within, into, or out of the United States today."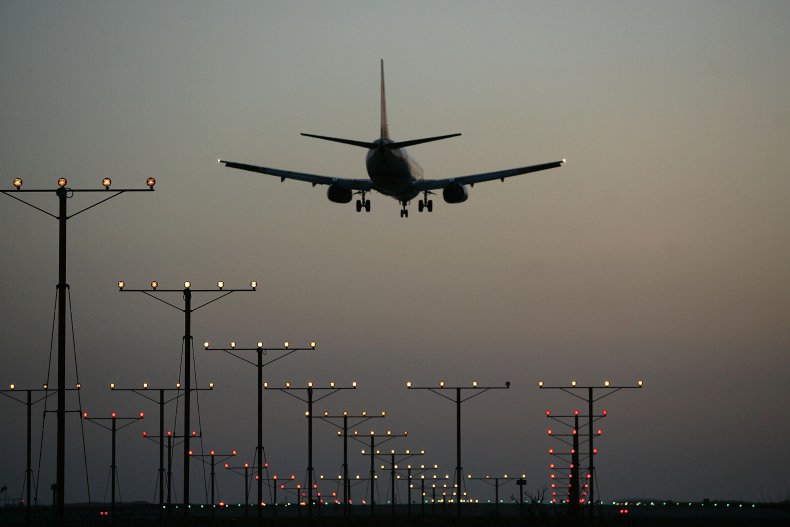 Delta Air Lines canceled 192 flights according to the website's stats, which equates to 6 percent of its flights, while a further 80 are listed as delayed.
United Airlines is listed as canceling 113 flights, with 43 delayed.
American Airlines canceled 51 and delayed 72.
Newsweek has reached out to all three airlines for comment on the cancelations and delays.
The aviation industry has had a difficult start to the summer, with the sector hit by a number of problems globally. Resultantly, airlines and airports across the world are struggling to cope.
Many problems boil down to a lack of staff, both in the air and on the ground. Demand for air travel skydived during the pandemic and the industry let a number of employees go; so now demand has risen again, the sector been left short-staffed. COVID-19 means many of the workers who have remained, may need to take time off to isolate and recover.
New York Times travel editor Amy Virshup told CBS News: "The biggest issue is they don't have the capacity. They have not been able to bring back full capacity in terms of pilots, TSA checkpoints, vendors at the airport, baggage handlers, ground staff, or flight attendants. So they're really struggling to ramp up their hiring again in the face of demand, which is growing faster than expected."
Elsewhere Kit Darby, founder of Kit Darby Aviation Consulting, issued a grim warning for the upcoming Independence Day holiday to CBS MoneyWatch. "We may not have seen the worst of this," he said, adding pilots reach the maximum number of hours they are legally allowed to fly towards the end of each month: "Toward the end of the month, and as we transition into the next month, is when it's the worst. The Fourth of July is not looking good."
His words echoed those of Transportation Secretary Pete Buttigieg, who urged airlines to hire more staff ahead of the looming Fourth of July holiday weekend as delays and cancelations surge.
Newsweek previously reported on the travel chaos sparked over the Memorial Day weekend, with hundreds of U.S. flights canceled or delayed.