Attempting a Record, Hundreds of Frida Kahlo Lookalikes Swarm Museum on Painter's Birthday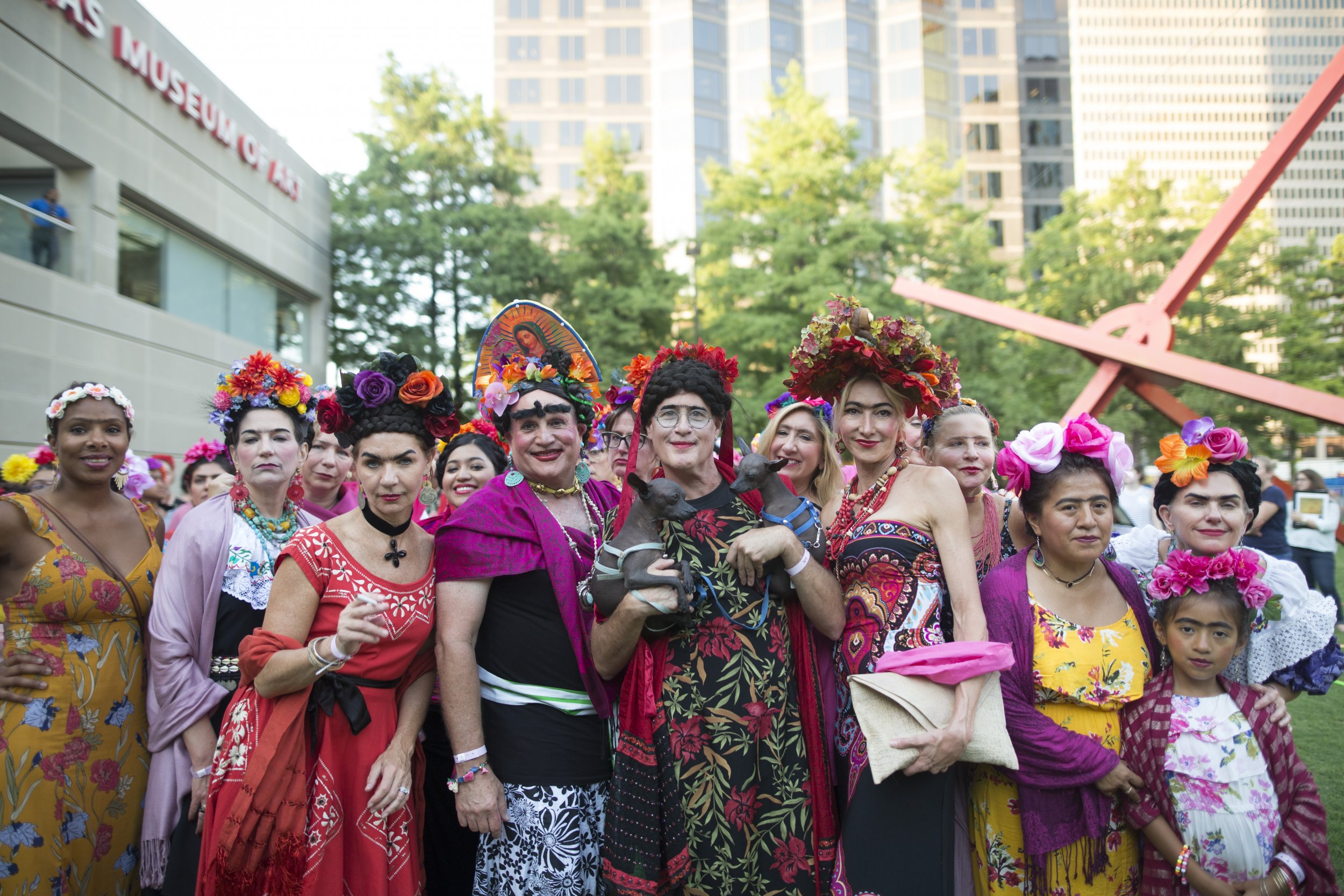 Thursday would have been Frida Kahlo's 110th birthday. The Mexican painter died in 1954 but the Dallas Museum of Art celebrated the anniversary of her birth with cake, dance performances, documentary screenings, makeovers and an attempt to create a world record for the largest gathering of people dressed as Kahlo.
"I've recently looked up what Frida does and seen her self-portraits, and she's so true to herself and proud of herself and it's an inspiration," Sofia Valadez, a 13-year-old participant, told the Dallas Morning News. "She's such a strong, independent woman. And I like her eyebrows."
The record is not yet official. The museum submitted an application with Guinness World Records back in January to get the process started and make sure the guidelines were clear, spokeswoman Kristen Ott tells Newsweek. There is no previous record on the books for a Kahlo mass participation event, but the base number required to be deemed a record-holder in a new category is 250.
In order to be counted as a lookalike for the purposes of the record, Ott says participants had to have four components: a flower-printed dress that extends below the knee on all sides; a red or pink shawl; flowers in the hair (with a minimum of three flowers) and a unibrow joining the eyebrows, using either makeup or fake hair. Such guidelines are developed by Guinness records managers to ensure that there is some level of standardization for costume records. Participants have to gather in an enclosed space and be counted in an approved method.
There was no judge on site, but a mass participation record requires two independent witnesses and a "steward" for every 50 participants. Now that Thursday's celebration is up, the museum will have to submit extensive evidence in order to be officially listed as the Guinness World Record holder. That includes photos, videos and a log of everyone who participated. There's no deadline for the museum to submit its documentation, but once it does, the review process takes approximately 12 weeks, says Ott, since Guinness receives about 1,000 submissions each week.
While hundreds of Kahlo lookalikes gathered in an enclosed area outside to try to honor the artist with a new record, some of her work was on display in the museum as part of the exhibit "México 1900–1950: Diego Rivera, Frida Kahlo, José Clemente Orozco, and the Avant-Garde." The show proved to be a blockbuster; with more than 75,000 visitors from its opening in March through mid-June, it had already become one of the museum's top ten most attended exhibits since 2000.
Kahlo is "an inspiration, as an artist, but I would add that I came here because I wanted to support the Dallas Museum of Art," Claudia Curici told the Dallas Morning News. "Since they've brought this exhibition, they brought so many people in and they made this accessible," she added. "It was amazing. And all of these people turning out, I think, is recognition for what they did for the community."