Hundreds of workers at the Frito-Lay plant in Topeka, Kansas, have been on strike for over a week, citing low wages and 84-hour workweeks, according to More Perfect Union.
Some workers say they have been forced to work 12-hour shifts, seven days a week, including "suicide shifts" where there are only eight hours between the last shift worked and the next shift.
Monk Drapeaux-Stewart, a box drop technician at the plant, told Labor Notes that the workers on strike want to see an immediate change to the scheduling, with an end to forced overtime and the short period between shifts.
"We want to go home and see our families. We want to have our weekends off. We want to work the time that we agreed to work—and hopefully not much more than that," Drapeaux-Stewart said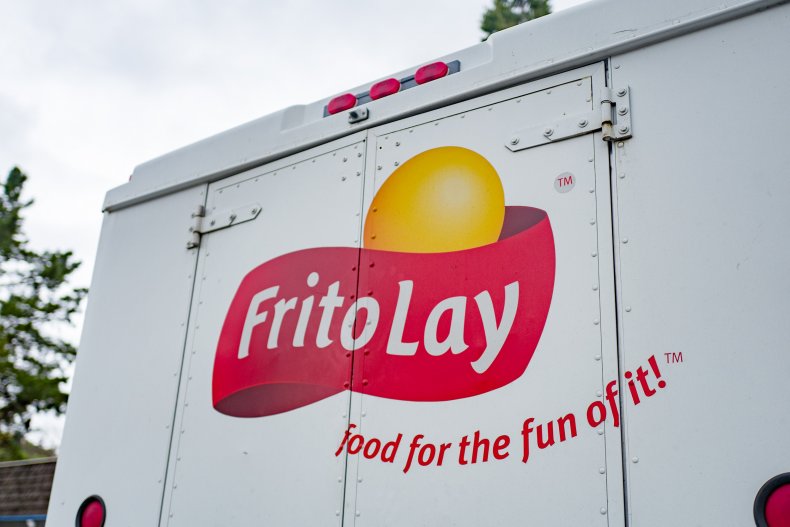 Drapeaux-Stewart also cited poor wages, saying he had only received a 77-cent raise over the past 12 years.
In an opinion piece by Frito-Lay worker Cherie Renfro published in The Topeka Capital-Journal, she accused the company of dangerous working environments and alleged that: "When a co-worker collapsed and died, you had us move the body and put in another co-worker to keep the line going."
Frito-Lay said in an email to Newsweek that it "wholly rejected the allegation" and that, "While it's unclear what incident the associate may be referring to, we are aware of only two instances in the last five years in which an individual has experienced a medical emergency at the plant that unfortunately resulted in that individual passing away. In both cases, medical attention was initially provided at the plant and work ceased until the associates were safely on the way to the hospital."
An unverified image circulating Twitter shows a sign in a grocery store apologizing for a shortage of Frito-Lay products "due to labor issues" at the plant, which Twitter users have noted is allegedly referring to the labor strike.
More Perfect Union interviewed workers on strike, who shared their experiences of 12-hour shifts and not having enough time to spend with their families. One employee, Esther Fanning, said she wanted to be able to spend more time with her children as they grow up.
"I'm hoping for change. I'm hoping for more time with our children. I'm hoping for some more money. It's not fair. We are human beings too," Fanning said.
More Perfect Union posted a letter on Twitter that Frito-Lay reportedly sent to the workers on strike addressing their concerns, claiming an offer made on July 1 addressed every concern they continue to strike for.
"We made an offer that we believe satisfied many of your concerns. We hope employees will realize a continued strike is not in anyone's best interest. Thank you to those of you who have already returned to work," the letter reads.
Workers voted down the contract offered by the company on July 1, which offered a 2 percent increase in wages each year of the contract, for a total of a 4 percent increase. It would also introduce a 60-hour-a-week cap on the number of hours workers could be forced to work.
The offer was rejected on the grounds that the wages weren't enough, and the overtime cap would force more senior workers to go in on weekends, Labor Notes reported.
"Frito-Lay is committed to providing a safe and fair workplace for all of our employees," Frito-Lay said in a statement to Newsweek. "We believe our existing two-year offer addresses the concerns that have been raised at our Topeka facility. That good-faith offer, which was recommended by the entire union bargaining committee, accepted the union's proposal for across-the-board wage increases and improved work rules that would reduce overtime and hours worked.
"We believe the strike unnecessarily puts our employees at risk of economic hardship, and we are focused on resolving this matter as expeditiously and fairly as possible. Of the approximately 850 manufacturing and warehouse employees who are part of the bargaining unit currently on strike, approximately 300 have exercised their legal right to continue working."
Calls have been made on social media to boycott Frito-Lay products as well as products from its parent company, PepsiCo, until the strike ends.