Hundreds of Haitian Migrants Smuggled, Rescued by Patrol in Florida Keys
Federal authorities said that 356 Haitian migrants that were potentially part of a smuggling operation were discovered Sunday afternoon off the Florida coast.
A spokesperson for U.S. Customs and Border Protection told Newsweek that U.S. Customs and Border Protection, Air and Marine Operations, the U.S.
Border Patrol, Office of Field Operations, in addition to federal, state and local law
enforcement partners, responded "to a maritime smuggling event" on Sunday
afternoon in Key Largo.
A vessel "containing 356 Haitian migrants ran aground" several hundred yards offshore.
In total, 158 of the Haitians were rescued and evaluated by emergency personnel on the scene. All rescued migrants were taken into U.S. Border Patrol custody while the other 198 migrants remained onboard the vessel. The spokesperson said they were safely removed from the vessel and taken into custody by the U.S. Coast Guard.
"The coordinated and timely response of the U.S. Border Patrol and our federal, state and local partners potentially saved the lives of these migrants today," said Walter N. Slosar, chief patrol agent of U.S. Border Patrol, Miami Sector. "We are fortunate to report that there were no serious injuries or fatalities associated with this smuggling venture. The criminal organizations that overload these vessels sacrifice the safety of the migrants for the sake of profits."
The U.S. Coast Guard's Southeast Division, which patrols South Carolina, the Florida Keys and the Caribbean, tweeted that crews had responded to "a suspected migrant venture" off Ocean Reef. A later update said the Coast Guard coordinated off-shore with U.S. Customs and Border Patrol officials, and stated that the migrants in the wooden boat were Haitian.
Jason Neiman, lieutenant commander of the Coast Guard's 7th District, said the agency's priority involved keeping everyone safe after the "dangerous voyage and grounding," adding, that "multiple agencies responded quickly and worked closely to protect a lot of lives today."
Slosar tweeted Sunday "smugglers overload vessel," which was in reference to the migrant situation. Border patrol agents and partner agencies responded to the scene that involved the migrants, including approximately 163 of them who swam to shore.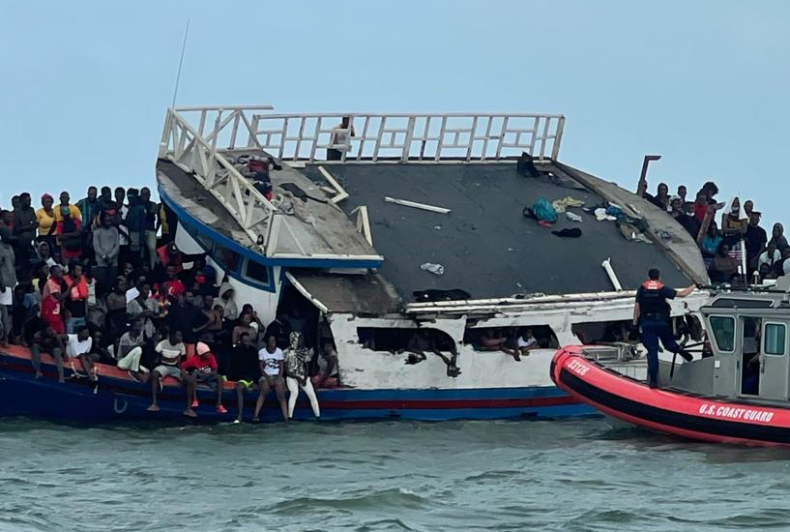 According to South Florida's Local News 10, Adam Hoffner of the U.S. Border Patrol confirmed Monday that 158 migrants were taken into custody for interviews and were processed for removal. Also, 198 migrants that remained onboard the vessel were safely transferred by U.S. Coast Guard partner agencies to one of their boats.
He also said local authorities are arranging for the migrants' boat to be removed or disposed of.
"We do suspect this was a smuggling operation that did depart from Haiti," Hoffner told the news station. "Our concern right now is the safety of the migrants."
The Miami-Dade Fire Rescue had 11 units respond to the area, leading to medical attention for about 20 individuals, with two adults and two children being transported to a local hospital.
Instances like these are not uncommon.
On February 27, the U.S. Coast Guard stopped an overloaded sailboat off the Bahamas that contained 179 people crammed on its deck reported Florida Keys News. They were first sighted by a Coast Guard aircrew sailing about 30 miles off Andros Island.
Federal government maritime migration is tracked beginning and ending October 1 of each calendar year. Florida Keys News reported that if numbers of Haitian migrants continue at its current rate, fiscal year 2022 will surpass fiscal year 2021 statistics, which include "the most people interdicted by the Coast Guard" since 2019's fiscal year.
Since October, the Coast Guard has reportedly stopped 993 Haitian migrants headed to Florida, compared to 1,527 in all of fiscal year 2021. That number was just 418 in fiscal year 2020.
The investigation remains ongoing.
Newsweek reached out to the U.S. Coast Guard and Miami-Dade Fire Rescue for comment.
Update 3/8/22, 11:59 a.m. ET: This story was updated with additional information and background.