Hundreds of People Have Been Arrested Just for Raising a Flag. Here's Why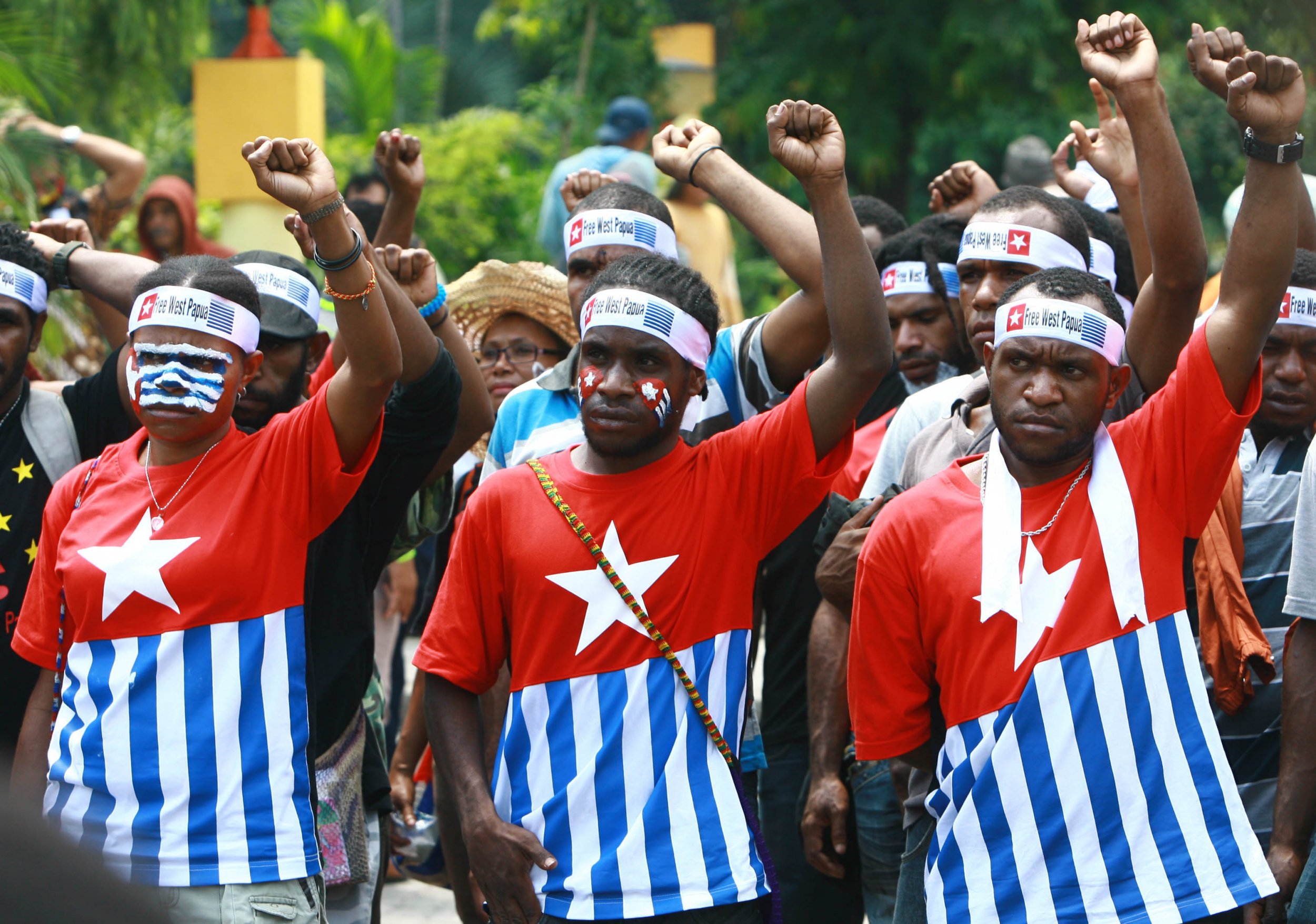 Nearly 600 people were arrested in Indonesia over the weekend, after what started as peaceful demonstrations in support of Papuan independence turned into violent clashes between protesters and police.
The arrests came after thousands of West Papuans and supporters across the country raised the Papuan Morning Star flag, a symbol of the province's ongoing fight for independence from Indonesia.
In West Papua, which houses the largest gold mine and second largest copper mine in the world, simply raising the flag can land a person with 15 years of imprisonment.
Yet for decades, West Papuans and supporters around the world, including in the U.S. and U.K., have continued to hold flag-raising demonstrations each year on December 1, a day that many West Papuans believe should have been the anniversary of their independence.
"People were just celebrating peacefully and gathering and raising the flag," Raki Ap, a spokesperson for the Free West Papua movement, an organization advocating for West Papua's independence from Indonesia, told Newsweek.
"They were not being violent or doing anything against the law, so there was absolutely no reason to put those people in prison."
According to Free West Papua, at least 595 people were arrested in Saturday's clashes, with the organization telling Newsweek that many of those arrested were wounded in clashes with counterprotesters and police.
According to The Washington Post, a crowd of around 300 protesters calling for West Papua's independence were confronted by a group of counterprotesters in Surabaya, with one counterprotest group leader saying, "You may rally to voice your aspiration, but don't bring the separatist issue."
The leader added, "Papua is a part of Indonesia forever, and we are willing to die to defend the unitary state of Indonesia."
Ap said he believed counterprotest groups had been largely organized by Indonesian officials, telling Newsweek that authorities likely "organized other groups to threaten [protesters] with violence."
"That is a familiar tactic from the Indonesian government. They are often behind certain militant groups who use violence to scare peaceful protesters," he said.
As Human Rights Watch (HRW) notes on its website, Indonesian authorities have restricted foreign media access to Papua "on the pretext of a low-level insurgency."
The rights watchdog said while Indonesian President Joko "Jokowi" Widodo expressed "rhetorical support" for human rights, it "has not led to meaningful policy initiatives," with HRW asserting that "Indonesian security forces rarely face justice for serious abuses, particularly in Papua."
In addition, "religious minorities face harassment, intimidation and violence from Sunni militants, government officials and security forces," while the Indonesian government "abets widespread attacks on sexual and gender minorities through officials' hateful rhetoric and discrimination," HRW stated.
West Papuans have been calling for independence from Indonesia for decades, since the province in the western part of New Guinea was under Dutch rule.
The Free Papua Movement, a separatist group in Papua, declared independence from Dutch rule on December 1, 1961, but that declaration was rejected by both the Dutch and later, Indonesia, which annexed the territory in 1963.
Years later, Papua was incorporated into Indonesia in 1969, after a UN-sponsored "vote" that researchers at Australia's Griffith University noted included less than 1 percent of the West Papuan population, with those who did participate being selected by the Indonesian government to represent the entire territory.
Researchers further asserted that the few Papuans who did participate were "coerced to vote for the official integration of West Papua into Indonesia."
"We know from history that [the December 1 declaration of independence] did not end as it should have and from that day on, the West Papuans always remember December 1," Ap said.
"It was official, and we still carry the spirit in that decision in 1961 ever since then," he said. "So we commemorate this day together with people from South Africa, to the Philippines and to the United Kingdom to remember the promise that this government gave us in 1961.
"Even today, even when Indonesia is there saying that the world has decided you should be part of us, we know that international law was not respected, and so, the occupation, we still see it as illegal," Ap said.
Despite years of calling for international intervention, West Papuans' pleas have largely fallen on deaf ears, despite Free West Papua campaign organizers delivering a petition that gained more than 1.8 million signatures to the United Nations last year, calling on the organization to investigate human rights abuses on the island.
Ap said that Free West Papua organizers had yet to receive an "official" response from the UN, but that an "official process" around the petition is expected to get underway this year.
"The only thing we want is that Indonesia allows a vote," Ap said.
Instead, Indonesia's government has worked to try to increase economic development in an apparent bid to bring an end to the separatist movement in West Papua. However, that has done little to stop residents and supporters from demanding independence.
The Indonesian police and Indonesian government have not responded to a request for comment for this article.