Hundreds, Including Americans, Blocked by Taliban From Leaving Afghanistan
Hundreds of people, including American citizens, are being blocked by the Taliban from boarding charter evacuation flights out of Afghanistan, an Afghan woman working for a U.S. organization said.
The woman is an employee of Ascend, a U.S. organization that has worked for years with Afghan women and girls. She spoke with the Associated Press on the condition of anonymity out of fear for her safety.
"We think we are in some kind of jail," the woman said, as she and several hundred others with proper documentation have been waiting for more than a week for permission to board flights out of the northern city of Mazar-e-Sharif.
Among those waiting are American citizens that are people in their 70s, parents of Afghan Americans in the U.S.
Taliban officials say they will let people with proper passports and documentation leave the country, but the woman said that they are being barred from accessing the airport, and word spread the Taliban was taking some of them away.
"I am scared if they split us up and not let us leave," she said. "If we can't get out of here, something wrong will happen. And I am afraid of that."
For more reporting from the Associated Press, see below.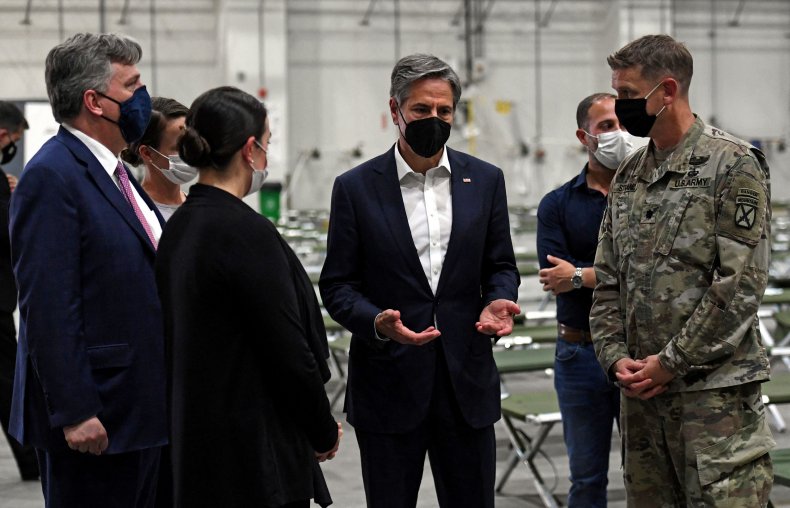 Taliban Official Says Afghans Waiting To Leave Lack Proper Documents
Afghans with valid visas and passports stranded in the northern city of Mazar-e-Sharif and waiting to take chartered evacuation flights out of the country will be allowed to leave, a Taliban official at the city's international airport said Tuesday.
Mawlawi Hafiz Mansour said the majority of Afghans waiting to take one of four evacuation flights have neither valid visas nor passports. The Taliban have said only Afghans with passports and valid visas would be allowed to leave.
Mansour did not provide a breakdown of the numbers of those with valid documents and those without.
Speaking from Qatar, U.S. Secretary of State Antony Blinken also said the Taliban have given assurances of safe passage for all seeking to leave Afghanistan with proper travel documents. He said the United States would hold the Taliban to that pledge.
The U.S. is under pressure to help the remaining Americans and green card holders leave Afghanistan, and it has promised to work with the Taliban to do that.
U.S. Defense Secretary Warns of Iran Supporting Terrorists
U.S. Defense Secretary Lloyd Austin says the Biden administration will work with Persian Gulf allies on diplomatic approaches to security threats in the region, including what he called Iran's support for extremists.
Austin spoke at a news conference with senior Qatari officials in Doha, where he and Secretary of State Antony Blinken thanked Qatar for assisting with the transit of tens of thousands of evacuees from Afghanistan.
Austin said Iran is supplying "increasingly lethal weapons" to what he called terrorist groups.