When Jignesh Kumar Patel came across a flyer about a COVID-19 vaccine tourism package to the United States early this month, he immediately signed on—joining hundreds of other fellow travelers from India.
Patel, a businessman in the western state of Gujarat, has traveled to 14 countries, but the U.S. has been on his bucket list for a long time.
"If I can combine a U.S. trip with a chance to get the best quality vaccine, it is an excellent opportunity for me and my family," said Patel, who registered for a vaccine tourism package with Zenith Holidays.
The tour agency, headquartered in Kolkata, has received more than 1,200 phone calls in the past two weeks about the travel package. Individual Indians have registered, and so has a group of 40, all interested in sightseeing and getting inoculated against the novel coronavirus before they would otherwise be able to kn their home country.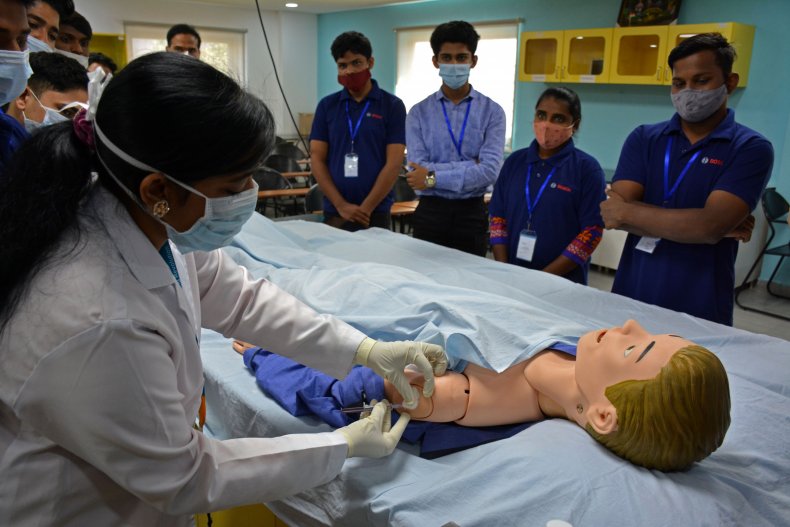 The four-day "Covid vaccine tourism package" costs about $2,000. A flyer states that bookings are limited to 100 people, and the package includes round-trip economy airfare, four-star hotel accommodations, airport transfers, and one vaccine dose per person.
Mumbai-based Gem Tours & Travels is also offering a four-day VIP package priced at about $2,300. It includes Pfizer's vaccine, return airfare, and also throws in breakfast. Since announcing its plan on Nov. 23, the agency says, it has logged more than 4,000 calls and registered more than 1,000 people.
Dates for the tour packages are not mentioned.
More than 272,000 people have received Pfizer's vaccine in the United States, according to the Centers for Disease Control and Prevention, with the first doses going to healthcare workers and first responders. That specific vaccine will ultimately be distributed across the U.S. and to 165 countries. The Food and Drug Administration in the United States has also granted emergency use authorization to a similar vaccine from a rival company, Moderna.
India's health minister has announced that the country won't get its first COVID-19 vaccine until January.
Dr. Naveen Thacker, a former civil society representative to GAVI, a global vaccine alliance, said that the market will be flooded with many vaccines in the next six months. "But right now, every country has reserved the first doses for people on their priority list. Companies will have more doses eventually, which they will sell. But, that will take some time," he said.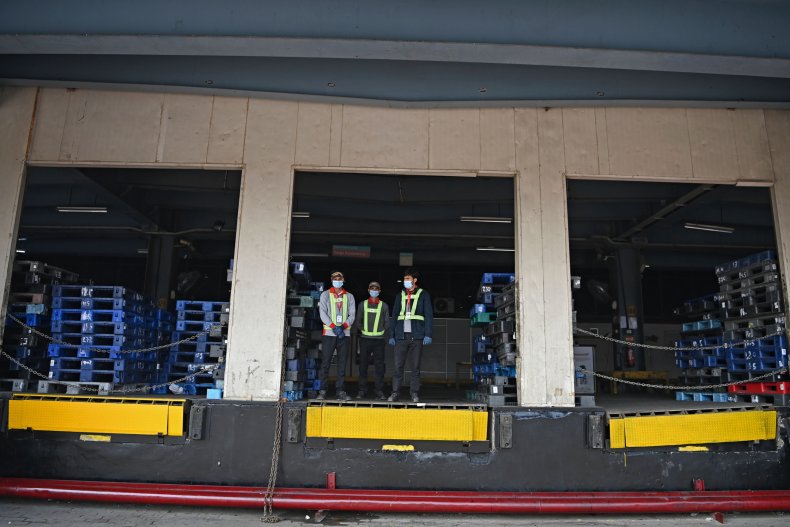 "Also, more clarity is needed about how these tour packages will be worked out, as vaccines will not be available over the counter in the U.S. Who will prescribe them and administer them to the travelers? What will happen in case of any adverse reactions?"
These concerns haven't stopped travel agencies from creating a buzz about vaccine vacation, even if the trips never actually happen.
"Our larger aim is to get the tourism industry to bounce back," said Manoj Mishra, director of Zenith Holidays. "As of now, we are simply taking down the names and contact details of people who are interested. Bookings will be done only when there is clarity on the possibility of getting the vaccine shot. We will give an option to people if they want to stay over for a longer time to get the two doses, or travel twice."
Mishra said his team is also preparing vaccine tourism packages for the UK and Russia.
"To put it simply," Mishra said, "these packages are for people who want to see a new country and simultaneously get a vaccine. It's combining pleasure with protection for the entire family."
Some question the wisdom of traveling to the U.S. — about a 15-hour flight — since vaccines will eventually be available in India.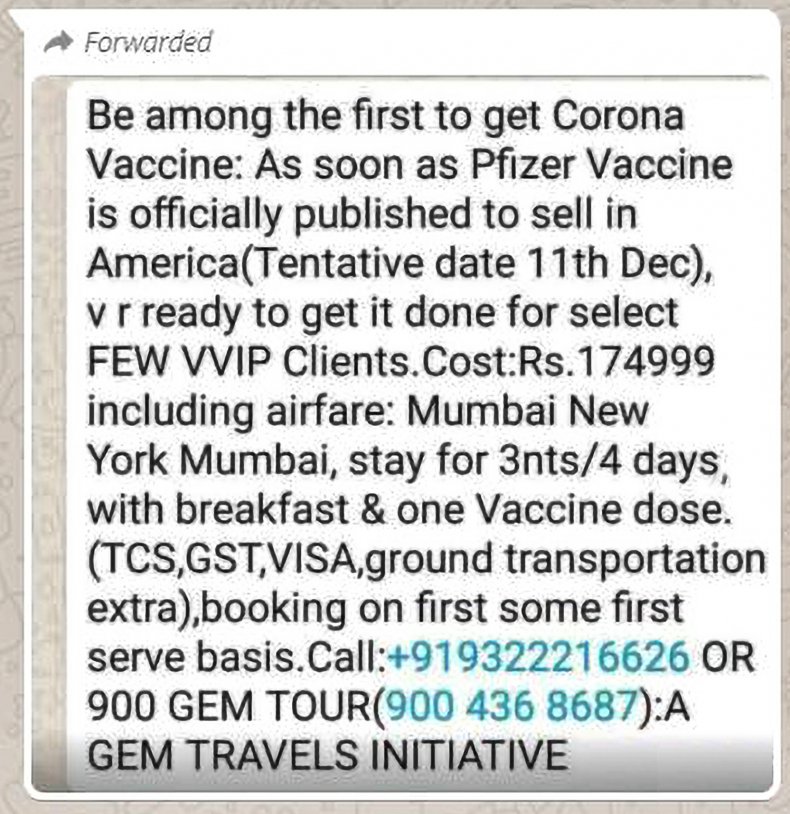 "The vaccine that will be available in the U.S. will be a world-class vaccine," said Patel, who has registered his entire family for the vaccine package. "I have been closely following the media reports. India is likely to get the Oxford-AstraZeneca vaccine first, but it is only about 70 percent effective, whereas the Pfizer vaccine has shown 95 percent effectiveness. If traveling is possible, I would want the best for my family."
Ashish Jain, a businessman based in Erode in the southern state of Tamil Nadu, has registered 10 members of his family for the package.
"The vaccine by Oxford-AstraZeneca which India is likely to get had a dosage error in one of their trials," said Jain, who runs a textile business. "The news about the error has shaken my faith in the vaccine. Pfizer and Moderna vaccines are most effective according to their trial findings, but they are unlikely to be available in India as they require specialized cooling. In such a scenario, if I can afford to take my family to the U.S. where we can do some sightseeing and get a good vaccine, then why not?"
With their vaccine packages, tour operators see an opportunity to revive the industry, which has been hit hard by the pandemic.
"We are registering people only with valid U.S. visas," said Tejas Kapasi, a director at Gem Tours. "We have innovated many concepts in the tourism industry. In the early 1990s we introduced packages to Alaska and the Canadian Rockies when Indians were unaware of the travel possibility to these scenic locations. We also pioneered 'Monsoon Kerala' and promoted travel to the south Indian state to enjoy the rains. We were the first to introduce vaccine tourism as well."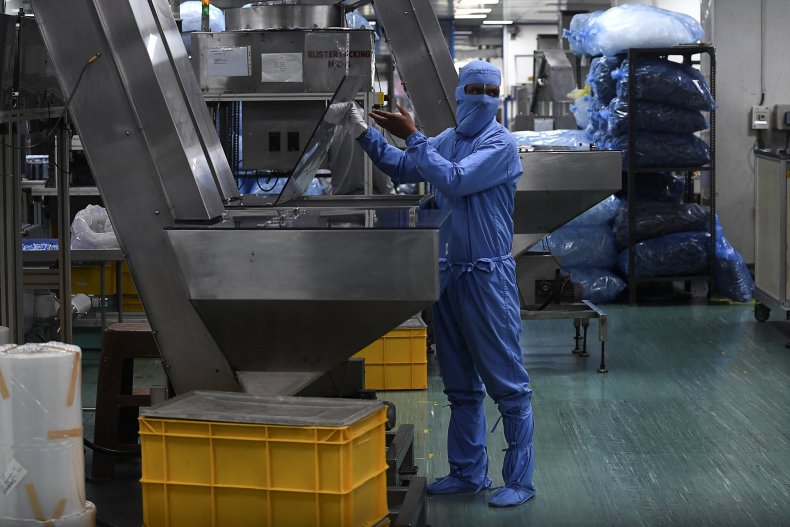 The industry has been struggling to survive in 2020, said Kapasi. "By introducing the concept of vaccine tourism, we have given a breather to the industry. This concept is going to take off and it will open tourism in many other countries with a lesser population where outsiders can get inoculated easily."
It is still unclear how these tour packages will work.
Mumbai-based Raunak V, who called one of the travel firms to inquire about the package, told Zenger: "I had many questions about the vaccination centers, who will administer the vaccine, will the U.S. government allow foreigners to get the shot, etc. But the person on the phone could not provide me with any concrete details. They said they were waiting for the approval."
This story was provided to Newsweek by Zenger News.