Tsunami Hits Indonesia: Hundreds Killed After Krakatoa Erupts, Waves Strike Beaches
At least 168 people have been killed and 745 injured after a tsunami triggered by a volcano eruption struck the beaches of Indonesia's Sunda Strait Saturday night, officials have reported.
The tsunami may have been caused by underwater landslides after Mount Krakatoa erupted, Sutopo Purwo Nugroho, spokesperson for the country's disaster agency, said.
The wave hit beaches in South Sumatra and the western tip of Java about 9.30 p.m. local time on Saturday, he said, destroying hundreds of buildings.
Authorities warned residents and tourists in coastal areas around the Sunda Strait to stay away from beaches.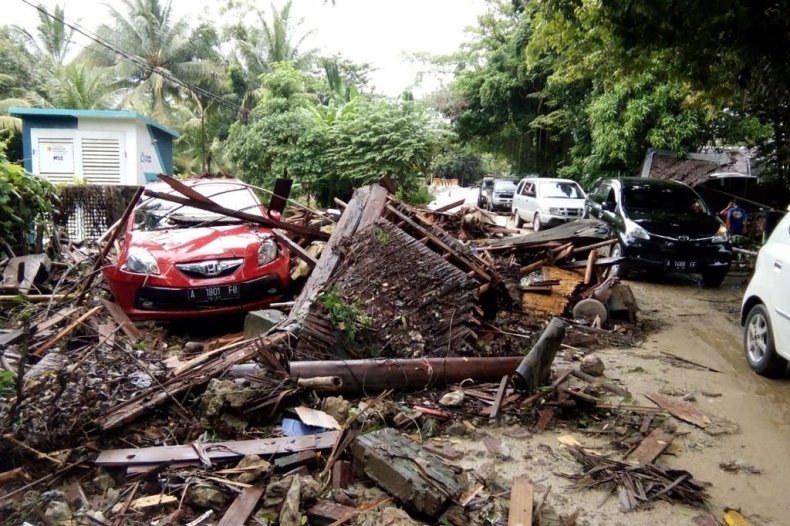 "Those who have evacuated, please do not return yet," said Rahmat Triyono, an official at the Meteorology, Climatology and Geophysics Agency (BMKG).
Deaths have been reported in Pandeglang and Serang on the island of Java, as well as Lampung province on Sumatra.
Nugroho later said the death toll had risen to 168, with 745 injured and 30 missing. "This number will continue to rise considering not all places have been checked," he added.
Eyewitness Asep Perangkat said: "Cars were dragged about 10 meters, and so were containers."
"Buildings on the edge of [Carita] beach were destroyed, trees and electricity poles fell to the ground," he told AFP news agency.
Oystein Lund Andersen, a Norwegian volcano photographer, told the BBC of the moment the waves struck Anyer Beach in West Java while he was photographing Krakatoa.
"Earlier in the evening, there was quite heavy eruption activity. But just prior to the waves hitting the beach, there was no activity at all. It was just dark out there.
"And suddenly I saw this wave coming, and I had to run.
"There were two waves. The first wave wasn't that strong—I could run from it.
"I ran straight to the hotel, where my wife and my son were sleeping.
"And I woke them up... and I heard a bigger wave coming. I looked out of the window when the second wave hit. It was much bigger.
"The wave passed the hotel. Cars were pushed off the road.
"We and other people at the hotel went straight to the forest [on higher ground] next to the hotel. And we're still up on the hill now."
Ben van der Pluijm, an earthquake geologist and a professor in the University of Michigan, told The Telegraph the tsunami may have been caused by a "partial collapse" of Krakatoa.
"Instability of the slope of an active volcano can create a rock slide that moves a large volume of water, creating local tsunami waves that can be very powerful. This is like suddenly dropping a bag of sand in a tub filled with water," he said.