Hundreds Killed in Taliban Assault on Afghanistan's Strategic City, Gateway to the South
Afghanistan has deployed about 1,000 more troops to the embattled city of Ghazni, where more than 300 people have died in fighting since Friday, August 10.
The additional Afghan troops reached Ghazni on Monday as clashes between the Taliban and government forces continued. U.S. advisers and airstrikes are also supporting the government's effort to fend off the fighters.
"With the deployment of additional troops to the city, we have prevented the collapse of Ghazni province," Afghan Defense Minister Tariq Shah Bahrami said at a news conference.
The defense minister said that 194 Taliban militants and nearly 100 security forces had died, while 50 troops were missing. The official also said that 30 civilians had been killed in the fighting.
Ghazni lies along the strategic Kabul-Kandahar highway, a major road that leads to the country's capital, 90 miles away, and continues to Taliban-controlled territory in southern Afghanistan.
Officials denied the Taliban's claims that the militants had seized control of government buildings in the city, according to The New York Times.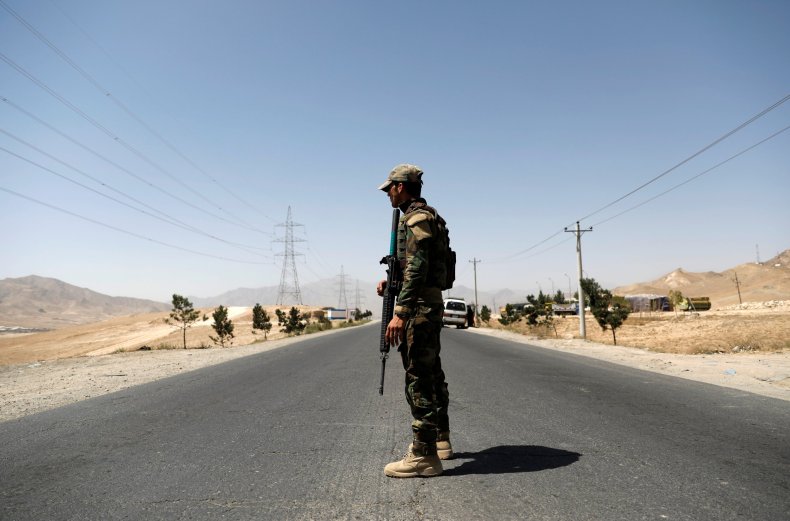 Tens of thousands of civilians are trapped in their homes in the city, and the United Nations has warned of deteriorating humanitarian conditions.
"Medication at the main hospital is reportedly becoming scarce and people are unable to safely bring casualties for treatment," a statement from the United Nations Office for the Coordination of Humanitarian Affairs Afghanistan said. "According to sporadic reports from within the city, many families have reportedly taken shelter in their houses and are unable to leave their homes. Vital telecommunications networks and the electricity supply are down in the city of 270,000 people which has impacted on the water supply, and food is also reportedly running low."
Both Interior Minister Wais Ahmad Barmak and U.S. military spokesman Lieutenant Colonel Martin O'Donnell said that Taliban militants were attempting to hide among civilians.
Taliban forces hold vast areas surrounding the city, which would bolster the militants' strength if they managed to overtake the Ghazni.
"The insurgents have also taken over at least four more rural districts in the province, mostly without much of a fight," The New York Times reported. "By Monday, only two of the province's 18 rural districts were confirmed to be completely in government control. That raised the prospect that if the insurgents did fully take the city, they might also be in a position to control an entire province for the first time in the 17-year war in Afghanistan."
More than 111,000 people have died in Afghanistan between 2001 and mid-2016, according to an analysis by Boston University professor Neta Crawford.