Hundreds of Lawmakers, Including Two Democrats, Ask Supreme Court to Reconsider Roe v. Wade
More than 200 members of Congress want the Supreme Court to "reconsider" Roe v. Wade, the landmark case that permits abortions, and to uphold a controversial new law in Louisiana that would severely restrict the medical procedure.
The cohort of lawmakers representing 38 states consists of 166 House Republicans, 39 Senate Republicans and two House Democrats who filed an amicus brief Thursday arguing that the right to an abortion is "unworkable." The 207 lawmakers said that Roe v. Wade and similar cases upholding abortion "should be reconsidered and, if appropriate, overruled."
The Democrats—Reps. Collin Peterson of Minnesota and Dan Lipinski of Illinois—are both among the few remaining anti-abortion members of the caucus and have received past criticism for their stances. Peterson, whose district Trump won in 2016 by some 30 points, was one of just a handful of Democratic defectors in the lower chamber who voted last month against impeaching President Donald Trump. Lipinski again faces a primary challenge by progressive Marie Newman, who is pro-choice and lost to Lipinski by little more than two points in 2018.
"What people don't seem to remember is that being pro-life didn't used to be a partisan issue," Peterson told Newsweek in a statement. "I signed on to this Amicus Brief because I am pro-life."
Lipinski, quoting the bill's author, who is a state Democratic lawmaker, said in a statement to Newsweek Friday that he backed the legal brief because the measure would require hospital admitting privileges for physicians who perform abortions, which would ensure a "safe environment" that provides "women the optimal protection and care of their bodies."
"This is not an 'undue burden,'" he added.
Eight of the 13 GOP senators who opted out of joining the brief are up for re-election this year: Susan Collins of Maine; Dan Sullivan of Alaska; Martha McSally of Arizona; Shelley Capito of West Virginia; Cory Gardner of Colorado; Mitch McConnell of Kentucky; Lindsey Graham of South Carolina; and David Perdue of Georgia. Collins, McSally and Gardner are considered vulnerable Republicans who Democrats could potentially unseat.
The court's justices will hear oral arguments beginning in March, making it plausible that the contentious topic of abortion will play out as one of the front and center issues this election cycle, motivating the bases and grassroots activists in both parties.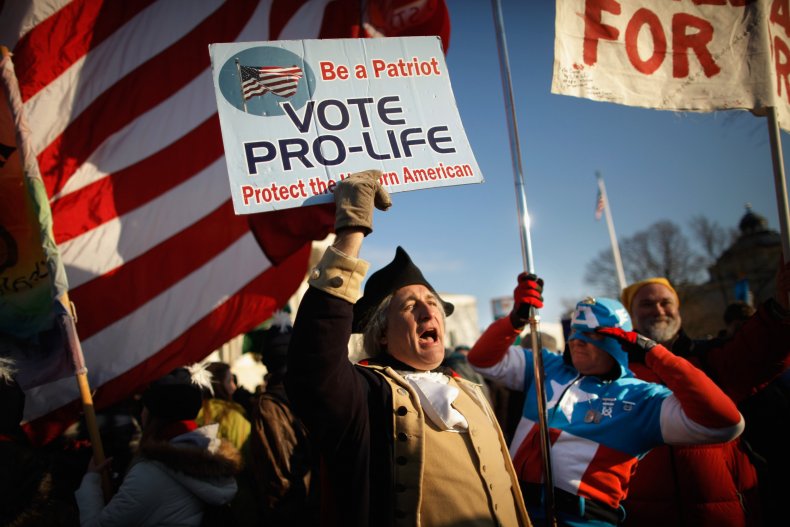 "Forty-six years after Roe was decided, it remains a radically unsettled precedent," the lawmakers alleged in the filing.
The brief, which was led by nonprofit pro-life organization Americans United for Life, urges the Supreme Court to uphold a new Louisiana law that would in effect ban abortion by requiring doctors who perform them at clinics to have the ability to admit patients to nearby hospitals. The requirement, pro-choice advocates say, would force most—if not all—abortion clinics to shutter in the entire state.
In recent years, Republican legislatures in states across the country have deployed an incremental strategy to invoke laws that restrict access to abortions—such as banning the practice just weeks after becoming pregnant—which essentially make it nearly impossible to obtain them and results in the closure of clinics. However, many of the laws have been halted or blocked by the courts.
The abortion clinic challenging the Louisiana law, June Medical Services, was accused by the lawmakers of being representative of an industry that has "a long history of health and safety violations," including "a long history of professional disciplinary actions and substandard medical care."
The Supreme Court in 2016 determined that a similar law restricting access to abortions in Texas was unconstitutional. That decision, the lawmakers said in their recent brief, led to "confusion among Congress and state legislatures alike as to which laws might withstand constitutional scrutiny" and that another case in the 1990s upholding abortion rights again led to confusion over the definition of "undue burden."
This story was updated to include a statement from Rep. Collin Peterson. It was further updated on Friday in include comment from Rep. Dan Lipinski.