Hundreds of Local News Stations to Be Dropped After DISH Breaks Ties With Sinclair
Sinclair Broadcast Group, which owns 112 local TV stations in cities like Las Vegas, Austin, and Minneapolis, announced today it could not reach an agreement to continue airing its content through DISH. The current deal is set to end August 16.
DISH, known for its satellite dishes, boasts 8.6 million TV subscribers and 2.4 million streaming subscribers through its Sling TV subsidiary which will also stop airing Sinclair content.
The Englewood, Colorado-based company has experienced some trouble as of late, losing 67,000 pay-TV subscribers in the quarter ending June 30. According to Statista, its annual revenue has fluctuated over the past 10 years. In contrast, Statista reported Sinclair has posted a steady revenue rise since 2010, expanding its portfolio of networks over the years.
"Sinclair is demanding DISH pay nearly a billion dollars in fees for their television channels—a massive increase from what we pay for these same channels today despite declining viewership," Brian Neylon, group president of DISH TV, said in a statement. "Sinclair is making these outrageous demands, turning its back on its public interest obligation and putting customers in the middle of its negotiations."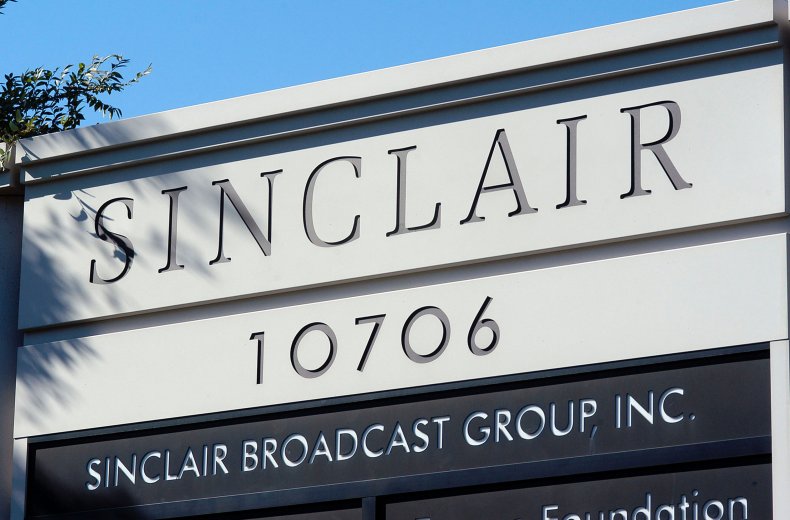 Sinclair has received criticism in recent years for its alleged right-wing tilt. A paper by Emory University political scientists Gregory Martin and Josh McCrain found that stations purchased by Sinclair began covering more national and less local news, with that coverage leaning conservative.
As one of the nation's largest local TV news providers, the company reaches a large number of the some 41 percent of Americans Pew Research Center estimates get their news from TV. The company has worked to secure its share of the TV news market, instructing its local anchors to read a company statement urging its viewers to be wary of "Some members of the media [who] use their platforms to push their own personal bias."
DISH has received past criticism for its dealings with local TV news providers, an industry which has largely seen its advertising revenue shrink in recent years. In December 2020, the partnership between DISH and the other largest TV news provider in the U.S., Nexstar, nearly fell apart as the two struggled to work out a deal.
In a statement, Sinclair wrote "DISH Network has a demonstrated track record of dropping local and national programming that viewers value." The company said the move would impact subscribers in 38 percent of the country. David Gibber, Sinclair's general counsel, said the following:
"We have tried unsuccessfully to reach fair and customary terms with DISH Network for the renegotiation of our retransmission consent," Gibber said in a statement. "We encourage subscribers in these markets to contact DISH Network and let them know that it is important to them that DISH Network carry these stations and that they should switch to another TV provider if they care about their news, local and national sports, and top tier entertainment programming."