Hundreds of people are missing and feared dead after a dam under construction in Laos collapsed and sent flash floods through several villages.
The collapse of the hydroelectric dam in Attapeu province released five billion cubic meters of water—equal to more than two million Olympic swimming pools—and left more than 6,600 people homeless, Laotian news agency KPL reported.
Work started in 2013 on the Xe-Pian Xe-Nam Noy dam in the southeast of the Asian country. The dam was scheduled to start operating next year.
A video posted by ABC Laos news on its Facebook page showed fast-flowing water from the side of a river bank.
An Attapeu official told Agence France Presse: "We do not have any formal information yet about any casualties or how many are missing. We sent rescue teams who will help them and provide basic assistance first."
Six villages in the Sanamxay district suffered from flash floods, including Yai Thae, Hinlad, Mai, Thasengchan, Tha Hin, and Samong. Hinlad and Mai villages, the BBC reported.
Laos Prime Minister Thongloun Sisoulith has suspended government meetings as officials monitor rescue efforts, state agency KPL reported.
In a statement, the dam's main stakeholder, Thai company Ratchaburi Electricity Generating Holding, said it had been told a "saddle dam" that was 770 meters long and 16 meters high had collapsed. It said it was working with the Laos government to help rescue villagers.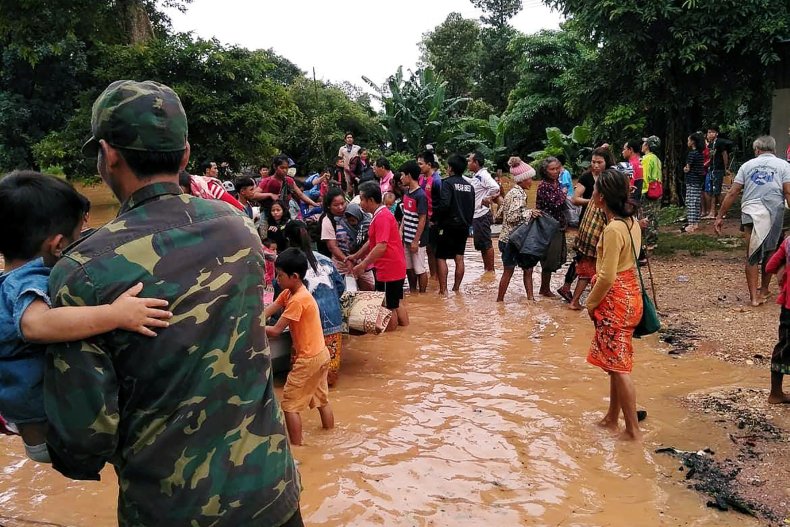 "We are running an emergency team and planning to help evacuate and rescue residents in villages near the dam," a spokesman for SK Engineering & Construction, which is building the dam, told Reuters.
Laos is a landlocked country that is one of the poorest in Asia. Its location on the Mekong River has spurred the government to launch a dam-building scheme. There are 54 hydroelectric power plants under construction, according to hydropower.org.
However, environmental groups have expressed concerns over the impact of such an expansion program. The group International Rivers said the accident exposed "major risks" associated with some dam designs.
"Unpredictable and extreme weather events are becoming more frequent in Laos and the region due to climate change," it said.
"This also shows the inadequacy of warning systems for the dam construction and operations. The warning appeared to come very late and was ineffective in ensuring people had advance notice to ensure their safety and that of their families," the group said in a statement to Reuters.
Toshiyuki Doi, Senior Advisor at Mekong Watch, told AFP: "Once they [Laos] cast themselves as the battery of Asia, exporting electricity became one of the major revenue sources, so it's basically selling natural resources such as water."