Thousands of Nicaraguans are fleeing to Costa Rica as their country grapples with months-long unrest.
Each day, approximately 100 people use the Los Chiles Trail to escape turmoil caused by protests that have left 448 dead and more than 1,500 injured.
The Nicaraguan community in San José, Costa Rica's capital, says asylum seekers began arriving in April. But when anti-protester violence in Nicaragua escalated earlier this month, the flow of individuals fleeing to the southern neighbor increased.
"We can't go back until the president is gone," Francisco Pérez Mairena, whose neighborhood was stormed by police and pro-government militias, told The Guardian.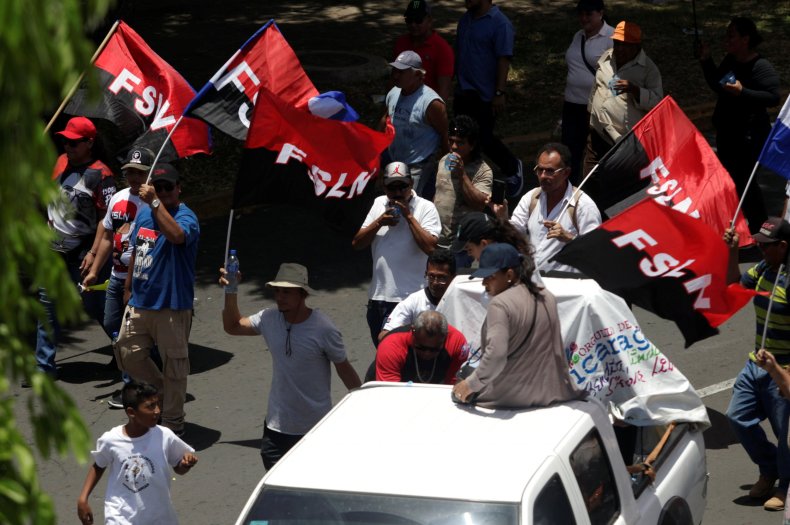 Protests in Nicaragua first broke out in April over proposed pension cuts. When police violently suppressed demonstrations, killing multiple university students in the process, wider protests erupted. Thousands of people rushed into the streets to express discontent with Sandinista President Daniel Ortega's policies and demand his resignation.
The conflict has since escalated, with government-backed paramilitaries taking up arms against protesters. The government has targeted a wide range of opposition members, including human rights activists, doctors and journalists.
"It started when Ortega decided to clean house violently. If you were involved in any way, you are a target," Maria Elizondo, an activist who provides medical care and food to displaced people in San José, told the U.K.-based publication.
Ortega, who has been president since 2007, has denied responsibility for the casualties, refused to relinquish his control on power and accused "coup plotters" of seeking to overthrow his government. He has said he will serve the remainder of his term, which ends in 2022.
Despite the widespread opposition to his rule, thousands have also continued to protest in support of Ortega, waving Sandinista flags.
The UN has criticized both the government and violent protesters for injuries but placed more blame on officials and Nicaraguan police. "A wide range of human rights violations are being committed including extrajudicial killings, torture, arbitrary detentions, and denying people the right to freedom of expression," UN human rights spokesman Rupert Colville said at a news briefing on July 17.
The U.S. has focused more on the government's role and said it supports the popular protests. On Monday, the White House released a statement that again blamed the government for the violence.
"The United States strongly condemns the ongoing violence in Nicaragua and human rights abuses committed by the Ortega regime in response to protests. After years of fraudulent elections and the regime's manipulation of Nicaraguan law—as well as the suppression of civil society, opposition parties, and independent media —the Nicaraguan people have taken to the streets to call for democratic reforms," Monday's White House statement said.