Hundreds of People Have Been Arrested Over Kavanaugh's Confirmation Hearing
U.S. Capitol Police have reportedly arrested more than 200 people this week over protests surrounding Supreme Court nominee Brett Kavanaugh's confirmation hearings.
Capitol Police confirmed to Newsweek that officers arrested dozens of people throughout the three-day hearings, including 70 people on Tuesday, 73 on Wednesday and 69 on Thursday.
The Senate Judiciary Committee hearings were repeatedly interrupted by protesters, with demonstrators being forced to leave the room within minutes of the hearings starting on Tuesday.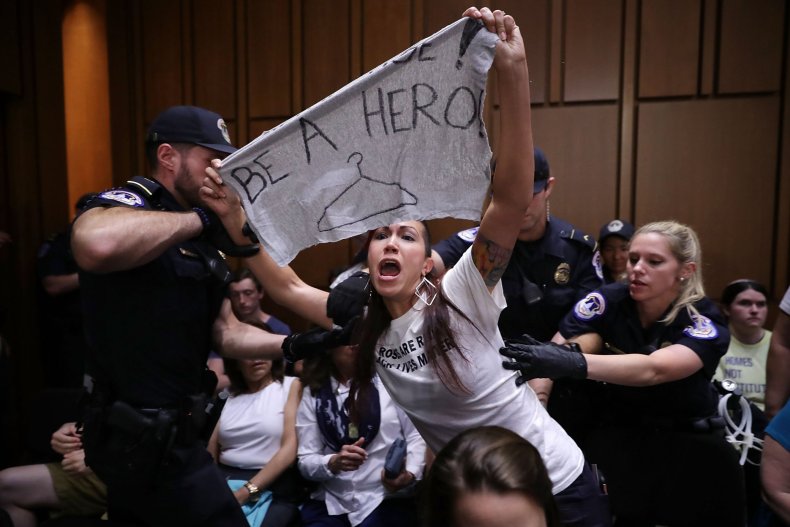 Newsweek subscription offers >
Protesters initially demanded that the hearings be postponed, backing calls from a number of Democratic senators.
After 42,000 pages of documents on Kavanaugh's record were released to senators only hours before the hearings were to begin, Democrats and activists argued that there had not been enough time to review the files.
Demands that the hearings be postponed were dismissed, with Republican Senator Chuck Grassley of Iowa telling Democratic senators they "had more than enough time and materials" before the hearings.
Throughout the proceedings, protesters also called on senators to "be a hero" and demand that they say "no" to Kavanaugh.
Newsweek subscription offers >
As they demonstrated, they were led out one by one as proceedings were repeatedly brought to a halt.
Capitol Police told Newsweek that 37 people had been removed from the committee room in the Hart Senate Office Building on Thursday, many charged with disorderly conduct on Thursday.
Another 12 were reportedly removed from the area outside the hearing room and charged with "crowding, obstructing or incommoding."
One man was arrested in the judiciary Committee room and was charged with disorderly conduct, resisting arrest, simple assault and disruption of Congress.
On Wednesday, police made the decision to temporarily close the hearing to additional spectators, leaving seats empty, according to USA Today.
U.S. Capitol Police did not immediately respond to Newsweek's request for comment.
Democrats and activists have been rallying against Kavanaugh's nomination since President Donald Trump announced the judge as his Supreme Court pick.
Much of the outrage surrounding Kavanaugh's nomination centers on the possibility that his appointment to Supreme Court could result in the overturning of Roe v. Wade, the landmark decision issued in 1973 that recognized a woman's legal right to abortion.
If confirmed, Kavanaugh would be replacing retired Justice Anthony Kennedy, a conservative centrist who cast critical swing votes on Roe v. Wade and Obergefell v. Hodges, the case that legalized same-sex marriage.
On Wednesday, Kavanaugh described Roe V. Wade as settled, calling it an "important precedent." However, he has been less clear on when he believes a woman should be able to exercise that right.
In a leaked memo written by the Supreme Court nominee in 2003, which was made public on Thursday, Kavanaugh acknowledged that the the Supreme Court "can always overrule" the 1973 decision.
"I am not sure that all legal scholars refer to Roe as the settled law of the land at the Supreme Court level since Court can always overrule its precedent," Kavanaugh wrote, saying that some conservative justices on the court "would do so."
This article has been updated with a statement from the U.S. Capitol Police.
Hundreds of People Have Been Arrested Over Kavanaugh's Confirmation Hearing | U.S.