Hundreds of Professors Condemn Harvard's 'Shocking' Tenure Decision, Call School 'Hypocritical'
Hundreds of professors at universities and colleges nationwide joined Harvard University faculty members and students in criticizing the Ivy League's decision not to grant associate professor Lorgia García Peña tenure.
"Demanding of her time and intellectual equity on the one hand, while denying her a place within that community is not only hypocritical, it signals to the larger academic community that Harvard University is not truly invested in supporting stellar scholars in these areas of study.
The university denied García Peña, who has been teaching at the university since 2013, tenure on November 27, according to The Harvard Crimson. Regarded as an excellent professor and expert in the field of ethnic studies, students and faculty members at Harvard and other universities considered the denial a reflection of the university's opinion of not only García Peña, but of the subject matter she studies.
In the days since news broke of her tenure denial, Harvard students staged a sit-in, interrupted a faculty meeting and authored letters to university officials. A coalition of graduate students also co-authored a letter to President Larry Bacow and Provost Alan Garber advocating for the decision to be reversed and for Harvard to invest in ethnic studies.
The most recent letter, sent to Bacow on Monday, included signatures from more than 220 educators, two of whom are Harvard employees. The scholars characterized the decision as "shocking" and told Bacow the decision showed the University was "ill-equipped to evaluate the depth, breadth and import" of ethnic studies.
"Moreover, Harvard's efforts toward a cluster hire in the area of ethnicity, indigeneity, and migration are directly contradicted by this denial of tenure, signaling that the university is not, in fact, interested in supporting these areas of study as legitimate fields of research," the letter stated.
In June, Dean Claudine Gay announced the school would be hiring three to four scholars in the area of ethnicity, indigeneity and migration. García Peña was among the faculty members on a committee tasked with conducting the search.
On December 2, the Harvard Ethnic Studies Coalition delivered a list of demands to Bacow and Gay, including the establishment of a Department of Ethnic Studies. Gay told students that she was committed to Ethnic Studies, according to the Medium post, and pointed to the cluster hire.
"Upon further interrogation, the irony in Dean Gay's argument becomes obvious," the coalition wrote in the Medium post. "After all, Professor Garcia Peña was one of the few members of the ad-hoc search committee created specifically for this 'cluster hire.'"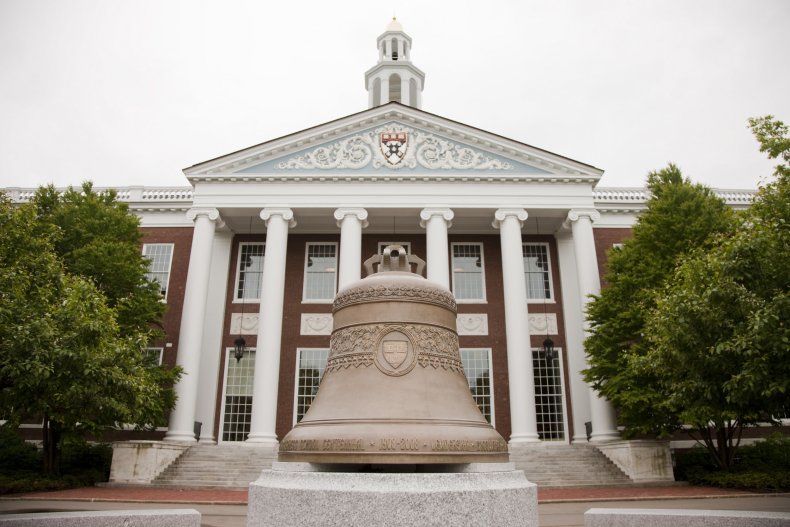 Through her career, García Peña made "invaluable contributions" to the fields of Latinx Studies, Caribbean Studies, Dominican Studies, Ethnic Studies, Women's and Gender Studies, and American Studies, according to the letter. Her first book, The Borders of Dominicanidad: Race, Nation and Archives of Contradiction, provides a "critical new understandings" of the culture of identity and is one of the "single most important" books in English on Dominican studies in the past 10 years, Monday's letter said.
"It is nearly impossible to find new work in the humanities around Dominican or Latinx Studies that does not cite or reference Dr. García Peña's scholarship in some form," the letter said.
Her second book, Translating Blackness: The Vaivén and Detours of Latinx Colonialities in Global Perspective, had a similar impact, providing a "groundbreaking model" for discussing issues of blackness and diasporic belonging.
Newsweek reached out to García Peña for comment but did not receive a response in time for publication.
Jason Newton, associate director of media relations and communications, confirmed to Newsweek that the university received the letter on Monday. He denied commenting beyond giving that confirmation because "we do not comment on individual tenure cases."
In 2019, 4 percent of Harvard's tenure-track faculty members were underrepresented minority women, the smallest percentage of any demographic. Underrepresented minority women were also the least represented among tenured faculty members at just 3 percent, according to a 2019 annual report.
Signatories of Monday's letter cited a 2016 report titled, "Pursuing Excellence on a Foundation of Inclusion," that stated, in part, achieving "inclusive excellence" requires "expanding our perception of areas worthy of research and teaching." Both recruitment and promotion, according to the report, needed to operate with "equal rigor."
The letter added that the report and "broader trends" indicated that it was time for Harvard to include Ethnic and Latinx Studies in the areas they deemed worthy of research.
"We urge the University to put itself at the forefront of this transformation by recommitting to being open to change and a model of a truly innovative and inclusive understanding of academic excellence," the letter stated.