Hundreds of Rescue Animals Evacuated from Louisiana, Mississippi Amid Ida Destruction
Thousands of people were forced to evacuate in preparation for Hurricane Ida, which initially made landfall on Sunday as a Category 4 storm. Animal shelters also made plans to save furry friends from the storm's path of destruction by sending them to other shelters around the country.
CBS 8 reported that a flight carrying adoptable dogs and cats landed in El Cajon, California.
"In Louisiana and Mississippi, they were maxed out to capacity," said Jessica Gercke, Helen Woodward Animal Center's public relations coordinator. "Kennels were full and kennels were lining hallways. Due to Hurricane Ida, they had to evacuate."
Various organizations worked to send adoptable animals to shelters around the county.
Greater Good Charities, a national nonprofit organization, coordinated to move animals in Louisiana to shelters in California and Florida.
CEO of Greater Good Charities Liz Baker told Newsweek the organization's plan was to get as many animals out before the storm hit.
"Nationally, other groups have stepped up and we're waiting to coordinate to move more animals," Baker said.
She said one of the best ways people can help is by fostering an animal to make some room for animals in need of shelter. To ensure that animals are in a safe environment, it's necessary to shuffle animals around to different shelters and foster homes until they are adopted.
Baker also said the organization has a relationship with shelters in the area. If needed, she said the organization is prepared to send more animals to the northeast, or to North and South Dakota.
Shelters are open to owned pets as well, according to Baker. For many who lose their homes, owners have the option to put their companion in a shelter as they work to get back on their feet. This will be especially important in the aftermath of Hurricane Ida.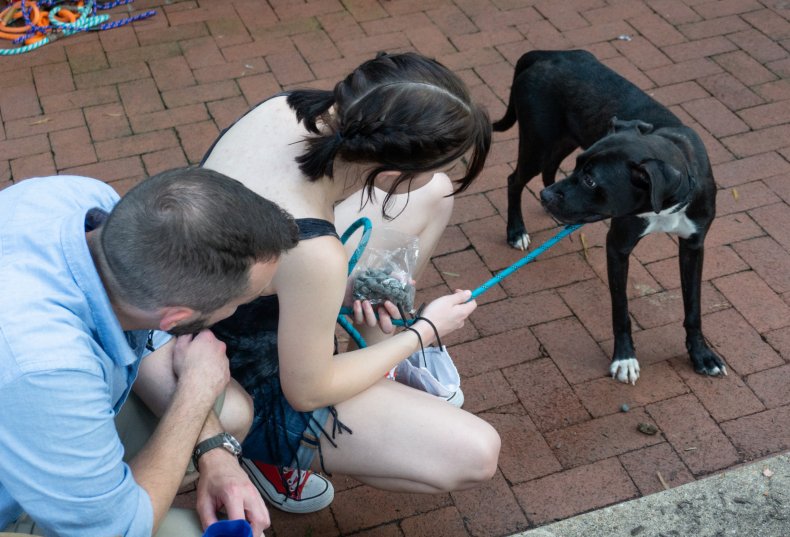 A California location of Camp Run-A-Mutt, a national dog daycare, also pitched in to help when the plane landed.
Mike Krumweide, an owner of a Camp Run-A-Mutt location, told Newsweek his job was to help offload the pets, make sure the animals were fed and hydrated and clean the crates.
"It went very smoothly," he said. "The teams that came to help offload the planes were experienced and efficient."
Krumweide said the most difficult part about the entire effort was coordinating with a plane, especially since there was an urgency in getting the animals out of the area.
Pets were also sent to the east coast to avoid the dangerous hurricane, which continues to tear through Louisiana, leaving more than a million people without power.
Dogs from the Humane Society of Southern Mississippi arrived in Arlington, Virginia where they were taken to Lucky Dog Animal Rescue on Sunday evening.
Mirah Horowitz, the founder and executive director of Lucky Dog Animal Rescue, told Newsweek there is a preexisting network of shelters and she was contacted by the Humane Society of Southern Mississippi.
Lucky Dog Animal Rescue connects pets with people who are willing to foster the animals until they are adopted. Horowitz said all the dogs who were brought in from Mississippi were taken into a foster home.
Katie King, the Development Director for the Humane Society of Southern Mississippi, told Newsweek they try to evacuate as many pets out of the shelter before any major storm, especially if they're facing a hurricane that's at least a category 3.
There wasn't much time to waste for the shelter in preparation for Hurricane Ida. King said they coordinated within 24 to 48 hours by reaching out to their transport partners and other shelters. Thanks to word of mouth, other shelters heard about their efforts and volunteered to take some pets in as well.
She also told Newsweek that there were some last-minute pet adoptions before animals were sent to other shelters across the country before the storm hit.
Like Baker, Horowitz said fostering and adopting animals is crucial, and two animals' lives are saved through this process.
"You're saving the dog that's coming into your home and you open a space in a shelter to another dog," Horowitz told Newsweek.
Newsweek reported that early Monday morning, Ida was downgraded to a Category 1 hurricane and was later downgraded to a tropical storm. Although forecasters predict Ida will weaken, it remains a dangerous storm.