Hundreds of Skeletons Found Buried Under Beach
The astonishing discovery of medieval remains, buried beneath the sand of a Wales beach, has led to a multi-year archeological excavation—resulting in nearly hundreds of well-preserved human skeletons from the era.
The Dyfed Archeological Trust is leading the project, which archeologist Jenna Smith said has been ongoing since 2014. "There [were] really bad storms [at the time] and members of the public were reporting that they could see bits of bone sticking out on the beach," explained Smith to Newsweek. "So we did a [two] week excavation in 2014, and then returned in 2015 and 2016 for [three] weeks."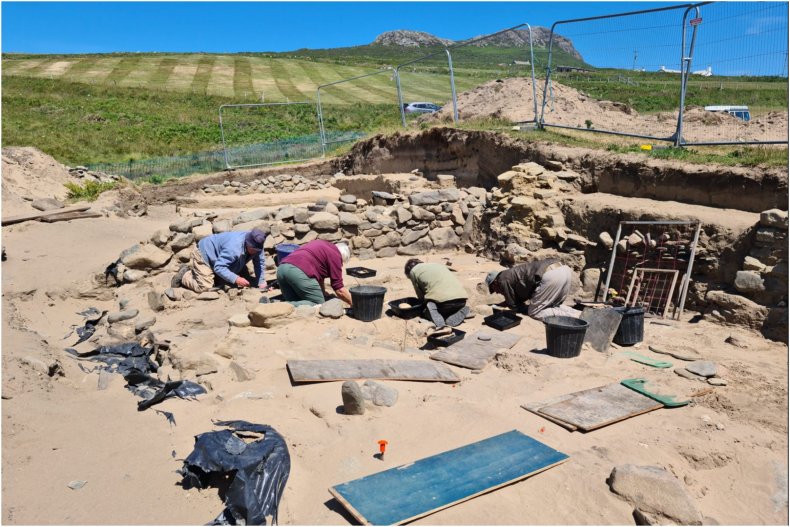 According to BBC News, the site is located on Whitesands Beach in Pembrokeshire, Wales. Dating back to between the eighth and 11th centuries, the area contains the remains of an early Christian community, including those of the medieval St. Patrick's chapel cemetery.
For Smith and her peers working on the dig, each day is jam-packed. "We start our day at 9 a.m. and get stuck right in!" she explained. "We carefully excavate layer by layer until features start to appear, so in this case it is the chapel walls, boundary walls and graves." She added that "everything is photographed, measured, drawn and recorded before anything is removed" and that the team "meticulously [records] everything."
"We work hard to be as careful as we can, particularly with any burials we find," she said.
The process has been incredibly fruitful, so far resulting in rare findings: due to the cemetery's sandy locale, the human remains have been remarkably well-preserved.
"The interesting part of this site is that we don't normally get the preservation of bone from this period of time [eighth-11th Century/Early Medieval]," explained Smith, noting that "the bone doesn't normally survive," because "Welsh soil is quite acidic." As a result, remains tend to rot before they've had the chance to be excavated.
The sheer quantity of burials found at the site is also notable. "We have excavated about 210 burials in total [2014, 2015, 2016, 2019] and about 110 burials this year [2021]," said Smith.
While the site is not primarily filled with artifacts, Smith said the team—primarily made up of volunteers led by Dyfed Archeological Trust staff—has found objects "that [had] been dropped by their owners," including glass and bone beads, pieces of amber, a Hiberno-Norse ringed pin [which Smith explained is similar to a dress pin], and grave markers that have "a cross scratched into them."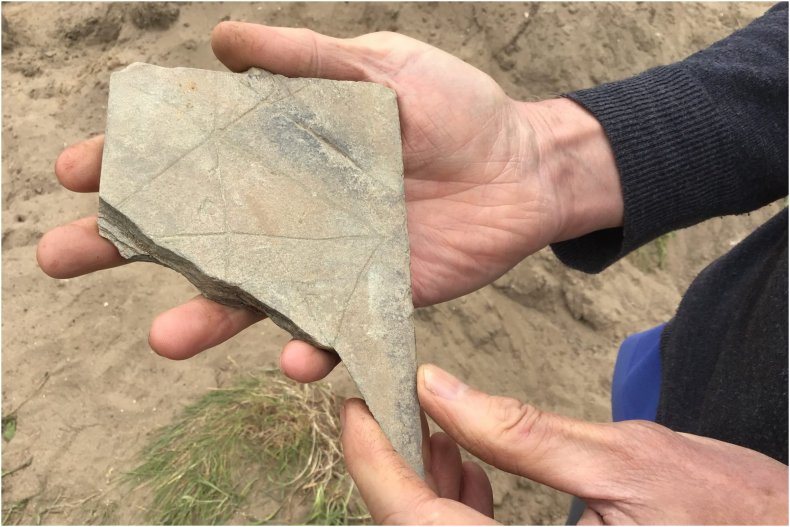 Of the remains found in the cemetery, Smith noted there is "a high number of female burials and a high number of infant burials" at the site. "Over the 100 odd that we excavated in 2014-2019 about 60 percent were under 18 years of age," she added, noting they "would have been [of] British, Irish and possibly Mediterranean descent."
"Where the chapel is situated would have been quite a busy area, as during that time the best way to travel would have been by sea, so we imagine there would have been lots of people [traveling] back and fore, possibly trading."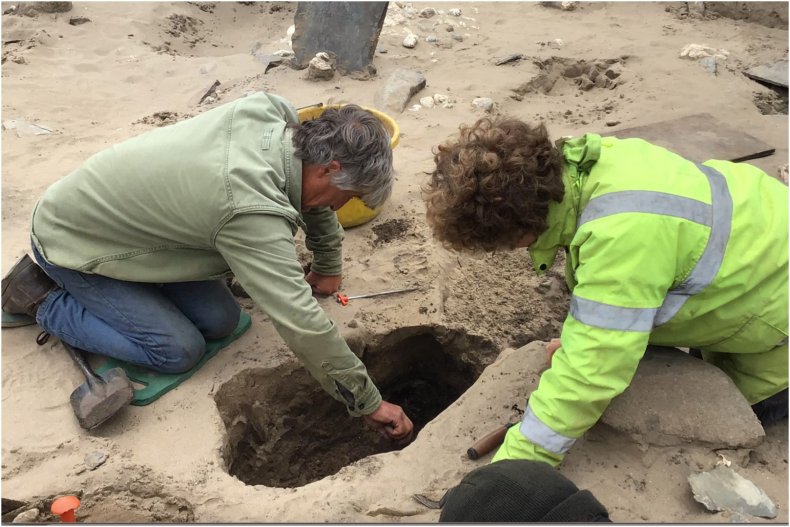 She added "when the burials are removed, they are sent to the University of Sheffield, who do tests including carbon dating. They are also working with other [organizations] to look for things like what the people ate, where they came from and if there were any diseases present. These will all be reported on in the coming months once the project has finished."
"We would like to stress how important it is that we are here to save these burials from washing into the sea," emphasized Smith, who began her work with Dyfed as a volunteer before landing a full-time job four years ago.
"We also enjoy the fact that the public are able to come and view the site and see archaeology in action," she added, noting that the site has seen over 6,000 visitors over the last four to five weeks. "Archaeology is for everyone so we are lucky to be able to show it to everyone."