Hundreds in Texas Were Arrested During BLM Protests For Non-Violent Crimes
Protesters arrested in Texas during demonstrations against racial injustice in late May and early June were reportedly overwhelmingly arrested for nonviolent offences.
Out of more than 1,000 people arrested in several major Texas cities during the first week of protests following the death of George Floyd, arrest records show that only a small portion were cited for violent crimes or theft, according to a report from Texas Monthly.
Most of those arrested during the protests were instead accused of low-level offenses like breaking curfew or blocking roads. Another popular charge, disorderly conduct, was said to be defined as "traveling with a large crowd and refusing officers' commands to disperse" or "inciting breach of the peace" during the demonstrations.
Of 181 arrests made during protests in Dallas from May 29 to May 31, arrest records reportedly show that 85 percent were for nonviolent infractions. Another 674 protesters were arrested on June 1 for blocking a highway, although police did not pursue criminal charges.
More than half of the 20 people arrested in connection with protests in San Antonio were stopped for nonviolent offenses, while 40 percent of the 50 people arrested in Austin were said to be for low-level offenses.
Charges against 602 protesters arrested in Houston for trespassing and blocking a highway were dropped by prosecutors on June 10. Days earlier, prosecutors in Fort Worth dropped charges against 50 people arrested for rioting.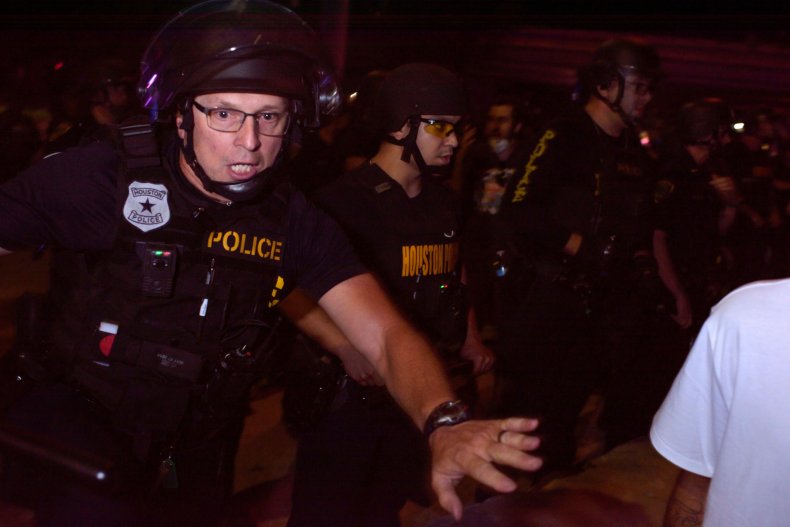 Dozens were arrested for "riot participation," a broad charge under Texas law that has been questioned by some legal experts, who say protesters could be arrested on the charge for merely participating in demonstrations or being near someone who was participating in something that could be defined as "rioting."
"Simply being next to someone who decides that this is going to turn into a riot when it starts out peacefully doesn't make you a rioter," Andy Chatham, a former district judge in Dallas, told Texas Monthly. "And I know that's what happened here."
Texas, like most of the country, was the scene of widespread protesting following the May 25 death of Houston native Floyd, an unarmed Black man who died in Minneapolis, Minnesota after his neck was pinned to the ground by the knee of a white police officer for almost 9 minutes.
Texas Governor Greg Abbott declared a state of disaster on May 31 due to "violence and looting" associated with the protests. The next day, he announced that "agitators" coming from out of state to "hijack" the protests and provoke violence would be subject to federal prosecution, although arrest records later suggested that the majority arrested were from Texas.
Newsweek reached out to Abbott's office for comment. This article will be updated with any response.