Earlier this week, Antonio Basco invited the public to the funeral of his wife, Marjorie Reckard, killed in the El Paso shooting. The funeral happened on Friday, and hundreds turned out.
The Perches Funeral Home made a Facebook post on Tuesday sharing a picture of Basco, telling his story.
"Mr. Antonio Basco was Married for 22yrs to his wife Margie Reckard, He had no other family. He welcomes anyone to attend his Wife's services. On Friday August 16th, Perches Funeral Home Northeast on 4946 Hondo Pass from 5-9pm. Let's show him & his Wife some El Paso Love. #EPSTRONG," the post said.
The Facebook post went viral, and though the funeral parlor holds about 200 guests, pictures shared on Twitter by journalist John R. Stanton show people lining up around the block.
"Line outside the La Paz Faith center in El Paso for the memorial service of Marjorie Reckard, who was killed in the El Paso shooting. Her husband Antonio Basco, invited the public because they have no family. El Paso Juarez is showing up strong for Mr Basco," Stanton tweeted.
"The line for the memorial service is around the block. The crowd is mostly Latino, lot of families, abuelas herding their grandkids, bikers, old school Chicano dudes in zoot suits ... basically its El Paso," he continued.
When Basco arrived, the mourners welcomed him. Stanton said one man asked if he could hug Basco, telling Basco he'd come all the way from Colorado to attend the memorial service.
According to Stanton, El Paso Mayor Dee Margo also came to pay his respects.
"El Paso's Republican Mayor Dee Margo just came, hugged Mr Basco and ducked out quickly in what seemed like an effort to not be a distraction. Which is a lesson a lot of other politicians could learn," he wrote.
Those who couldn't attend sent a number of flower arrangements in their stead. The flowers covered the front of La Paz Faith, the memorial and spiritual center where the memorial was held.
Other Twitter users thanked Stanton for sharing the photos of the service.
"This is the heart and soul of the American people right here. Our core values are love, compassion, community and caring. We're not about hatred, racism, nativism, bullying and dictator-worship. #ElPasoStrong we love you! Thank you for showing Mr. Basco so much love," wrote Linda Lorraine.
"This is America. This is who we are. I believe in my heart that we will rise up and slay this horrible dragon of hate because there are more us good people than those that hate. I sent flowers from across the country and to see them with all the other flowers gives me hope," said Twitter user @fairyjumper.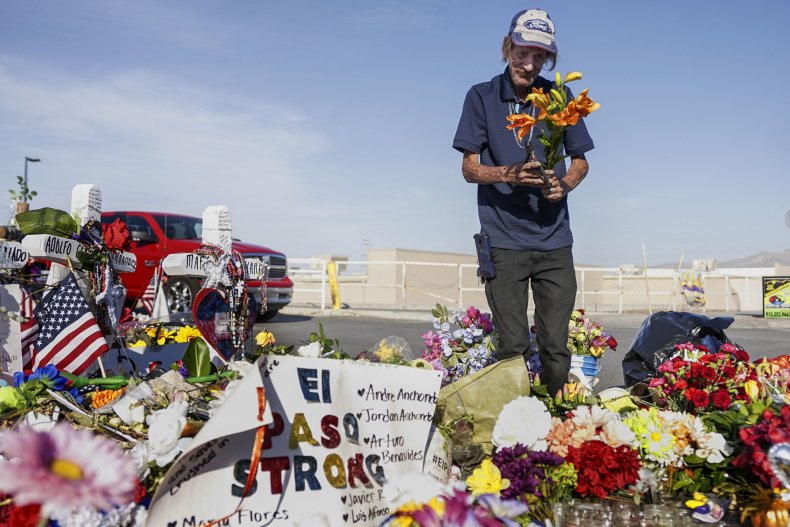 Earlier this week, Basco described his wife of 22 years as "an angel."
"I mean you didn't even have to be there to talk to her. You could just look at how she was, how she acted, how she presented herself. She was an awesome lady," he told the Associated Press. "You see Margie, more or less, was the brains of the family."
"We were gonna live together and die together," Basco added. "That was our plan."