Hundreds of Ukrainian Newborns Dressed in Traditional Clothing for Holiday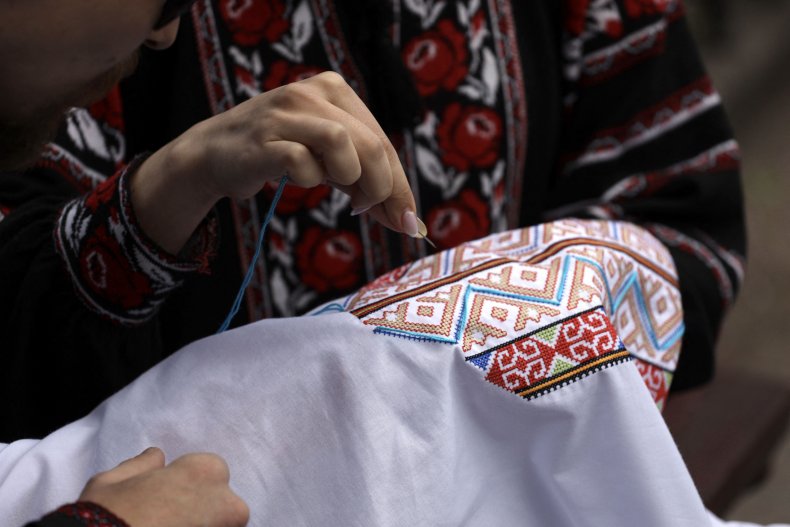 Hundreds of newborn babies in war-torn Ukraine were dressed in traditional clothing as Ukrainians at home and abroad celebrated an annual holiday honoring folk traditions.
Ukrainians celebrated Vyshyvanka Day on Thursday. Observance of the holiday, which was created by a university student in 2006, is marked by the wearing of traditional Ukrainian-embroidered vyshyvanka shirts. According to state-run Ukrainian news agency Ukrinform, vyshyvankas are among "the brightest symbols of the Ukrainian culture," alongside traditional Easter eggs called pysankas.
The Ukrainian Ministry of Health of Ukraine supplied at least 500 newborns in "the frontline regions" of Ukraine with the traditional embroidered shirts on the eve of the holiday, according to Ukrainian news outlet New Voice of Ukraine. The babies who were given the vyshyvankas were reportedly in the Sumy, Mykolayiv, Kharkiv, Dnipropetrovsk, Odesa, Chernihiv and Zaporizhzhya oblasts.
New Voice of Ukraine shared health ministry-supplied images of the newborns wearing the colorful shirts to Twitter and Facebook on Thursday. Several images show the babies alongside health care workers and mothers, some of whom are also shown wearing the traditional clothing.
Ukrainian President Volodymyr Zelensky shared a video to Facebook on Thursday promoting the celebration of the holiday despite the ongoing war with Russia, alongside a comment describing the vyshyvanka as "our sacred talisman in this war."
Ukrainian first lady Olena Zelenska offered a more detailed tribute to the holiday in an Instagram post that featured a photo of her wearing the traditional shirt. Zelenska said that the vyshyvanka had become "personal" and taken on new meaning since the Russian invasion.
"This day has been celebrated by Ukrainians for many years, but the war has filled it with new poignancy," Zelenska wrote, according to a translation from Kyiv Post. "Perhaps for the first time, we feel so acutely the meaning of the famous saying about the 'embroidered code of the nation.'"
"For the first time it has become so personal," she continued. "For the first time, it is about our terrible losses and about our inevitable victory over the enemy and our grief. Happy Vyshyvanka Day, friends!"
According to Ukrinform, Vyshyvanka Day was started by students of the History, Political Science and International Relations departments at Yuriy Fedkovych Chernivtsi National University in Chernivtsi, Ukraine. Eight years after it was first celebrated, as the Ukrainian military fought pro-Russian separatists in 2014, the holiday become popular among the Ukrainian diaspora abroad.
Vyshyvanka Day takes place every year on the third Thursday of May, with the founders of the holiday reportedly choosing a weekday to emphasize that the traditional shirt "is a component of the life and culture of Ukrainians, and not an ancient artifact."
Newsweek reached out to the Embassy of Ukraine in Washington, D.C., for comment.