As Americans across the country cancel Christmas celebrations and rethink holiday plans, hundreds of young conservatives, many without masks, crammed into President Donald Trump's South Florida resort to attend Turning Point USA's Winter Gala.
Despite the coronavirus pandemic, which has killed more than 300,000 Americans, the popular, pro-Trump group favored by conservative college students held the sold-out event at the Mar-A-Lago during its third annual Student Action Summit.
Attendees paid $2,000 each to hear such speakers as Turning Point USA founder Charlie Kirk, Fox News host Laura Ingraham and Kentucky Senator Rand Paul.
Photos from the event show hundreds of attendees violating Palm Beach County's COVID-19 rules as they posed for photos with notable GOP figures like White House press secretary Kayleigh McEnany, Representative Matt Goetz, South Dakota Governor Kristi Noem, former Trump 2016 campaign manager Corey Lewandowski and Trump ally Roger Stone, who was granted clemency by the president earlier this year.
The county's current emergency order requires facial coverings "inside all businesses and establishments" and the following of the Centers for Disease Control and Prevention's social distancing guidelines, which calls for a distance of at least six feet between people.
Although the youth organization failed to implement these coronavirus safety measures, it did allegedly cap the number of attendees allowed into the event hall.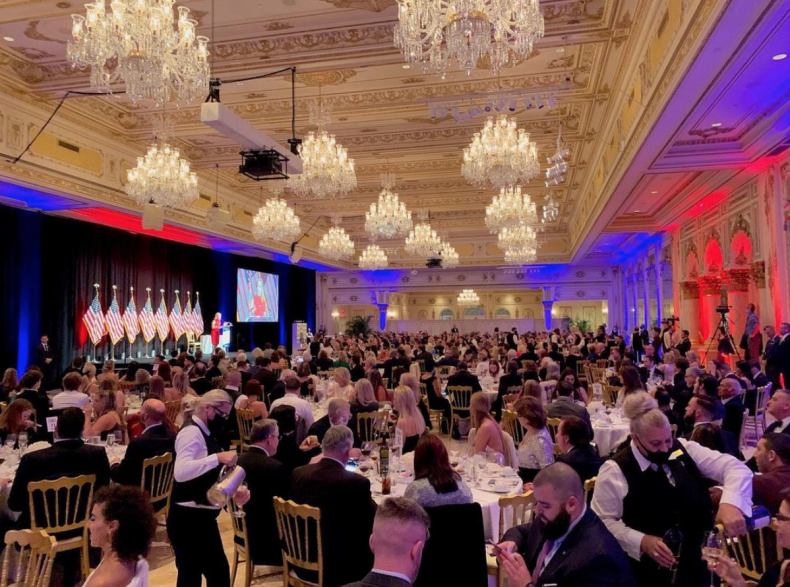 While hundreds of young conservatives mingled inside on Friday, another hundred or so were locked out of the Palm Beach County Convention Center the following day after Turning Point USA oversold tickets to its first day of the summit, whose lineup included Fox News host Tucker Carlson and Donald Trump Jr.
Many ticket holders blamed county officials for halting entry into the convention.
While County Administrator Verdenia Baker told staff in communications obtained by CBS 12 News that the group had "oversold their contract capacity by 500 to 600 people," Turning Point COO Tyler Bowyer denied that the group had agreed to a 2,000-capacity restriction over Twitter.
Kirk opened the event with a 15-minute speech about COVID-19 lockdown measures, positioning the four-day conference in opposition to the business closures that have swept the nation in efforts to curb the spread of the virus.
"This event represents freedom," Kirk said. "That you're not going to lock us down and shut us up any longer."
Kirk has previously spoken out against mask mandates. During a rant on his podcast in July, the Turning Point USA founder said, "Do not force me to wear a mask, it's that simple. I'm not gonna do it, I'm not."
Days later the youth group's other co-founder, 80-year-old Bill Montgomery, died due to complications from COVID-19, forcing Turning Point USA to delete previous tweets mocking people for wearing masks.
While the coronavirus has been known to be more fatal in older adults and those with preexisting conditions, young people can still contract COVID-19 and the virus has had serious implications even among the young and relatively healthy.
Congregations of young people have also been identified as key factors to the rising number of infections.
When college campuses reopened in the fall, many college towns experienced a surge in coronavirus cases. As of December 11, data from The New York Times has found more than 397,000 cases on U.S. college campuses.
Newsweek reached out to Turning Point USA for comment but did not hear back before publication.