Hungarian Capital on 'Lock Down' for Putin's Visit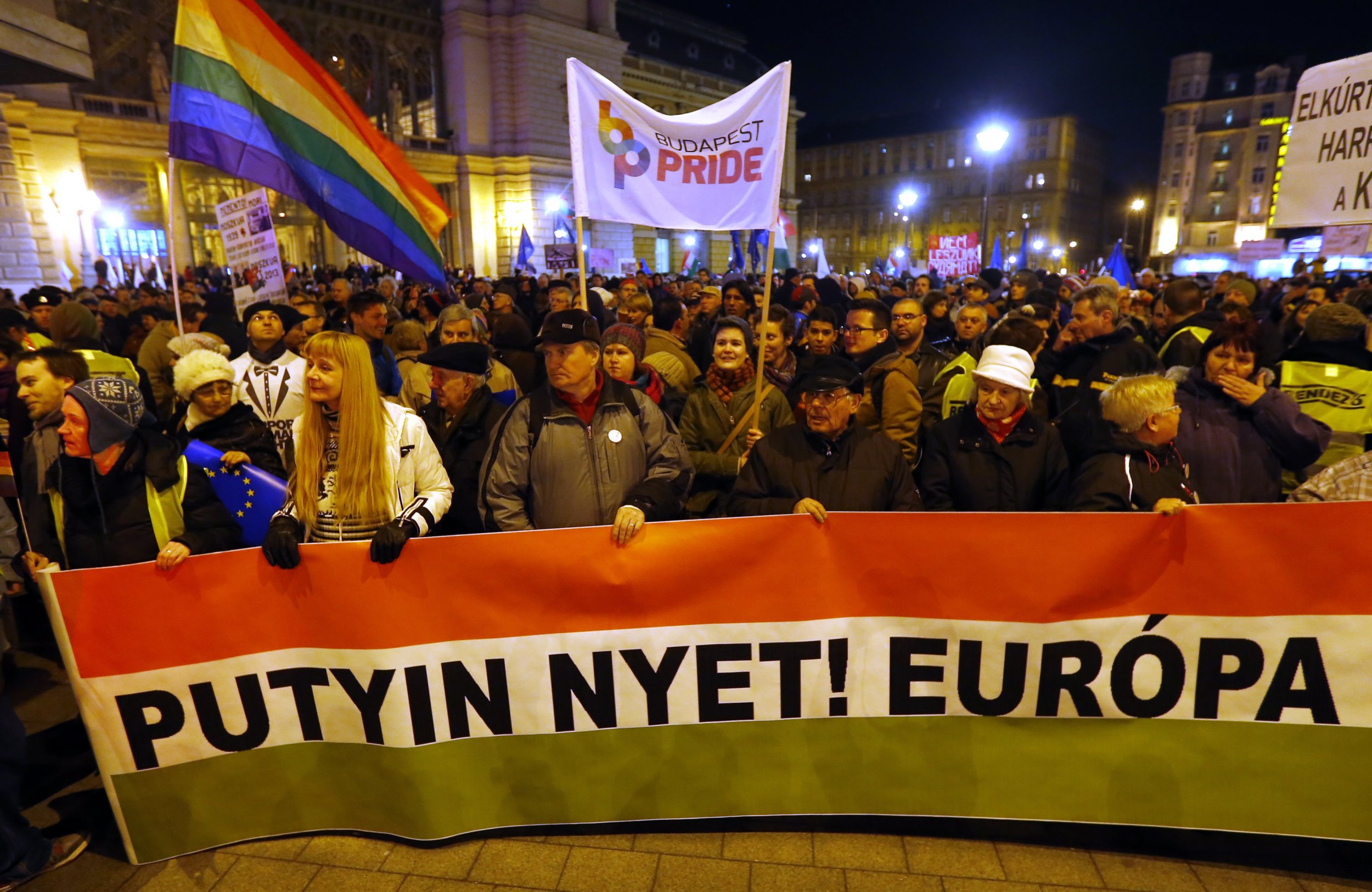 The Hungarian capital city of Budapest has been put on "lockdown" according to local police, as Russian president Vladimir Putin met with Hungarian prime minister Viktor Orban today to discuss the two countries' energy partnership today, sparking public protests.
Putin's aide Yuri Ushakov told press the two leaders would mainly discuss natural gas supplies to Hungary following Russia's decision to scrap its €40 billion South Stream pipeline late last year, however the head of Russia's nuclear agency Rosatom Sergei Kiryenko is also expected to attend.
Last year it was announced that Hungary had agreed a deal to expand Hungary's only nuclear power plant - Paks - with the help of Russia's nuclear agency Rosatom, replacing its Soviet-era reactors with more modern apparatus.
The growing partnership between the two countries prompted 2,000 protesters to march in Budapest last night, with police remaining on high alert today. Local authorities announced that as of nine this morning a number of the city's central bridges over the river Danube, historic squares such as Hősök Tere (Heroes' Square), and parts of the city's iconic Buda castle district would face temporary closures.
According to German broadcaster Deutsche Welle many of the protesters brandished posters reading: "No to Putin, Yes to Europe". A Femen activist was arrested in Budapest for the first time this afternoon after standing topless near parliament and shouting, "Putin go home", Hungary's Index newspaper reports.
Marton Gulyas, one of the organisers behind last night's protest told Agence France Presse he condemned the meeting between the leaders as he suspected they were making "secret deals while there is a war next door in Ukraine."
Hungarian opposition party co-leader Tímea Szabó has criticised purported efforts to reduce the transparency of the deal surrounding the nuclear power plant - there is a motion currently being discussed in parliament to make details of the Paks expansion confidential for 15 years.
Szabó branded the move "illegal" English language daily Politics.hu reported today, adding that he believes any signatories to the proposal would "one day go to prison".
According to Peter Kreko, director of Budapest's Political Capital Institute, the nuclear aspect of Russia and Hungary's relations is mired in secrecy as Hungary's nuclear programme "was taken out of any kind of transparency requirement" by the ruling Fidesz party.
"All projects surrounding the nuclear deal with Rosatom were classified as a state secret. This is a complicated deal because we do not know anything about the sub-contracts involved," Kreko adds.
Kreko says that the warming relations between Moscow and Budapest are viewed "more negatively rather than positively" by Hungarians, adding that today's meeting between the two leaders "does more harm than good" to Hungary's international image.
"This is not Serbia," Kreko says, referring to the Serbian government's decision to greet Putin with a military parade during his last visit to Belgrade. "When Putin visits here, he is not regarded as a hero. If you look at our history, most Hungarians do not regard Russia as a historical friend."
"The anti-Putin protest last night attracted thousands and there is a pro-Putin protest scheduled for some time today but I suspect it will not be anywhere nearly as popular as last night's protest," Kreko says, adding that he believes the latter is a conceited move, organised to be broadcast across Russian media.
"Orban is one of the most pro-Russian prime ministers in Europe, only behind Greek prime minister Tsipras. Even the nationalist Jobbik party, which is quite pro-Russian, is not as bad."
Politics.hu reported that the Hungarian parliamentary building in central Budapest was also closed by the country's anti-terrorist unit (TEK) this morning before today's talks, however, either this was an unplanned operation or someone had forgotten to inform ministers as there were reports of some dismayed MPs only discovering the building was closed after they'd arrived.
Several roads into the city were also reportedly closed ahead of Putin's arrival today, including the M0 ring road which is Budapest's major link to its international airport.
One demonstrator at last night's march 67-year-old Maria Toth expressed her fear ahead of today's meeting that Moscow is envisioning a return for Hungary to its past as a Kremlin satellite state. "I lived most of my life under communist rule, I don't want this country to fall under Russian influence again," she told Agence France Presse.