Hungary's Joke Party Is Dead Serious About the Election
Back in 2016, Hungary's Two-Tailed Dog Party (MKKP) encouraged voters to draw penises on their ballot papers during Victor Orbán's referendum on European Union migration quotas—in all, 6.2 percent of the total votes casted in the poll were deemed invalid.
Two years on, the grassroots political organization had to take its fight to run in Hungary's April 8 elections all the way to the country's highest court, over objections that their party name was offensive as the word "tail" is often used as a euphemism for the male genitalia.
But while the MKKP, which has been around for over a decade, has a reputation as something of a joke party in Hungarian politics, Chairman Gergely Kovacs told Reuters in 2016 that they are deadly serious: "You create a party to win elections," he said.
Read More: Europe's far right is flourishing. Just ask Viktor Orbán.
Hungarian elections often attract dubious political parties due to the fact that any group that takes part in a poll can claim expense refunds if they collect 500 signatures for each of their 27 candidates. Euronews reported that at least 14 fake parties have registered this year.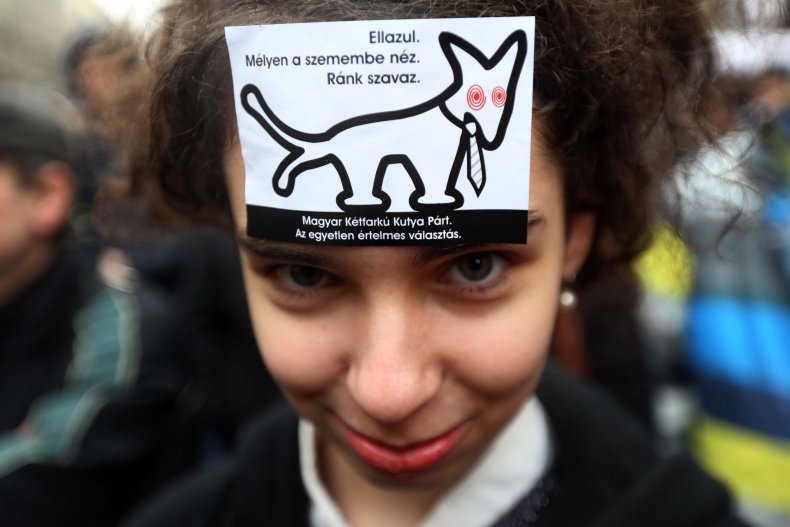 But the MKKP fought a serious campaign against the migrant referendum, combating Orbán's anti-migrants posters (with slogans such as: "Did you know? Migrants perpetrated the Paris attacks") with their own "Did you know? There is a war in Syria."
Although the results of the referendum were overwhelmingly opposed to efforts by Brussels to force every EU member state to take a set number of people after the 2015 migrant crisis, the turnout was so low that it was deemed invalid. For Kovacs, it was a significant victory.
Ahead of April 8, the party has put forward a range of human, subhuman and animal candidates, including a gorilla-guerrilla gardener who is planting edible plants in Budapest playgrounds. Their slogan is simple: "The only party that makes sense."
MKKP became known for promising free beer and eternal life in the 2010 election, but chicken candidate József Tichy-Rács, who is running in its native Győr-Moson-Sopron county's 4th electoral district, told Newsweek he is also campaigning to have helicopters replacing school buses and trade with other countries, continents and planets.
His choice to run was dictated by the obvious perks of the job. "The world of politics is [a place] we feel comfortable in, there's everything we want. Women love [politicians], we also get invited for beers—It's not hard to do and still people get acknowledged. It's ideal, isn't it," he said in human language—a departure from the clucking he reserved for the state-run television that had to offer the party a five-minute interview slot as part of the campaign rules.
Tichy-Rács is however working hard to its voters, in line with the party's principles, which include "promoting active citizenship, fostering civic attitudes" and, when necessary, taking over "activities neglected by local authorities with the intent of spurring them into action and enhancing their operation."
In March, Tichy-Rács gave a new meaning to the old questions of "why did the chicken crossed the road" when he we put up a traffic sign to help people safely cross the street, and then crossed the street to do the same on the other side.
"It was something that doesn't cost much money, but many people were complaining about not being able to cross the street safely," he said.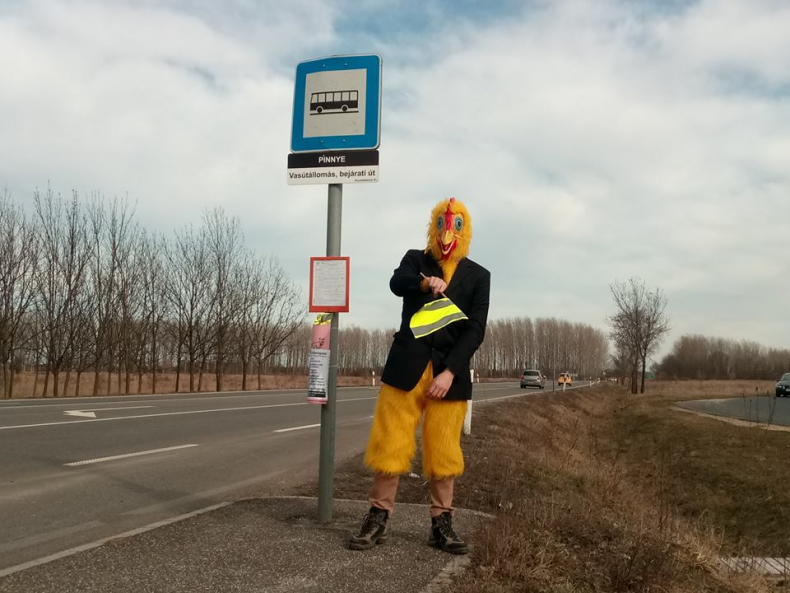 Polled for the first time in 2016, the Two-Tailed Dog party only attracted the support of one percent of the population, not enough to challenge Orbán's Fidesz, which is expected to win a majority of the votes on Sunday. Opposition parties have failed to rally behind a candidate to take on the Hungarian leader, who has been in power since 2010.
But Tichy-Rács is not concerned about established parties. His biggest rival, he said, are undecided voters. "Every time a poll comes out they are winning the vote. That's my biggest competition," he said.