Hungary's Loyalties Lie With U.S., NATO Not China and Russia, Viktor Orban Challenger Says
Peter Marki-Zay, the Hungarian opposition candidate for the 2022 election, thinks he is the one to unseat Europe's "most dangerous" politician—and that his victory is the only way democracy will survive in Hungary.
"These elections are not fair and free at all," Marki-Zay told Newsweek in the week he won the opposition nomination to be the next Hungarian prime minister. "The situation has become worse and worse in Hungary for the last 11 years...It is really a matter of life and death."
Marki-Zay came to prominence when he won the 2018 mayoral election in his hometown of Hodmezovasarhely; the first defeat of Prime Minister Viktor Orban's hard-right populist Fidesz party by an opposition candidate in several years.
His supporters are now hoping he can replicate that success nationwide and end Orban's 11 years in power.
Marki-Zay—a historian, economist, electrical engineer, and marketer—is an unlikely choice. The 49-year-old father of seven defeated two more fancied candidates in this month's primary contest in which more than 600,000 people voted.
Budapest Mayor Gergely Karacsony dropped out of the race after the first round of voting, despite being tipped as the opposition's breakout star. Then Marki-Zay defeated the leftist Vice President of the European Parliament Klara Dobrev in the second round, despite the latter's higher profile and experience.
He is a leader without a party, instead serving as the frontman for the six opposition groups that want Orban gone. He will draw support—and choose his possible cabinet—from groups including the liberal Momentum party, the green Dialogue party, and the traditionally far-right Jobbik.
Marki-Zay's own Everyone's Hungary Movement has just 6,000 members. Though the candidate might look to grow the organization's political footprint in years to come, for now he is an outsider riding on the infrastructure of more established parties.
It is not clear what price these parties might demand of Marki-Zay—whether in cabinet posts or policies—if he is victorious.
But Marki-Zay's relatively low profile has allowed the candidate to cast himself as an outsider, someone untainted by the corruption, cronyism and scandal that has dogged Hungarian politics.
Indeed, his most frequent attack against Dobrev was that she is married to controversial former Prime Minister Ferenc Gyurcsany whose spectacular political collapse opened the door for Orban's second premiership. This relation, both Marki-Zay and Karacsony argued, made Dobrev too unpalatable for a national contest.
Emotions are raw in the aftermath of the primary campaign. Marki-Zay said he hoped the wounds would heal in time for next year's election.
"If they don't want to commit political suicide, they really have no other choice than strengthening and building an alliance against Orban," he said of his former opponents and coalition backers. "I really hope that this very sensitive period will be over soon."
If he was to win, Marki-Zay said his priorities would be "liberating Hungary from corruption...but also restoring democracy and accepting a new constitution via referendum."
He added: "We need a short but very precise constitution that will prevent any future backsliding of democracy, any future authoritarian leaders from switching off checks and balances."
A "traditional conservative" and practicing Catholic, Marki-Zay has nonetheless positioned himself as a defender of the LGBT community besieged by Orban and his nationalist Fidesz party—a campaign of hate Marki-Zay described as "disgusting."
The mayor has also committed to repairing his country's relations with the European Union, and ambitious climate goals that Orban has dismissed as a "utopian fantasy."
Marki-Zay dismissed Orban's climate skepticism as "very stupid populism." He added: "These problems are becoming more and more important for Hungarians," noting that some 14,000 of them die each year from poor air quality.
"It's more and more important that we come up with a sustainable solution for the environment. And I think Hungary needs to join international efforts to stop climate change."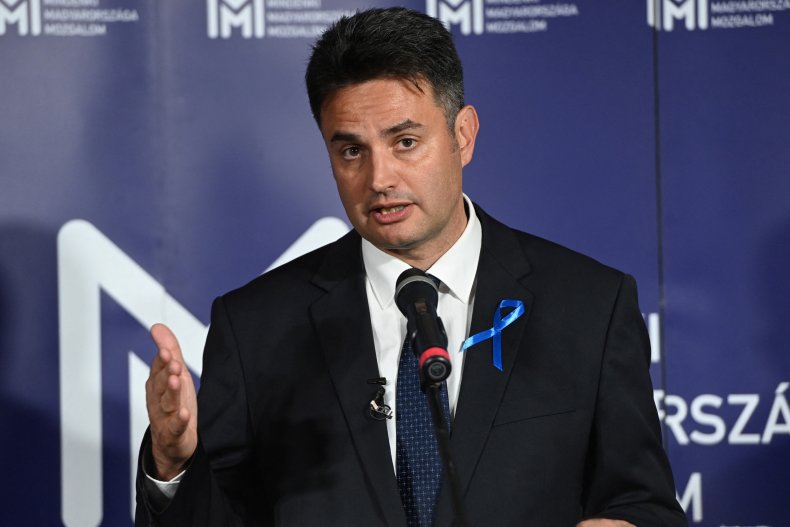 The Trump-Orban Bromance
Orban's illiberal crusade has made him a hero of America's far-right. Fox News host Tucker Carlson put it to viewers recently that the prime minister was a model for American politicians, heaping praise on Orban during an interview in Budapest.
"Tucker Carlson seems to be a big friend of Orban," Marki-Zay said.
"Tucker Carlson forgets to mention to the American people—and those conservatives that are now enthusiastically supporting Orban—that Orban is not doing anything against abortion; that Orban is letting in Chinese spy software systems including Huawei.
"Orban is extraditing criminals wanted by the United States—reported by the United States caught in Budapest—to Russia, betraying the United States and betraying his Western allies.
"Even for a radical extremist, Orban is not credible.
Former President Donald Trump praised Orban for doing a "tremendous job" and said the leader was "highly respected all over Europe."
President Joe Biden has been less kind, placing Orban alongside "the thugs in the world" and dismissing his government as one of the "totalitarian regimes" that courted Trump.
"My impression was that it was only Trump who supported Orban, not Republicans or Democrats," Marki-Zay told Newsweek. "They all agreed that Orban, dealing with Russia and communist China and betraying the Western alliance, is a huge threat for the Western world."
Trump's word is law in the modern GOP. But if he runs and wins again in 2024, Marki-Zay said Trump's personal whims would have to contend with a larger establishment. "You underestimate the power of the administration in the United States," he said.
Orban visited the White House once during Trump's term, the meeting helping smooth a $1 billion bilateral arms deal. "It was not free," Marki-Zay said. "Orban's ticket to the White House was quite expensive."
Marki-Zay said his victory would bring a pivot away from autocratic regimes in Moscow and Beijing, back towards NATO and the EU.
"My alliance, my devotion, my support is always for Western Europe and the North Atlantic Alliance," he said, noting the several years he spent living in the U.S. and Canada.
"These countries and these powers should be and must be our allies, and we have to work together with them to promote prosperity and freedom in Hungary."
Orban's close ties with Russia and China, he added, are long overdue revision.
"These are great cultures, great countries, great people; we admire these people," Marki-Zay said. But he has little patience for economic and political ties he says go against national interests.
The new Chinese-funded railway line from Budapest to Belgrade in neighboring Serbia—part of Beijing's multi-trillion-dollar Belt and Road Initiative—is one example, he said.
"The population centers within Hungary like Szeged and Kecskemet are not on the route of this new railway, so it doesn't even make sense for Hungarians."
During the COVID-19 crisis, too, Marki-Zay accused Orban's government of shady dealings with Beijing and Moscow, paying over the odds for both Russia's Sputnik V and China's Sinopharm vaccines.
"Everything is about corruption in these Russian, Chinese business dealings," Marki-Zay said.
"We need to start respecting each other, respecting these huge powers, but always looking at the Hungarian national interest. This is going to change, and our alliance lies with the European Union and NATO, no doubt about that."
The Migration Front
Migration has been a key issue in Hungarian politics over the past decade, with Orban's anti-migrant policies forming the cornerstone of his populist challenge to the liberal EU.
The migration debate is back front and center due to the Taliban victory and subsequent humanitarian crisis in Afghanistan, Belarus' weaponization of migrant flows into the EU, and climate-related instability. The issue could form a significant part of the election campaign.
But Marki-Zay is ready to fight for that ground if it does. He accused Orban of relying on hateful rhetoric towards immigrants while actually encouraging more new arrivals from Russia, China, South Asia, and the Arab world, "including some well-known criminals and well-known Islamist terrorists."
Net immigration to Hungary has risen every year since 2016. "If you point this out, all of a sudden they are not so keen on speaking about migration," Marki-Zay said.
But he is not proposing a liberalization of Hungary's immigration policy.
"There's nothing more liberal than Orban's approach to migration," he said, adding that "conducting hate campaigns is detestable, that's disgusting...this is unacceptable. This is not Christian at all."
Marki-Zay continued: "Orban's policy is that everybody can come: Criminals, wanted international terrorists...They are all welcome as long as they pay. If somebody is a wanted criminal but is [Russian President Vladimir] Putin's friend, Orban will give him asylum.
"If you want to stop criminals from entering the EU, then you have to be stricter than this. And I expect the European Union to stop this influx of criminals.
"I think Orban is a huge security risk to Europe. Orban let hundreds of thousands, probably close to a million, people through Hungary without even checking their papers."
Marki-Zay suggested the EU take its lead from Canada, Australia, and the U.S., all of which traditionally operate stricter policies on new arrivals.
"They are controlling migration," he told Newsweek. "Uncontrolled migration is unacceptable. A fence is an absolutely acceptable solution for controlling and stopping illegal migration.
"Illegal migrants can bring in harm for Europe, Islamic terrorism, for example. So yes, Europe has to be tougher, much, much tougher on immigration."
Migration is a potent issue, one Marki-Zay wants to take out of the hands of leaders like Orban.
"Loose policy on immigration, and even loose communication, opens the door to corrupt autocrats like Orban to win the hearts of some Western extremists, and even right-minded people who fear terrorists," he said.
"If the European Union is not doing everything to stop terrorists from infiltrating Europe, then Orban and his like will just become more and more popular. So we have to stop hate campaigns, but we also have to stop the infiltration of terrorists into Europe."
Pulling at Fidesz Threads
Marki-Zay will have to tread a fine line. The new superstar of Hungarian politics must retain his broad coalition while also peeling away enough Fidesz voters—concentrated in rural areas—to pull the rug out from under the prime minister.
"With my name on the ballot...we can already win. That is what came down from several public opinion polls," Marki-Zay told Newsweek.
"What I am representing is fresh air, a real, democratic, pro-Western European and pro-NATO style and strategy, and getting rid of corruption.
"We are not trying to bring back the collaboration between Fidesz and the left-wing opposition, when they were only sharing proportions of corruption and resources. Now we need radical change."
Marki-Zay campaigned for Orban when he first ran for prime minister in 1998, but now says the self-described "illiberal" leader has become a danger to the country and to Europe. "Orban screwed up," he told the AFP earlier this week.
"He used his indisputable talent in an evil, not a good way, by building an authoritarian regime—like the Death Star in Star Wars."
The diversity within the opposition camp is a testament to Orban's grip on the last decade of Hungarian politics. No one party has been able to overhaul the commanding position he has created.
Marki-Zay's anti-Orban alliance is neck and neck with the government in the latest polls. This is set to be the closest race for a decade.
Orban has reshaped the political sphere around himself. The electoral system has been tweaked to favor Fidesz, the prime minister and his allies have seized control of the courts, and dissenting voices have been harassed and silenced with the help of a media empire loyal to Orban and Fidesz.
The prime minister is regularly branded a dictator by critics, and few expect him to play fair at the next election. The opposition has already blamed the government for a cyber attack during the primaries that caused voting to be suspended. The government denied the charge.
"I can't remember the last time I considered Orban's policies to be either legitimate or fair," Marki-Zay said when asked what he expected from the 2022 election. The coming months will be particularly telling, he said: "Most of the electoral fraud is actually committed before the elections."
A muzzled press, intimidation of opponents, disinformation, fear campaigns; all these are elements of what Marki-Zay called Orban's "mafia state."
Marki-Zay said his movement is even offering a reward equivalent to around $3,000 to anyone who can prove—and win a subsequent court case confirming—that they have been coerced into voting for a certain candidate.
"We also need to be there," he said, noting that Hungary's elections are still offline affairs.
"They couldn't cheat through the computers," he said of previous polls, "they could cheat because in many districts we didn't have any independent vote count representatives.
"There are no free and fair elections in Hungary—that we know. But we also know the methods of how to fight.
"What I believe is that every authoritarian regime will reach its end. This system cannot go on forever. Hungary will not only be more and more corrupt but also poorer and poorer. Hungarians, sooner or later, will wake up.
"Our task is to wake them up now before it's too late."