Hungry Customer Leaves Popeyes With New Job: 'Drive-Thru Interview'
When a hungry customer heard that Popeyes was too short-staffed to open on time, she decided to fix the problem herself.
The patron-turned-employee was captured in a video that went viral last week, amassing 1.3 million views on TikTok. Her friend, posting under the username @thoroughbred_84, showed what happened in a Popeyes drive-thru after they found out the restaurant's opening was delayed.
"We don't open 'til 11 a.m.," a Popeyes employee told the two women through her microphone.
"The website said 10 o'clock," one of the women replied, who was outside of the car.
"Ma'am, we're short-staffed, so we don't open 'til 11 a.m.," the worker said, and the woman on foot approached the microphone closer.
"Can I have a job then? 'Cause I'm hungry," said one of the customers.
The employee replied simply, "Yup."
After the customer said she had technical difficulties applying on the Popeyes website, the employee told her to approach the window.
"You wanna interview me now?" asked the customer.
"Yup," said the worker, as the customer marched off-screen for her interview.
In a follow-up video, the woman danced back to her friend's car, wearing a brand-new Popeyes uniform.
"Yes I got the job," she told the camera. "Start Monday 8 o'clock."
The woman's companion also noted that her famished friend received free food after the job interview.
The restaurant industry's slow recovery from the COVID-19 pandemic has been dogged by staffing shortages. Although the industry has continued to add jobs, employment growth slowed significantly in August, which saw the smallest monthly gain since December 2020.
Eating and drinking places were still down 633,000 jobs—or 5.1 percent—from their pre-pandemic levels in August, according to the National Restaurant Association. In a survey fielded between July 14 and August 5, nearly two in three restaurants told the group they did not have enough employees to support customer demand.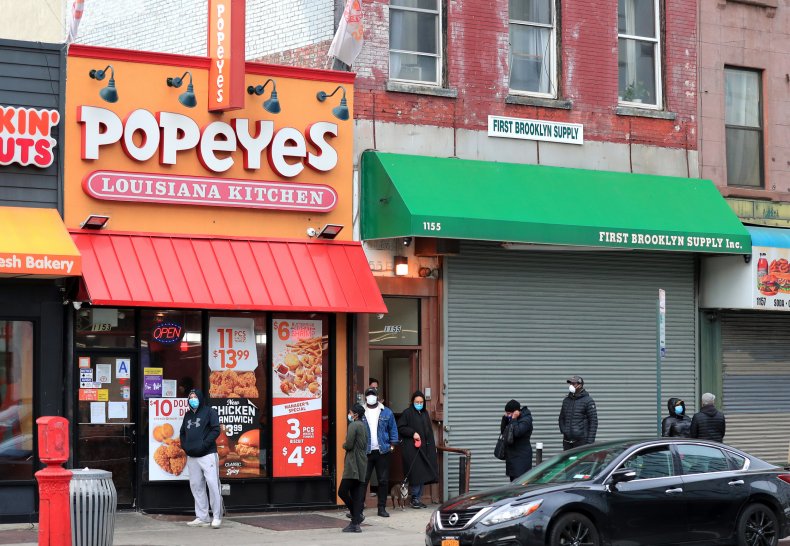 The job openings are difficult to fill, partly because there are so many industries competing for employees. The U.S. had 11.2 million job openings in July, one of the highest levels on record. The professional and business services, health care and social assistance sectors each had about 2 million vacancies of their own.
On TikTok, viewers were delighted by the Popeyes lover's attitude toward the labor shortage, which has been shown to turn other customers abusive to service workers.
"She's having a drive thru interview," laughed one viewer.
"People like this always impress me," commented another user. "Go getters. She may be there now but I swear she'll be successful with that mindset."
Newsweek reached out to @thoroughbred_84 and Popeyes for comment.