Hungry Hamburglar Breaks Into Wendy's, Makes Himself Burger and Then Leaves With Cash
Police officers in a suburban county about 40 miles north of Palm Beach, Florida, arrested a man they say broke into two restaurants and cooked himself up some food before taking off with cash.
The Martin County Sheriff's Office announced the arrest of Martin Benson on Saturday and charged the 34-year-old man with burglary, grand theft and attempted burglary for his alleged crimes.
The arrest came after the Sheriff's Office asked residents in a Facebook post to be on the lookout for a "hamburglar" who broke into a local Wendy's and another restaurant, leaving "with more than just a full belly."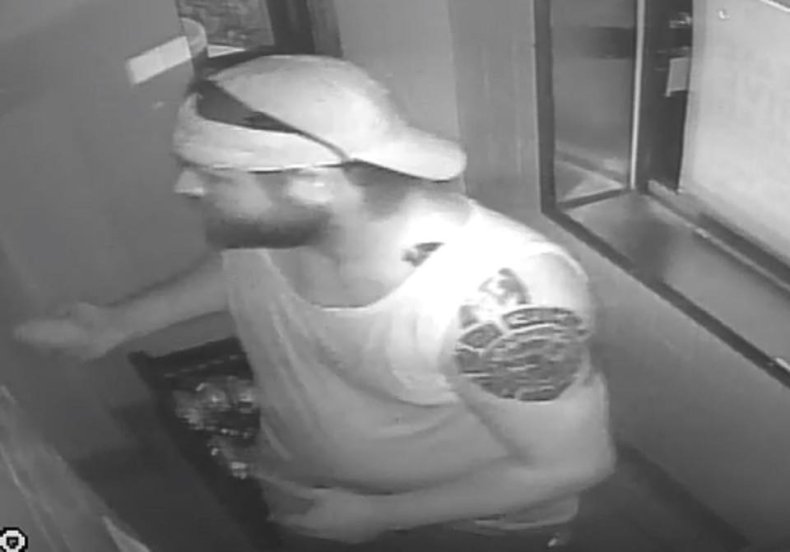 The images posted by the police show the suspect looking around the kitchen, seemingly preparing himself a meal.
According to authorities, the suspect used a brick to smash open the door to the fast-food chain on Jensen Beach Boulevard. After gaining entry, he started up the grill and cooked himself a burger. His hunger apparently sated, he then allegedly made sure to leave with the safe.
Shortly thereafter, police say the man burglarized another, unidentified restaurant in the downtown area.
"Benson used bricks or large rocks to break the glass windows to gain access," the Sheriff's Office news release said. "Once in, he casually worked his way around the establishments and selected the items he was going to steal."
According to police, the suspect made a third, failed attempt to enter a gas station but couldn't make his way inside.
Although the crime may sound unusually brazen, it's hardly the first time a burglar has made himself a hearty meal at a restaurant. In 2017, a Long Island man clearly sympathetic to workers rights made national headlines for breaking into a taqueria and making himself a meal. Afterward, the suspect cleaned the dishes, broke open a safe and left a tip from the stolen cash.
In April 2016, a Washington, D.C., man broke into a Five Guys burger restaurant and fired up the grill to make himself something to eat. The unidentified suspect in that case left without stealing anything else from the restaurant.
And, in perhaps one of the more viral burglary stories, a man dressed in a suit waltzed into a Oakdale, California, steakhouse and left with a 20-ounce porterhouse wrapped in a napkin.
The spate of cooking-related crimes doesn't stop at restaurants, either. A search through news archives reveals handfuls of postings about burglars breaking into homes to cook themselves a meal.