'The Hunt' Is Finally Hitting Theaters This Friday. But Why Did It Take So Long?
After a nearly six-month delay and plenty of controversy, Blumhouse's satire-thriller The Hunt will finally be released to theaters on Friday. If you're someone who isn't familiar with the movie's troubled path to a wide release, but have heard about the film in passing and wondered what everyone's been arguing about, here's a play-by-play of the fracas that threatened to swallow The Hunt whole.
Loosely based on Richard Connell's famous 1924 short story "The Most Dangerous Game," the film tells the story of 12 strangers who wake up in a clearing and find out they're being hunted for sport by a group of "liberal elites" (as one character in the trailer puts it). One of the targets, played by Betty Gilpin, begins fighting her way through the compound and tries to track down the woman who's behind the whole scheme. Aside from Gilpin, The Hunt also stars Emma Roberts, Ike Barinholtz, Glenn Howerton and two-time Academy Award winner Hilary Swank.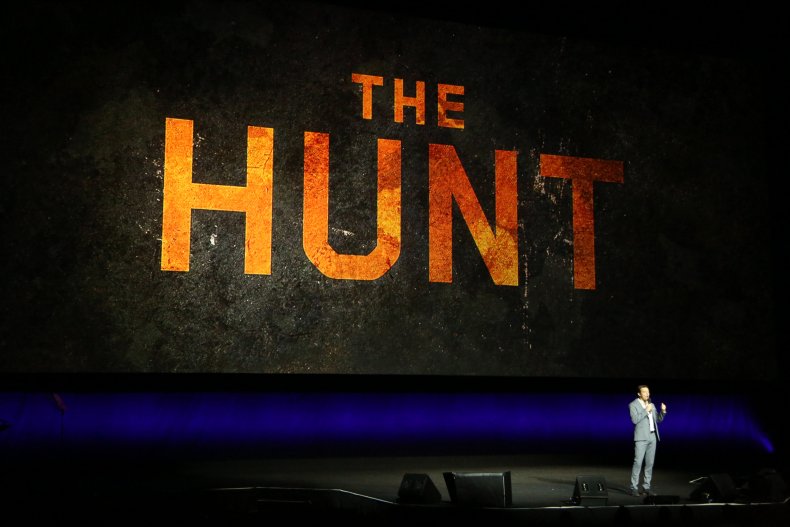 Despite The Hunt's overt political themes, the first set of delays had nothing to do with partisan political talking points. The film's release was actually pushed back a number of times before Blumhouse Productions settled on this week's Friday the 13th release date. Back in April 2019, the flick was originally slated to be released on September 27, but the date was briefly swapped to October 18 so as not to compete with Disney's Maleficent: Mistress of Evil—only to be switched back to the September date, according to Deadline.
Then, in the wake of mass shootings in El Paso and Dayton that left 31 people dead, it was reported on August 6, 2019, that Universal Pictures was "re-evaluating its strategy" for the (clearly violent) film. That same report featured a couple of lines from the movie's screenplay, including one that referred to the 12 characters being hunted as "deplorables." A day later, The Hollywood Reporter published a follow-up story, saying that the studio has opted to put its ad campaign for the movie on hold.
That same day, Fox News—having caught wind of the "deplorables" line—described The Hunt as causing "outrage" in a headline. So-called comedian Tim Young told the conservative network that the satirical movie was doing more harm than good in further dividing the country. "Why would anyone think it's a great idea to have a movie about hunting down someone who doesn't agree with them politically?" he said. "We're told over and over again by the left, especially in Hollywood, that this country is more divided than ever and we need to come together... is this what they mean by it? Come together to murder your neighbors that you don't agree with? This film is sick and shows just how hateful the left has become."
Two days after Fox published its piece, President Donald Trump attacked the film in a pair of tweets, without explicitly naming it.
"Liberal Hollywood is Racist [sic] at the highest level and with great Anger [sic] and Hate [sic]!" Trump tweeted. "They like to call themselves 'Elite,' but they are not Elite [sic]. In fact it is often the people that they so strongly oppose that are actually the Elite [sic]. The movie coming out is made in order to inflame and cause chaos. They create their own violence, and then try to blame others. They are the true Racists [sic], and are very bad for our Country [sic]!"
A day after Trump's tweets, Universal announced that it was canceling the film's release entirely, citing the cultural climate and conversation around gun violence. "We stand by our filmmakers and will continue to distribute films in partnership with bold and visionary creators, like those associated with this satirical social thriller, but we understand that now is not the right time to release this film," the statement read.
Despite some of the media coverage and Trump's knocks against the film, director Craig Zobel said in an August 2019 interview with Variety that the movie doesn't favor either side of the aisle. "Our ambition was to poke at both sides of the aisle equally," he wrote to Variety in an email. "We seek to entertain and unify, not enrage and divide. It is up to the viewers to decide what their takeaway will be."
In his own interview, with Vulture, producer Jason Blum said that while he supports the movie and wouldn't change how it was made, he did believe that mistakes were made in the marketing process. "It might change how I would position movies and how I would consult on the marketing of the movies," Blum said. "But actually the making of the movies? No."
After marketing was pulled in August, Town Hall political editor and Fox contributor Guy Benson said that while he didn't support censorship, he felt that pulling the advertising was the right move. "Americans don't want to turn on their televisions, especially right now and see trailers for a movie again that shows a certain group of people being hunted down and shot by other people, even if it's satire," Benson said. "I'm not in favor of saying, 'Let's squash the whole project. Let's have a giant boycott. These types of movies aren't allowed to be made in America.'"
In February 2020, months removed from the controversy, Blum and screenwriter Damn Lindelof confirmed that The Hunt would indeed make it into theaters, and revealed its March 13 release date in an interview with The Hollywood Reporter. Blum described the movie as "probably the most judged movie that's ever existed that everyone who judged it hadn't seen." The producer also compared the movie to Joker, and emphasized that Universal saw The Hunt as a picture that "didn't take sides." He added, "The audience is smart enough to know that what they're seeing is a satire and it's preposterous."
"No one who has seen the movie has described the movie as provocative," Lindelof said, before reiterating Zobel's comments that The Hunt could be a unifying force. "We think that people who see it are going to enjoy it and this may be a way to shine a light on a very serious problem in the country, which is that we're divided. And we think the movie may actually, ironically, bring people together."
A new trailer debuted alongside the release date's announcement, and it doesn't shy away from all of the media attention. At one point, a message flashes across the screen proclaiming, "The most talked about movie of the year is one nobody's seen yet."
Whatever the filmmakers' intentions, audiences will finally be able to decide how they feel about The Hunt when it enters theaters on Friday.