Hunter Biden Art Auction Presents White House With New Ethics Headache
Hunter Biden's plan to sell some of his work as an artist has raised concerns among ethics experts who say the lack of transparency surrounding future sales is likely to brew distrust among members of the American public.
President Joe Biden's son is working with Georges Bergès, who owns a gallery in New York City and another in Berlin. According to an Artnet interview conducted last month that appears on Hunter Biden's artist page on the Georges Bergès Gallery website, an exhibition of Hunter Biden's work is expected to take place in New York this fall, with prices ranging from $75,000 to $500,000.
Images of select pieces of Hunter Biden's art appear on the Georges Bergès Gallery website, which describes his work as "photographic mix-media to abstract works on canvas, yupo paper, wood and metal." Hunter Biden "incorporates oil, acrylic, ink and the written word within his work to create a distinctively unique experience that have become signature Biden," the gallery says.
White House Press Secretary Jen Psaki told reporters last week Bergès will not share the identities of interested buyers with either Hunter Biden or the president's administration.
But Richard Painter, a law professor at the University of Minnesota who once worked as a chief White House ethics lawyer during former President George W. Bush's administration, said this lack of transparency regarding potential art buyers is a problem.
"I'm not very happy about it, and I would have done it differently," Painter told Newsweek. "The core principle here is transparency. Any arrangement where things are kept secret, people just don't trust."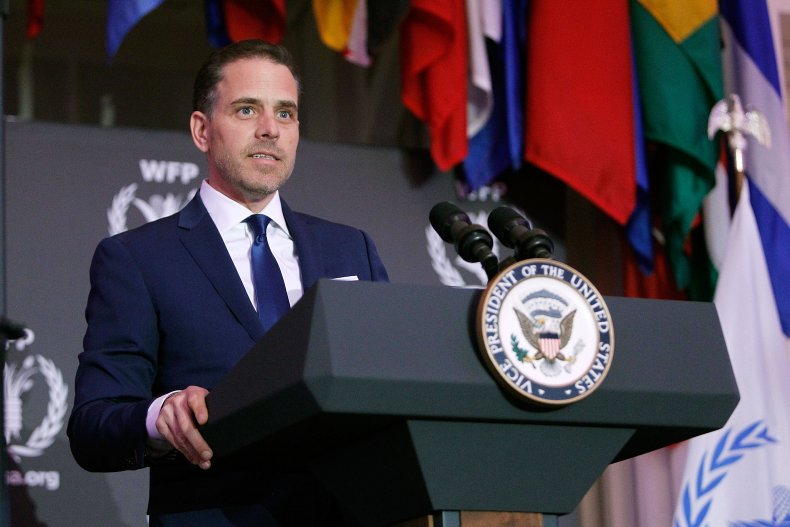 Psaki described the plan to reporters during a July 9 press briefing when asked about Hunter Biden's burgeoning career as an artist. She pointed to his "right to pursue an artistic career" as an individual who is not serving as a public official and said a plan has been agreed upon to ensure he can do so "within reasonable safeguards."
"All interactions regarding the selling of art and the setting of prices will be handled by a professional gallerist, adhering to the highest industry standards. And any offer out of the normal course would be rejected out of hand," Psaki told reporters.
"The gallerist will not share information about buyers or prospective buyers, including their identities, with Hunter Biden or the administration, which provides quite a level of protection and transparency," she added.
Painter said it is unlikely the sales will ultimately be kept secret—after all, he said, art is intended for display. Even if sold artwork is kept under wraps, the lack of public disclosure is problematic regardless of who makes a purchase.
"It doesn't matter who Hunter Biden actually sells the paintings to; you're going to have the appearance of payoffs and influence," Painter said.
John Pelissero, a senior scholar at the Markkula Center for Applied Ethics at Santa Clara University, told Newsweek that appearance is why Hunter Biden should be careful with how he proceeds.
"Hunter Biden certainly has the right to earn a living through artistic work," Pelissero said. "But as the son of the President of the United States, he should make every effort to avoid engaging in business activities, including the sale of his art, that may present the appearance of a conflict of interest."
Pelissero pointed to a previous controversy surrounding Hunter Biden's role on the board of a Ukrainian energy company while his father was vice president, which revived debates during Joe Biden's presidential campaign last year about perceived conflicts of interest.
With that controversy in mind, "I would think that both he and his father would want to follow the best ethical practices in regard to the sale of Hunter's art," Pelissero said.
"Whereas the planned art sale may be entirely proper, it is often the mere appearance of something being improper, such as an attempt to benefit from being the son of the sitting President, that can create an ethical issue," Pelissero continued. "Joe Biden promised the highest ethical standards for his administration and it would be unfortunate if this matter related to Hunter's art sales becomes a major ethical controversy for his presidency."
Walter Shaub, the former director of the U.S. Office of Government Ethics and current senior ethics fellow at the Project On Government Oversight, has also expressed concerns about the strategy for Hunter Biden's art sales in conversations with national media outlets. On Twitter, Shaub suggested Hunter Biden shutter plans to sell his artwork due to perceptions about how his father's job could influence sale prices.
"Hunter Biden should cancel this art sale because he knows the prices are based on his dad's job," Shaub tweeted on July 10. "Shame on POTUS if he doesn't ask Hunter to stop. If that fails, he should ask that the names of buyers be released & pledge to notify us if any buyer ever meets with admin officials."
Painter told Newsweek the "absolute best way" for Hunter Biden to proceed would be to postpone selling his artwork until his father is no longer in public office. If Hunter Biden proceeds with plans to sell his work sooner, the costs of individual pieces should be re-evaluated to reflect price points of other pieces created by emerging artists, Painter said.
"The next best plan would be to sell first at prices that are more indicative of what a beginning artist sells at, and then see what happens there, and then fully disclose the buyers and keep everything transparent," Painter said.
Newsweek reached out to the White House for comment and will update this article with any response.