Will Hunter Biden Face Criminal Charges? What We Know So Far
Recent reports that witnesses have begun testifying to a grand jury suggest that the federal investigation into Hunter Biden is continuing to pick up speed and that he could be at risk of being indicted.
The president's son announced back in December 2020 that his tax affairs were under a federal criminal investigation but last month's report from the New York Times revealed that prosecutors were also looking into Biden's foreign business dealings for the last four years.
The probe, which is being overseen by David Weiss, the U.S. attorney in Delaware, is reportedly focused on Biden's tax filings, payments and gifts he received from foreign interests in China, and Kazakhstan. It's also looking into whether he violated laws by failing to register as a lobbyist under the Foreign Agents Registration Act (FARA).
Although much of the prosecutors' activity remains confidential due to the high-stakes nature of the investigation, former federal prosecutor Michael McAuliffe told Newsweek that the probe appears to be very active and that it's a real possibility Biden may face federal charges.
The government's scrutiny of Biden's tax filings is by nature time-consuming, according to McAuliffe, and he said it could take years to complete.
Based on publicly available information, Robert Weissman, the president of the think tank Public Citizen, told Newsweek he doesn't anticipate Biden will face federal charges for his business arrangements. However, he said it's possible Biden could be held personally liable for tax compliance depending on what the investigation uncovers.
Regardless of whether charges are brought, Weissman said the president's son "should not have entered into the arrangements."
"These business relationships don't seem to make a lot of sense, except for the fact that Hunter was the vice president's or the potential president's son. It just seemed unlikely the Chinese interests or the Ukrainian business interests would have partnered with him but not for that familial relationship," Weissman said.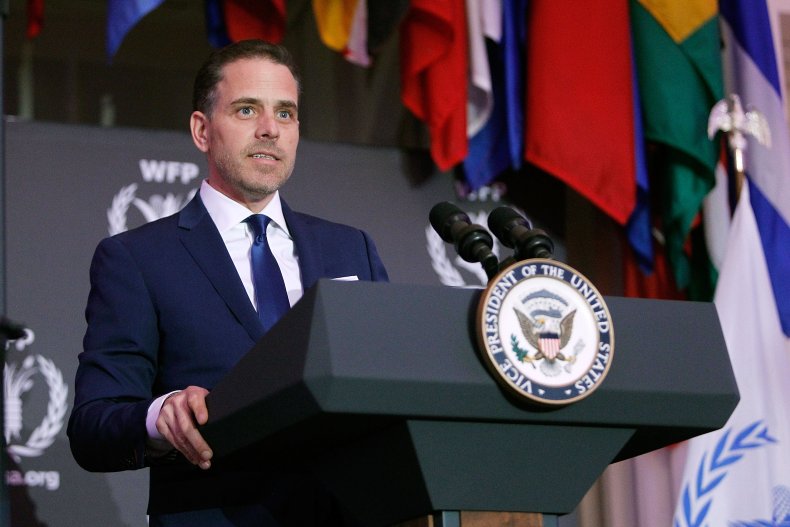 Concerns over Hunter's consulting work have repeatedly come under attack by both former President Donald Trump, who linked those foreign investments to the current president, and Senate Republicans, who have released their own report into Hunter's transactions with China.
Biden joined the board of Burisma Holdings, which is owned by Ukrainian oligarch and former politician Mykola Zlochevsky, in April 2014, when his father was serving as the vice president.
At the time, Joe Biden had been playing a major role in U.S. policy toward Ukraine and some warned that Hunter's dealings could undermine his father's anti-corruption work in Eastern Europe. Hunter's term on the board did not expire until April 2019.
Hunter Biden is also the co-founder of consultancy group Seneca Global Advisors and advisory firm Rosemont Seneca Partners, and the latter received thousands of dollars from a Kazakh oligarch, including the $142,000 Hunter Biden used to buy a sports car.
Several bank accounts linked to Hunter Biden have also received $4.8 million in payments from an oil and gas company linked to the Chinese Communist Party.
While none of these foreign gifts are automatically considered illegal, FARA requires those who do public relations or lobbying work with foreign clients to register as such. It remains unclear exactly how Hunter's dealings should be classified and whether it is in violation of the law.
Although Hunter Biden appears to be the target of the high-profile investigation, the federal investigation is also under scrutiny. In the current "hyper-partisan, conspiracy-laden environment," McAuliffe said every aspect of the investigation is being parsed for errors.
"Weiss was retained by the Biden administration to avoid the appearance that the new administration was, in essence, pulling the plug on the matter," he said. "That's a reasoned move that should increase the credibility of the investigation's conclusions and any subsequent enforcement actions."
Weiss, who worked for the Delaware office during the Bush and Obama administrations, was nominated to run the investigation by former President Donald Trump. The Biden administration has kept him on the case in an effort to uphold confidence in the investigation.