From 'Child Porn on Hunter Biden's Laptop' to QAnon, Conspiracy Theories Pollute 2020 Election's Final Weeks
With just 15 days until the presidential election on November 3, conspiracy theories have played a major part in the campaign and they are likely to stay on the radar as the 2020 contest nears its end.
As President Donald Trump trails former Vice President Joe Biden in national polls, the Republican and some of his prominent allies have shared unfounded conspiracy theories about the Democrat.
There have also been conspiracy theories aimed at Trump by some of his critics, especially following his positive test for coronavirus earlier this month.
Here are some of the most prominent conspiracies in the run-up to the election:
Child Porn on Hunter Biden's Laptop
The most recent conspiracy theory to hit headlines focuses on Hunter Biden, the former vice president's son, and what the New York Post described as a "smoking-gun email" on a laptop obtained by former New York Mayor Rudy Giuliani.
The conservative radio host Wayne Root claimed without evidence in a tweet shared tens of thousands of times that Hunter Biden's laptop contains videos of him sexually abusing Chinese children.
The email at the center of the story allegedly shows Hunter Biden arranging a meeting between his father and a member of the board of Burisma, Vadym Pozharskyi. Burisma is a Ukrainian energy company.
Biden's son was also a member of the board. The Post carried a photo of the email but the contents of the laptop have not been seen by other news outlets.
The Biden campaign said a review of the former vice president's schedule for that time period showed no such meeting took place.
CBS News interviewed the owner of a Delaware computer repair store, John Paul MacIsaac, who reportedly gave the laptop to Giuliani. MacIsaac said he was not able to confirm it was Hunter Biden who dropped off the laptop because he is "legally blind".
CBS News reported on October 16 that MacIsaac contradicted himself over the course of the two-hour interview and his answers raised "even more questions about the veracity of how this supposed laptop became public."
Senator Ron Johnson (R-WI) fueled speculation in an interview on Fox News on October 18 that there was child pornography on Hunter Biden's alleged laptop, though this appears to be contradicted by MacIsaac's comments.
The shop owner said he did not see child pornography on the computer.
"I don't want to speculate other than to say...I really think we're just scratching the surface," Johnson said. "Yes, I've heard all kinds of things that I think will probably be revealed over the next few days. There's a treasure trove of emails, and video, and pictures."
QAnon and the "Deep State"
One of the most prominent conspiracy theories surrounding the president is QAnon. Those who ascribe to this theory believe there is an international cabal of Satanic pedophiles and that Trump is secretly fighting against them.
QAnon followers also believe there is a "Deep State" working against the president. The movement originated on online message board 4chan when an individual identifying themselves as "Q" claimed to be a government insider sharing information about what was secretly happening in the U.S. government and claiming prominent Democrats, such as former Secretary of State Hillary Clinton, will be sent to Guantanamo Bay.
The conspiracy theory is entirely baseless but Trump has refused to formally denounce it.
During an NBC town hall on October 15, he was asked directly about the movement. Trump said he did not know much about but they're "very much against pedophilia."
Some QAnon believers welcomed the president's comments, with one prominent Twitter account saying he had given "full and complete confirmation" of the conspiracy theory.
Las week, Senator Kelly Loeffler (R-GA) welcomed an endorsement from a QAnon-believing congressional candidate Marjory Taylor-Greene, while more than 20 Republican candidates on the ballot this year have expressed support for the conspiracy. Taylor-Greene, who's running in Georgia's 14th district, is almost certain to be elected.
Seventeen Republican members of the House of Representatives voted against a resolution condemning QAnon on October 2.
Joe Biden and Jeffrey Epstein
One recent conspiracy theory attempts to link Biden and convicted sex offender Jeffrey Epstein, who died in prison in 2019. Posts on social media claimed Biden owned a private island near property once owned by Epstein.
The conspiracy has been widely debunked and there is no evidence Biden has ever owned an island.
His brother, James, purchased an acre of land on Water Island in the U.S Virgin Islands in 2005. Epstein's island home was on Little Saint James in the same island group. The former VP has vacationed on a different part of Water Island in the past but there is no evidence of property ownership.
Analysis by Newsweek suggests the baseless claims can be traced to niche online communities, including QAnon.
The president's son, Donald Trump Jr., has shared posts on Instagram which insinuated that Biden is a pedophile. There is no credible evidence to support this allegation against Biden, as has been pointed out by Politifact, a non-profit project by the Poynter Institute.
Trump and COVID-19
Conspiracy theories about Trump's COVID diagnosis emerged almost as soon as he announced that he and First Lady Melania Trump had tested positive on October 2. Unfounded speculation about the president's health came from his opponents and his supporters.
Filmmaker and Trump critic Michael Moore suggested the president was faking his COVID diagnosis. When discussing the diagnosis, the left-wing activist cited the number of times Trump has lied while in office.
"There is one absolute truth about Trump: He is a consistent, absolute, unrelenting, fearless, and professional liar. A serial liar. A factually proven liar. How many lies now has the Washington Post proven in these four years? 25,000? A lie at least twice during every waking hour? Think of all the bad people you've known in your life. Even the worst ones you couldn't say that about," Moore wrote on Facebook.
Moore went on to ask why anyone would believe Trump. He was not the only person to think the president's illness was faked, however. Actor Bette Midler suggested to her two million Twitter followers that the timing was "convenient" because it meant Trump might not have to attend debates. Meanwhile, some QAnon believers thought Trump's announcement signaled the imminent arrest of Hillary Clinton.
There is no evidence that Trump faked his illness.
Many other people at the White House have also tested positive for COVID, including Trump's 14-year-old son, Barron, who has since recovered.
Tech Companies Suppressing Conservatives
Several prominent conservatives on social media have claimed that big tech companies like Facebook and Twitter are suppressing their voices. These claims have been amplified after Twitter locked the account of the New York Post following its publication of a story about Hunter Biden's emails. Twitter had earlier tried to limit the reach of the story.
"Twitter has been throttling my reach and I'm getting 1/3 the amount of RTs I would normally get. Instagram is doing the same & worse for the last few days," Donald Trump Jr. tweeted on October 18. "I guess they don't want the truth about the Biden crime family out there and they will cover for them at all costs."
Some senior Republicans, including House Minority Leader Kevin McCarthy, have joined the criticism of social media sites. They allege tech giants are biased against conservatives and have called for action, including changes to the law.
Google, Facebook and Twitter have all denied bias against conservatives and there is little evidence that the tech companies are targeting Republicans or Trump supporters.
There has been a proliferation of conspiracy theories during the 2020 election cycle and with two weeks until the firs results are known, they look likely to continue.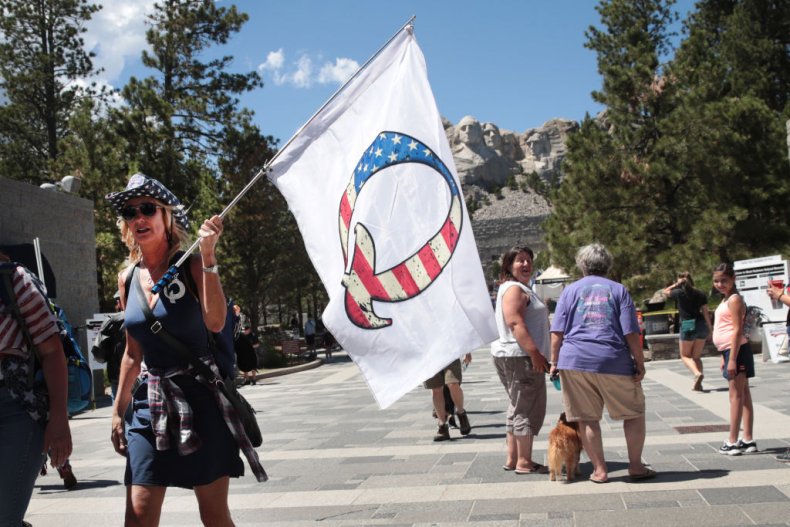 This article and its headline were updated to add context and clarity.