Hunter Biden Received a $3.5 Million Payment From Ex-Moscow Mayor's Wife, Republican Report Says
A new report from Senate Republicans alleges that Democratic presidential nominee Joe Biden's son Hunter Biden received a $3.5 million payment from the wealthy wife of Moscow's former mayor, amid a slew of other financial transactions and entanglements that federal government officials warned presented conflicts of interest as the former vice president spearheaded the Obama administration's Ukraine policy.
Democrats have dismissed the Republican report, which was released Wednesday, as playing up Russian misinformation, and the 87-page document did not demonstrate that Hunter Biden's financial entanglements impacted U.S. policy. But it emphasized that government officials flagged concerns about potential conflicts of interest and that the former vice president's son's financial interests with foreign governments "accelerated" during the administration of former President Barack Obama.
"Hunter Biden received a $3.5 million wire transfer from Elena Baturina, the wife of the former mayor of Moscow," the Republican report, which was the result of an investigation led by GOP Senator Ron Johnson of Wisconsin, explained as one of its "key findings."
Baturina, a billionaire, was previously married to Yuri Luzhkov, who served as mayor of Moscow but was fired for alleged corruption in 2010. The report details how Biden's business received a $3.5 million payment from Baturina in February 2014, which was described to be for "consultancy" work. In 2015, Biden also received several payments of several hundred thousand dollars from Baturina, several of which were listed as part of a "loan agreement."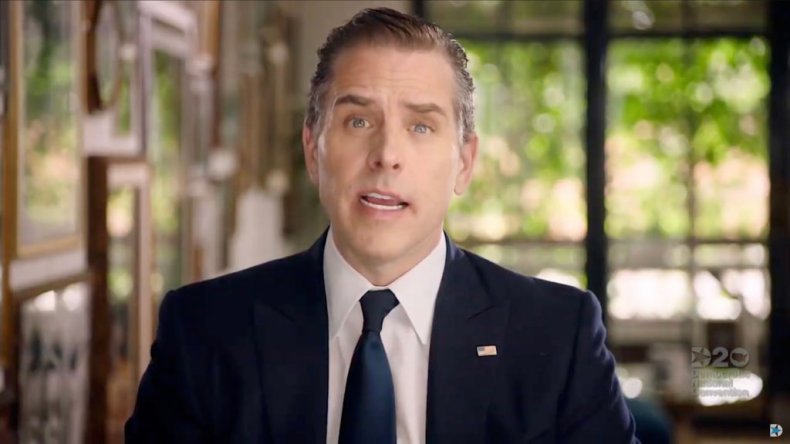 The report does not allege that there was anything illegal about these transactions. However, the document demonstrates that Hunter Biden had a series of financial entanglements with foreign officials and business people associated with adversarial governments. Notably, President Donald Trump and his company the Trump Organization have widespread business interests around the world, several of which have been connected by reports to alleged money laundering and potentially nefarious activities.
Newsweek reached out to the Joe Biden campaign for comment on the Republican report, but it did not immediately respond. But campaign spokesperson Andrew Bates released a statement on Wednesday.
"As the coronavirus death toll climbs and Wisconsinites struggle with joblessness, Ron Johnson has wasted months diverting the Senate Homeland Security & Governmental Affairs Committee away from any oversight of the catastrophically botched federal response to the pandemic, a threat Sen. Johnson has dismissed by saying that 'death is an unavoidable part of life.' Why? To subsidize foreign attacks against the sovereignty of our elections with taxpayer dollars—an attack founded on a long-disproven, hardcore rightwing conspiracy theory that hinges on Sen. Johnson himself being corrupt and that the Senator has now explicitly stated he is attempting to exploit to bail out Donald Trump's reelection campaign," Bates said.
The report did not detail any evidence that Joe Biden himself benefited financially from his son's business interests. It also did not provide evidence that Hunter Biden's work somehow altered U.S. policy.
Hunter Biden's position on the board of Ukrainian energy company Burisma has been pushed by Trump as evidence that his political opponent, the former vice president, was corrupt. Joe Biden called for the removal of a Ukrainian prosecutor who claimed to be investigating corruption allegations against Burisma.
While that prosecutor was fired, European and American officials widely agreed that he himself was corrupt and was hampering anti-corruption efforts in Ukraine. Anti-corruption organizations and activists in Ukraine have even said that his removal actually made it more likely, not less likely, that Burisma would face corruption charges. But Trump and Republicans have seized on the narrative to criticize Biden. The narrative against Biden has also been pushed by Russian media and alleged Russian assets.
Biden's role with Burisma was central to Trump's impeachment by the Democrat-controlled House of Representatives last year. Trump had allegedly threatened to withhold military aid to Ukraine if it did not cooperate with his efforts to investigate Hunter Biden's business dealings in the country. Democrats argued that this amounted to soliciting assistance of a foreign government to interfere in a U.S. election.
Although Trump was impeached by the House of Representatives, he was acquitted by the Republican-controlled Senate. Only GOP Senator Mitt Romney of Utah voted alongside Democrats to impeach the president, but several other Republicans criticized Trump's actions. Romney has also been publicly critical of Johnson's investigation into Biden.