Hunter Biden Snubs Committee Like the Trump Allies Joe Biden Criticized
Hunter Biden is refusing to cooperate with a congressional probe into his foreign business dealings, taking a page out of the playbook of top Donald Trump allies.
In one of Republicans' first hearings after regaining the majority in the House, the GOP-led Oversight and Accountability Committee is investigating President Joe Biden's "knowledge of and role in his family's foreign business deals to assess whether he has compromised national security," according to a statement from the committee.
The committee chairman, Representative James Comer of Kentucky, called on "key witnesses" Hunter Biden, the president's brother James Biden, and Hunter Biden business associate Eric Schwerin to provide "critical" documents, communications and records "related to President Biden's involvement in his family's business schemes."
But counsel for Hunter Biden refused to comply with this request, saying the committee's investigation "lacks a legitimate legislative purpose and oversight basis" for requesting such records from the president's son, a private citizen.
Attorney Abbe David Lowell said in a letter to Comer that Congress does not have "absolute and unconstrained investigative power" and "cannot act as a prosecutor."
Lowell said the committee wants to "examine drafting legislation to strengthen federal ethics laws regarding public officials and their families." But Lowell dismissed that justification, calling the "attempt" to invent a legislative purpose "thinly veiled at best."
"While your Letter attempts to demonstrate 'legislative purpose' for investigating Mr. Biden, it fails nevertheless to address that the Committee's scope of oversight is limited when dealing with private persons like our client," he said.
Lowell added that Hunter Biden is a private citizen, not a public official, who is not part of his father's administration.
"Investigations conducted solely for the personal aggrandizement of the investigators or to 'punish' those investigated are indefensible," the letter reads.
This refusal to cooperate with a congressional investigation is nothing new. Several of former President Donald Trump's allies refused to comply with congressional probes into the events surrounding the Capitol riots on January 6, 2021.
In September 2021, the House select committee investigating January 6 subpoenaed materials from former Trump adviser Steve Bannon and other former White house staffers. The committee claimed Bannon had prior knowledge that the riot at the U.S Capitol would occur.
Representative Bennie Thompson, the select committee's chairman, said Bannon reportedly communicated with Trump on December 30, 2020, "urging him to focus his efforts on January 6" and also reportedly attended a gathering at the Willard Hotel on January 5, 2021, "as part of an effort to persuade Members of Congress to block the certification of the election the next day."
Bannon was due to appear for his witness deposition on October 14, 2021, but he refused to give testimony or produce the documents requested, claiming executive privilege.
In a letter to the January 6 committee in early October 2021, Bannon's attorney said his client should share the same privileges as Donald Trump, who claimed executive privileges excluded him from complying with a subpoena.
He said that if Trump's testimony and documents were protected, so were Bannon's.
"Since these privileges belong to President Trump and not to Mr. Bannon, until these issues are resolved, Mr. Bannon is legally unable to comply with your subpoena request for documents and testimony," attorney Robert Costello wrote in the letter.
At the time, President Biden said people who refuse to cooperate with a congressional committee "should be held accountable."
During a CNN Town Hall on October 21, 2021, Biden was asked about his previous statement that the Department of Justice should prosecute those who defied subpoenas from the January 6 committee.
Biden clarified that he would never personally call Attorney General Merrick Garland and "tell him what he should or should not do in terms of who he should prosecute."
"I think that anyone who does not respond to that kind of question from a legitimate committee in the House of Representatives or the United States Senate should be held accountable," the president said.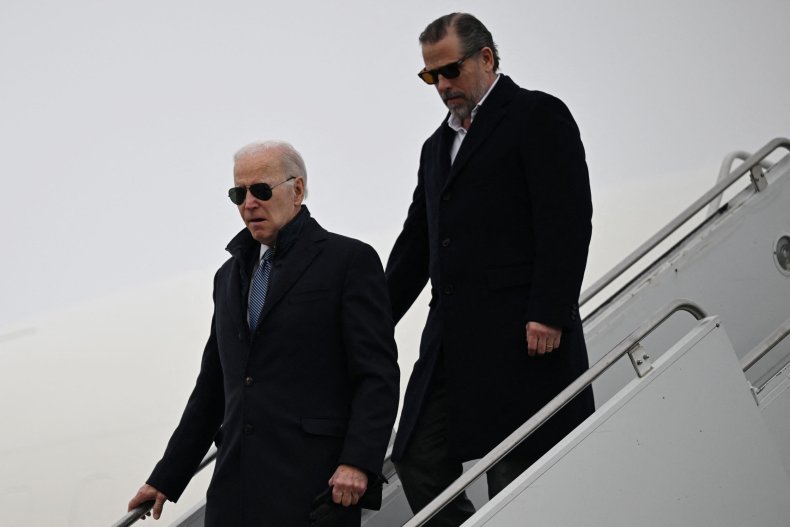 The Justice Department charged Bannon with two counts of contempt of Congress stemming from his failure to comply with the subpoena a few weeks later.
A judge found Bannon guilty of contempt of Congress in July 2022, and he was sentenced to four months in prison and fined $6,500 a few months later. He said he plans to appeal the sentence.
Hunter Biden has not yet been subpoenaed by Congress. But Comer told CNN in November that "there are plans to subpoena" the president's son.
Earlier this week, the White House called the House Oversight Committee's probe into Hunter Biden "a bizarre political stunt."
"This appears to be the latest effort by the House Republican majority's most extreme MAGA members to question and relitigate the outcome of the 2020 election," White House spokesperson Ian Sams said in a statement. "This is not what the American people want their leaders to work on."
Newsweek reached out for comment from the White House, Winston & Strawn LLP and Steve Bannon.