Five Questions Senators Should Ask Hunter Biden About Ukraine Business Ties, To Probe Conspiracy Theories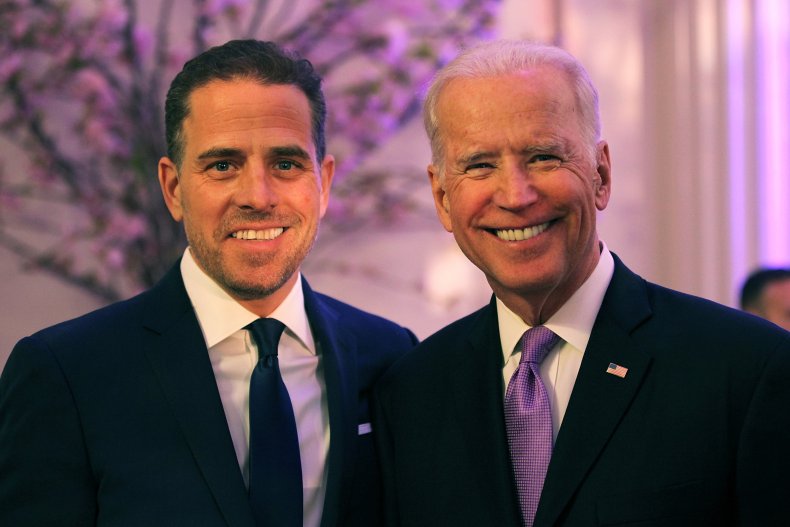 Should the Senate vote Friday to allow witness testimony in the impeachment trial against Donald Trump, the Democrats will call John Bolton, and, inevitably, the Republicans will call Hunter Biden, the 49-year-old son of the former vice president.
Trump wanted the Ukrainian government to investigate the Bidens for alleged corruption—as he said in his now infamous phone call with Volodymyr Zelensky, his Ukrainian counterpart. In 2014 Hunter Biden was appointed to the board of Burisma, a Kiev-based gas company controlled by a Ukrainian oligarch suspected of corruption. At the time, Joe Biden was the point man for Ukraine policy in the Obama administration. Biden and the Democrats insist that neither Joe nor Hunter Biden did anything wrong, and that to suggest otherwise is to peddle "debunked conspiracy theories."
Forget conspiracy theories. The Hunter Biden "scandal" is hiding in plain sight: it's an obvious case of what in China is known as "princeling" style corruption: hire the children of powerful government officials—"princelings"—and hope good things flow your way. It is against the Foreign Corrupt Practices Act (FCPA) for U.S. companies to do this in China or any other foreign country, as JP Morgan, among others, knows all too well. The bank in 2016 had to pay a fine of $264 million to settle FCPA charges with the SEC. JPMorgan, the SEC said, "engaged in a systematic bribery scheme by hiring children of government officials who were typically unqualified for the positions."
Should Biden have to testify, here are some of the key questions senators from both sides of the aisle should ask.
Why do you think you were appointed to the board of Burisma?
In his lone interview about this, with ABC News, Hunter Biden responded "probably not," when asked if he thought he would have been on Burisma's board if he were somebody else's son. Republicans would do well to ask the same question and have him expand on how this opportunity came to him. It would, if nothing else, shed some light on the sleazy if venerable Washington art of "buck-raking," trading on your name to get rich.
What exactly did you do at Burisma?
In the press release announcing his appointment, Hunter Biden was quoted as saying, "My assistance in consulting the Company on matters of transparency, corporate governance and responsibility, international expansion and other priorities will contribute to the economy and benefit the people of Ukraine." Republicans could ask what exactly he did at Burisma that benefited the "people of Ukraine," or promoted "transparency" and better corporate governance.
How many times did you discuss your appointment to the Burisma board with your father, and what was the substance of those conversations?
The only thing Hunter Biden has said to date on this subject is that he discussed this once with his father, who simply said, "I hope you know what you re doing." Is this plausible? Just once? Every current and former State Department official who testified in the House impeachment hearings acknowledged that the board appointment at minimum created the appearance of a conflict of interest. It was the subject of press coverage thereafter, including a 2015 New York Times piece. Biden should be asked to detail the substance of his conversations with his father, and how they squared the obvious appearance of a conflict with his acceptance of the position.
Were you aware of the corruption allegations that swirled around Burisma and its co founder, Mykola Zlochevsky?
This is a question that actually could serve Democrats seeking to undermine the Bidens-are-corrupt line that's repeated every night on Fox News. The talking point is that Joe Biden threatened to withhold $1 billion in aid from Ukraine unless it fired the country's top prosecutor, Viktor Shokin, who was looking into Burisma. Left out is the fact that the European Union and the International Monetary Fund also wanted Shokin gone because they believed him to be corrupt and ineffective.
But there's more to it than that. Biden could testify that yes, he was very much aware of the allegations, in part because in 2015, a year after he was appointed, the then-U.S. ambassador to Kiev gave a speech calling on the Ukrainian government to step up its anti-corruption efforts, including by looking more aggressively into Burisma's founder, whom he cited by name. Why would Hunter want to bring this up? Because it undercuts the notion that the Obama-Biden administration wanted to snuff out any investigations into Burisma. If the 2015 speech by then Ambassador Geoffrey Pyatt is any indication, the opposite appears to be true.
In 2016, Burisma's lawyers were in discussions with both Ukrainian officials and the U.S. State Department about corruption allegations, hoping to bring the investigations to an end. Were you aware of these discussions, and did you agree that the corruption investigations into Burisma should end?
This question could lure Biden deep into the weeds on Burisma's alleged corruption, but he could also plead ignorance, and in doing so demonstrate what a scam these "princeling" type jobs usually are. It wouldn't have anything to do with impeachment. But it would be a public service nonetheless.